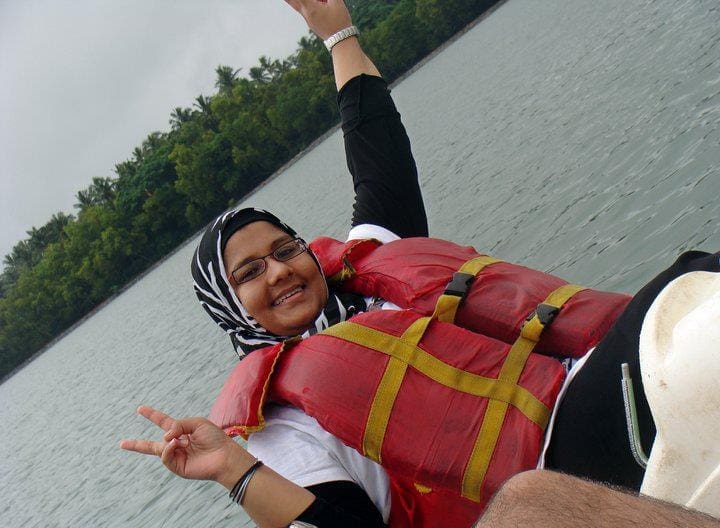 1. Zainab Karim is… a revolutionary Capricorn with a mission and a vision; currently pursuing her final year in BSc in nursing at Manipal university. A born and bred Tanzanian set out to change the world. Nanny to two exceptional goldfish; and beloved sister and daughter; Zainab is that one of a kind person; leaving footprints on lives and some Manipal roads too; as she goes along her path.
2) On Manipal and ManipalBlog:
Manipal has had its phases as time has gone by. It used to be this awesome huge campus-student oriented and ideal in many ways. As the years proceeded; it became home; a familiar place; a place of comfort and residence. As time went by; Manipal became that one place I would resent when alone; but proudly show every part of to family or friends who visited; and as the years near an end; Manipal, the once huge campus and land; has become an enclosed limited area where I now yearn to go forth from; the suffocation and depression does take its toll at times; or as we call it "Munjaro". One thing about Manipal is though; that the Eat; Study; Defecate; Sleep principle will never cease to be; or again as we call it "people of Peace!" :p
Manipalblog; I love. Seriously. Not only does it keep us up to date with every happening and occurrence but every status I wake up to every morning is definitely worth a read before dragging myself to classes or duty. A perfect blend of every ingredient required to make students in Manipal; not only keep updated and informed; but feel a sense of belonging too. Keep that up!
3) I am studying to be a nurse because . . .
As per the normal perception of nurses here and generally everywhere; you gotta have someone to make those beds, push those wheelchairs, and follow the doctors around right? Well, I am studying nursing because it is my dream to be able to change that one day, and show the world the importance of nurses in the medical field and in the saving of lives worldwide! And I have had a passion for this field ever since I was a kid, I remember taking part in fancy dress competitions as a nurse, and winning too! In addition; since nurses spend maximal time with patients; besides all the sponge baths and temperature readings; the emotional and psychological connections with the patients makes this profession among many an exception; and allows me to not only stick needles into patients bums; but also do my fair share of service to humanity.
4)5 things you miss in Manipal are . . .
5 would be limiting me; but if I was to break it down to that; id have to say;
Firstly; I miss my sanity. With the pressures of the academia; and the munjara of Manipal; I seem to have lost that somewhere along the line.
Second would be my family; just like 86% of the other students here.
Third; would be my five foot tall Pooh bear teddy; that was a pass down from my grandmother; that despite all efforts to squeeze into the suitcase; I had to leave back in Tanzania.
Fourth; would be my watchman back home; whose toothless grin each morning reminded me that life; was manageable; no matter what.
and lastly; I miss the special food back home; like they say; home is where the stomach is. The mix and mishkaki ; seen here and here  making the yearning to go back home all the more.
5) When it rains in Manipal; you need to do the following immediately.
1. Drink coffee from Shenoys very fast.
2. Update statuses on Facebook that it's finally raining; to inform those short people (like me) who may not know yet.
3. Purchase umbrella's at very high costs because its urgent and some shop owners are excellent at situation advantage seizing.
4. Hug people more to attain body warmth; especially if they are hot. 😉
5. Run…everywhere
6. Purchase a boat…just in case.
You may also do the following to attain immense pleasure !
Wake up in time for class, look outside the window, watch the rain, curl up in bed under the blanket, switch off the alarm, and go back to sleep. (ahhh the pleasure of bunking class and sleeping through the rain instead  :p  )
Do you want to be interviewed by us? Like our Facebook page and follow us on twitter to get a chance to feature on ManipalBlog. We put up the offer every day at 9:15 a.m. IST.