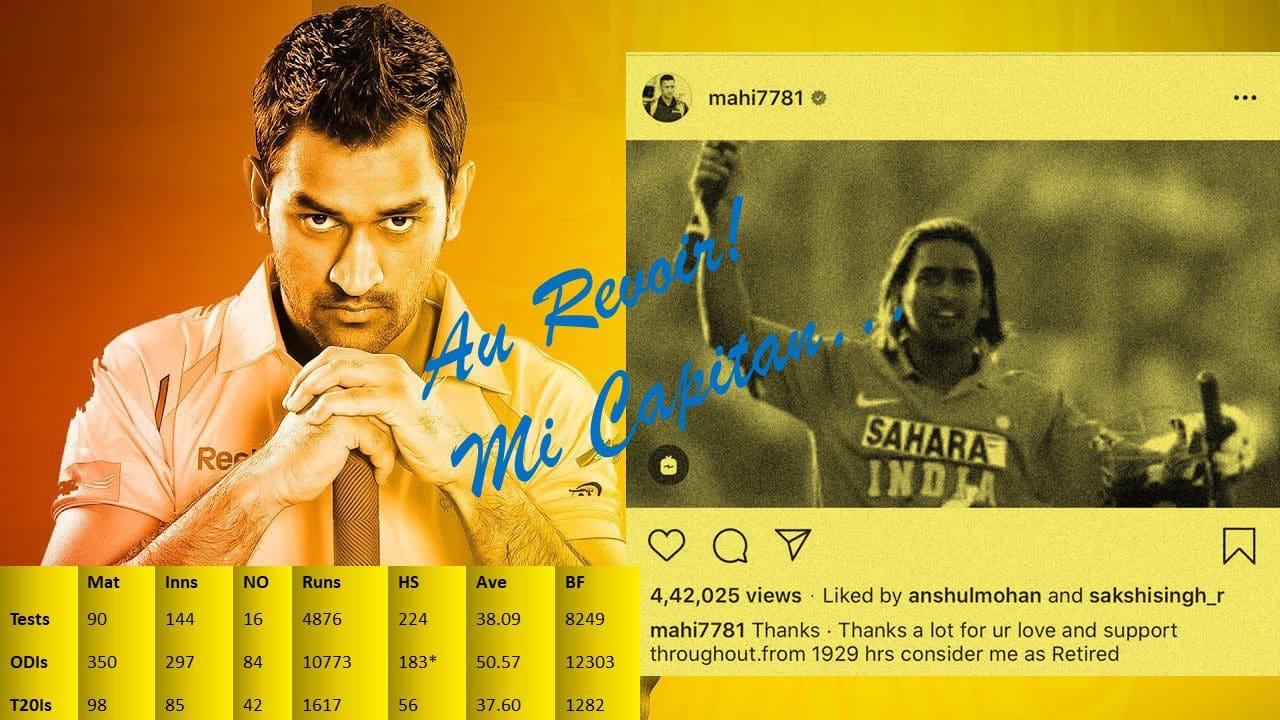 Mein pal do pal ka shayar hoon.

Pal do pal meri kahani hai

Pal do pal meri hasti hai

Pal do pal meri jamani hai
These were the lines MS chose to say adios to his cricketing career and it comes as yet another shocker from the mystery man who never fails to surprise.  He has always kept everyone on toes when it comes to his decision making and every time, he did the unthinkable.
What does it mean to his fans who were kind of aware that his retirement is around the corner considering the fact that his last game was played 13 months ago?
Yes, your captain cool will not don the blue jersey anymore. Yes, you won't be seeing the person who singlehandedly used to turn around a match either by standing behind the wickets or in front of them. Yes, the very same man who you fancied during your childhood and dreamt of having his golden long hair will no longer be on the field. Team India's DRS (Dhoni Review System) has finally bowed out with grace.
Dhoni is someone who you can never put under a particular label in cricket history. He was the quickest batsman to reach the number one ODI rankings, one of the greatest captains Indian cricket has ever witnessed and the best wicketkeeper of his times. Harsha Bhogle once said 'Dhoni has the fastest hands in the east!'
He was a craftsman in building teams and is arguably the smartest cricketer ever! He showed us that cricket is not about how hard you hit the ball (although he hit the hardest) but also your presence of mind and there have been instances where he won a match just because he was alert enough on the field. Be it his unique field settings or tactically stealing another run in between the wickets or his lightning-quick stumping, he took cricket to another level.
Dhoni – The Magician
You might say cricketers will come and go, be it the great Sir Don Bradman or our Master Blaster Sachin Tendulkar, everybody had to retire one day, but what makes MS Dhoni stand out from rest of them is the magic that he used to weave on the field.
It all began in the 2007 inaugural T-20 world cup when he gave the final over to Joginder Sharma instead of an experienced Harbhajan Singh. It was indeed a tough decision to make. Imagine captaining the world cup finals against Pakistan with their captain all set at the batting crease to hit the winning runs and take the team home and you keep a calm mind and do something unimaginable and BET your entire career on it.
Had India lost that match, people would have written him off. He took up the reins of Indian cricket from crisis and set his eyes on the 2011 world cup and won us the world cup after 28 years! One incident that is worth remembering is the match where India was 22 for 6 and everyone still said, 'Dhoni sambhaal lega'. Such was the faith Indians had in his abilities.
Sunil Gavaskar once said that if he were to die the next minute, he would watch Dhoni's world cup final six and happily depart!
Dhoni is the best captain I have played under – Sachin Tendulkar
Neither can his stats define his contribution to Indian cricket nor his trophies. He has shown to a generation that one is as big as his dreams and no dream is too big, and to young folks like me that a lot can be achieved when you ignore the noise and remain as cool as ice (Oh well, this ice unbreakable).
A lot of what I have done during my time in Manipal is a result of meticulously studying him. Dhoni taught me that actions speak louder than words and people will judge/criticize you and write you off even if you have achieved everything that is ever possible. His press conferences were an absolute delight and so was his stump mic commentary. He made every player on the field look better. He gave spinners the confidence and the guidance they needed. He has done everything that was to be done in cricket and there's literally nothing more to add to his cabinet trophy.
What pains me the most till date is the last image of him being a couple of inches short the crease. Sixteen years ago, when was run out during his debut match, not many people bothered, but his run out on July 10th, 2019 broke a billion hearts. People exaggerated his failures more than anything. Well, all legends go through it, I guess. His transition in the Indian team is a leadership lesson in itself. From being a finisher and the destroyer, he took the role of being the pillar of the side. A billion fans kept hope because he was on the crease. Dhoni had the ability to rise from the ashes.
While we all have seen how involved he is in the game, it didn't matter to him once his job was done on the field. He was the captain who happily gave away his match-winning t-shirt to someone in the crowd. He hit a six and won the world cup but still didn't steal the thunder from the man who actually deserved it. He knew it was Sachin's moment and he happily stepped back. He was an example of how one can be attached and detached with something at the same time. Every time his team won a trophy, he used to hand it over to the youngsters in the team and stepped aside as the victory celebrations went on.
While 1929 is already infamous for the great depression, 1929 Hours will be even more notorious now! (from 1929 hrs, consider me as retired – MSD)
Legends never retire from the game and while all of us are happy for our Mahi bhai to begin his second innings, we all deserved to have one last glimpse of him hitting the ball, collecting the wickets and happily departing from the field with a lap of honor.
There will never be a captain who will leave a legacy quite like MS Dhoni and for one last time, DHONI FINISHES OFF (not) IN STYLE!
About the Author: Rahul Konapur is a BPharm graduate from the Manipal College of Pharmaceutical Sciences, MAHE, Manipal.