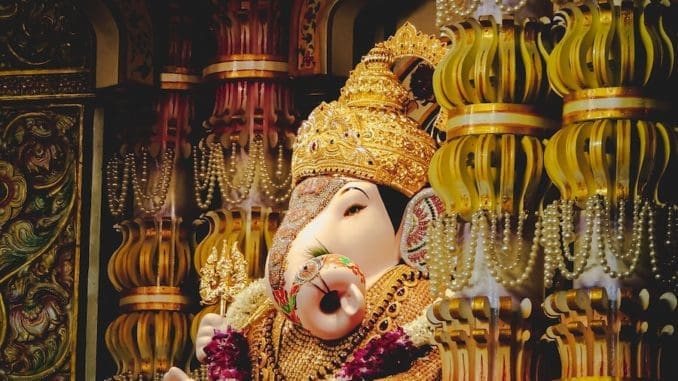 Significance of Ganesh Chaturthi
Like all other Vedic festivals, the sacred festival of Ganesh Chaturthi (that reveres Lord Ganesha as the god of wisdom, prosperity, and good fortune) is a 'conscious celebration'. The days and their rituals are suffused with deep inner meaning and are intended to
Remind us of the latent divinity within each one of us and bring it out. For 10 days, everything & everywhere becomes Ganesha i.e., one sees the good within all.
Bring us face-to-face with the Karmic circle of life; from jagran (prana pratishtha) to visarjan, the festival replicates our life – birth, live, then die, to be reborn.
Provide elaborate lessons about maintaining harmony with the environment while progressing on our spiritual journey.
However, over the last few decades, the original practices have been transformed into commercial displays of garish POP idols, ostentatious pandals, loud blasting 'techno' music and 'donation collection,' funding drives, and size-based competitions. This has turned the very concept of celebrating Ganapati pooja on its head, causing spiritual, environmental, social, and cultural degradation.
Did you know that every year, in Mumbai alone, over 100,000 Ganesha idols are immersed? 99% of these idols are made of non-biodegradable materials like Plaster of Paris (synthetic material containing gypsum, sulfur, phosphorus, and magnesium), thermocol, fiberglass, iron rods, plastic, etc. These don't dissolve in water or take months and years, leading to pollution.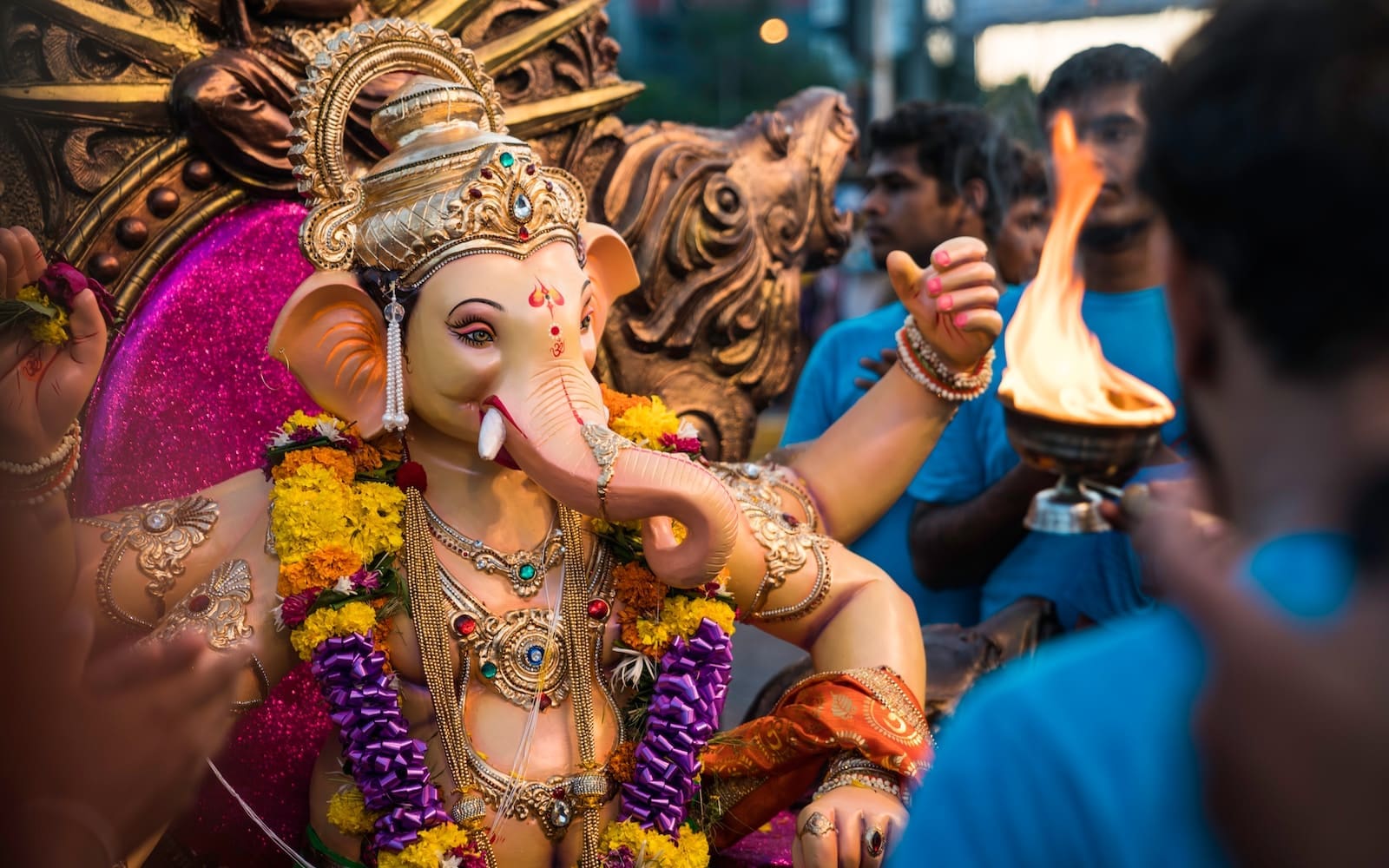 91% of the paints used to decorate the idols are toxic, containing chemicals like mercury, cadmium, zinc, chromium, arsenic, lead, and carbon, which increase the acidity and heavy metal content in the water and damage the ecosystem, killing marine life and water plants. Studies by the Pollution Control Board show increased levels of lead, mercury, and cadmium within days after the immersion. All this also contaminates our drinking water when immersions happen in lakes and ponds. This increased toxicity and acidity has been known to cause lung infection and skin, blood, and eye diseases.
Almost all pandals and idols are decorated with plastic and thermocol accessories like flowers, backdrops, etc., which are dumped carelessly into the water bodies, leading to further congestion and contamination.
Other worship materials like cloth, incense, camphor, polythene bags, etc., also cause pollution.
Every year after the festival, shoals of dead fish are washed ashore on Mumbai beaches. In 2007, thousands of dead fish floated near the Kandivli coast a few days after the immersions.
Awareness starts from the consciousness of one person – YOU.
We've listed ten ways you can celebrate an eco-friendly Ganesh Chaturthi
Say no to POP
Do not buy Ganesha idols made from Plaster of Paris, plastic, thermocol (polystyrene), fiberglass, etc. Visarjana, according to the authentic traditions, means complete dissolution of the idol without altering water quality. Return to the Vedic tradition of using natural clay idols. As a second preference, you can use idols made out of other biodegradable materials such as paper mache, terracotta, coconuts, etc.
Size doesn't matter!
Choose smaller idols so immersion can be done with reverence and without denigration of the deity. Faith is not incumbent on the size of the idol.
Go communal
Sarvajanik, or communal worship, is a positive influence and nurtures group spirit. The more idols and pandals more the pollution of noise, water and also traffic congestion. Having one pandal or idol in the neighborhood instead of in each house decreases the number of immersions and fosters a happy community.
Decorate…naturally
Either use unpainted idols in natural clay or, if painting them, then use only natural vegetable colors to avoid toxic chemicals leaching into our water. Also, avoid using stones to decorate the Ganesha crown, etc. This way, you know that your idol is entirely natural. Say no to thermocol, plastic, and other non-biodegradable materials for decorations. Instead, opt for wood, paper, terracotta, cloth, and other natural materials for decorations and rangolis.
Worship with nature
Use fresh flowers and leaves for puja. When giving away Prasad, avoid plastic bags and plates. Instead, use biodegradable plates made from Areca nut, banana leaves, etc., or reusable bags.
Compost
Last year BMC recovered 2,200 metric tonnes of bio-degradable waste like 'nirmalya' (used flowers, fruits, and other offerings to Lord Ganesh) from the beaches and converted it to manure. To reduce this, all bio-degradable waste should be collected separately like offerings of flowers and placed in a compost pit. They would be a natural fertilizer for your garden. If you must immerse them, use newspapers to wrap them instead of plastic bags.
Water your plants
Immerse the idol in a bucket of water at home and feed it back to the earth with reverence. After the idol dissolves, use the water to nourish your plants. Or you can go for symbolic immersion – have a permanent idol – metal or stone -at home and reuse every year, sprinkle water as immersion.
Reduce the Volume, please!
Yes, we know that festivities are incomplete without the revelry of song and dance. Ear-splitting decibels are not a part of the festivities. However, ear-splitting decibels are not only disturbing but are also a significant health hazard for everyone. So you must reduce the noise pollution and avoid playing loud music. Opt for traditional instruments like dhol/tablas and manjiras/mridangs etc.
Light it …down
Replace traditional bulbs such as incandescent bulbs with LED lights or, better still, use traditional terracotta lamps. Switch on decorative lights during the "aarti" or "pooja" and evenings only when necessary. Colored papers can also be wrapped on bulbs to give more colors rather than buying expensive bulbs.
Firecrackers
Avoid bursting firecrackers. Not only do they pose a severe threat to hearing health and emit toxic fumes.
Moderation is the key to ensuring a safe, happy, and healthy Ganesh Chaturthi. Happy Green Ganesh Chaturthi, everyone!