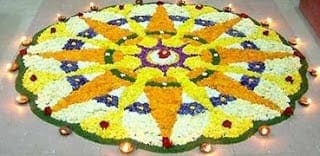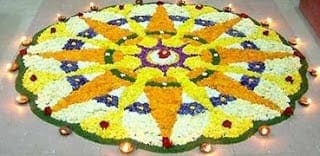 Onam Flower Arrangement – Pookalam
The sweet scent of flowers entangled with the rich aroma of different foods represents Onam. It is a harvest festival celebrated in Kerala during the Malayalam month of Chingam, which represents the calendar month of August and September. There are many different traditions associated with this festival such as making an Onam pookalam (flower arrangement) to eating a full Onam sadya (meal) with many different courses.
The event celebrates the return of the great King Mahabali. According to legend,King Mahabali was known to be a benevolent and judicious king. His reign was known to be during the golden era in which people were happy and prosperous. However, his popularity was also the cause of his downfall due to jealousy sprouting amongst some of the gods. The gods came to Lord Vishnu asking for help in confronting Mahabali. Lord Vishnu disguised himself as a dwarf called Vamana and asked Mahabali for as much land as could be covered within three steps. King Mahabali, being generous, accepted the request, yet little did he know that he was falling into a trap. Suddenly, Vamana increased in size and with the first step took over the entire sky and with his second step, he took over the entire Earth. With nowhere else to take his last step, King Mahabali allowed Vamana to take his last step on his head and he was then sent to the Underworld. Lord Vishnu was so pleased by his humility that he granted him one wish and the King asked that he be able to visit his people in Kerala once every year.
All over the world people celebrate the harvest festival by making Onam pookalams in
front of their houses or by dressing up in the traditional gold and white sari, or gold-­‐bordered lungi.