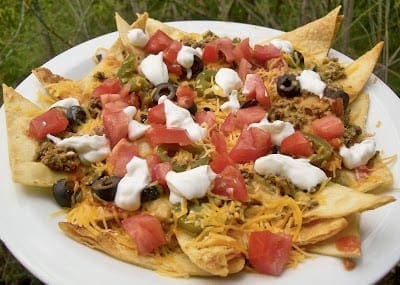 I came across this recipe in the KMCIC Newsletter and decided to go for it since the author said that ,this recipe is affordable, simple to make, and absolutely delicious. So get started on your Meerchos El Grande and have a Fiesta!
Meerchos El Grande – Nachos Supreme
(All the ingredients can be found at Manipal Stores and Dreams)
Ingredients:
2 Bags of Senõr Pepitos
1 Packet of Britannia cheese slices
1 Small block of Amul mozzarella cheese
1 Can of Old El Paso re-fried beans
4 Small tomatoes (diced)
1/2 Red onion (diced)
1 Small bunch of cilantro (chopped finely)
1 Tablespoon of lime juice
1/2 Teaspoon of garlic paste
1 Green chili or 2 jalapenos
Old bay seasoning (optional)
Salt and pepper
Directions:
(Serving size for 2)
Mix salsa ingredients into a bowl and add seasoning according to your taste. Once complete, set this dish aside.
Preheat oven/toaster oven to 250°C.
Cover the baking pan with aluminum foil.
Empty the chips into the covered baking pan and spread evenly.
Open the can of Old El Paso refried beans and spread the beans over the nachos. Once again, add as many as you want.
Tear Britannia cheese slices and evenly distribute them over the chips and beans.
Grate Amul mozzarella cheese and sprinkle over the chips mixture.
Place the baking pan in the oven for 5-­‐7 minutes (or until the cheese is nicely melted). (*Microwave users: heat up Meerchos for 1 ½ to 2 minutes.)
Take out the baking pan carefully.
Spread salsa over the chips.
And there you have it! Enjoy your Meerchos El Grrrrrrrrrrrrrrrrrrrande!! I must say, this was very much as I had expected, tasty, simple and fulfilling.