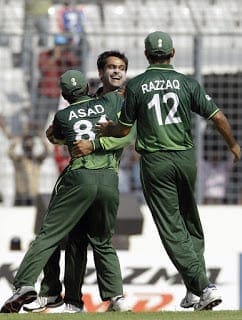 Being titled underdogs of the World Cup 2011, West Indies, I feel already had lost it before they even began the campaign. A lot was expected out of this team even though they were underdogs of the biggest tournament in ones cricketing career.
The likes of Sarwan, Chanderpaul, Gayle who might possibly have played their last world cup should have deserved something more. The strength West Indies was their bowling line up which failed miserably this tournament!
More than speaking the bad things about West Indies we must give credit to Pakistanis who played their heart out to just pawn the Windies. The way Pakistan has played in this tournament under the captaincy of Afridi is commendable. They really have proved themselves as major title contenders. Bowling attack which did the demolition of the Windies top order helped a lot for the Pakistani openers to achieve the target. Overall they achieved what they had to.
Read it somewhere on twitter " Due to security threats, ICC had a dummy set of players in the bus which traveled to the stadium and they enjoyed the tournament well. The real players are set to be having a relaxed holiday somewhere! 😛 "
Sammy the captain of the West Indies team failed to manage the team. He was always seen sitting beside the coach more than on the field 😛
The only plus point they can get is that they cleared the group stages and did play in the Quarters 😀
3 more Quarters to be played and high expectations on team INDIA 🙂 Lets see how well they perform.
Cheers
Muki