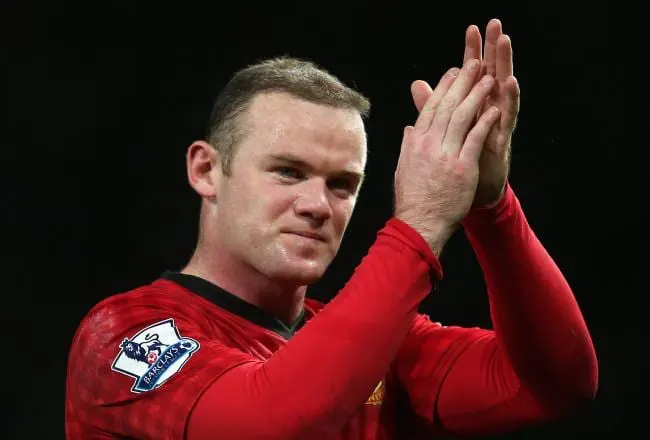 "He said to me he saw the white Pele,
 So I asked, who is he? 
He goes by the name of Wayne Rooney, 
Wayne Rooney, Wayne Rooney, 

He goes by the name of Wayne Rooney"
Every so often in football there comes a player that looks untouchable. It is not just through talent or training – it is an intangible aura. Pele had it, and now Wayne Rooney has it. Rooney imposes himself on the football field in such a way that when you consider his prodigious ability to control the ball, it becomes impossible to resist from comparing him to the legends of the past.
Rooney – couple of inches taller than Pele- is cast in the same squat, powerful and virtually unstoppable mould like Pele and has a similar physical presence like the legendary Brazilian.Although he is not sanctified with quite the two-footed agility of Pele, he balances it by generating extra power with his natural foot.  If not quite as quick off the mark, Rooney gains higher pace through longer runs. Time and again he shows glimpses of Pele's intangible instinct for finding space and the unmatched reading of the play.
In England, no hyperbole is sufficient to capture the importance of Rooney both at club and country level. There have been high and mighty voices that have vouched about his greatness
Sir Alex, who saw a touch of Brazilian flair in Rooney from close quarters, once said: "I think he's a typical British player and there have been players who have had similar great qualities, whether it's a Paul Gascoigne, George Best, Bobby Charlton or Denis Law. The similarities are that the boy has great courage, he wants to play all the time. He has incredible stamina. These are added extras to the talent he has. Brazilian? Well, if you look at Pele, for instance, he was a very aggressive attacker who could also look after himself. So can Rooney. They have similarities that way. Strength, speed, determination. But Wayne's white, completely white."
The ex-Evertonian has been at Old Trafford for almost nine years now. He made his Premier League debut at16, signed for United at 17 and, at 27, has already made 550 top-level footballing appearances.Having scored his 200th goal for Manchester United, he is now No. 4 on the list of  all-time top scorers for Manchester United, behind Jack Rowley (211 goals), Denis Law (237 goals) and the all-time top scorer Sir Bobby Charlton (249 goals).
After the contoversial transfer window, when his move to rival clubs looked to take shape, many fans doubted Rooneys commitment towards United. But, with a string of good performances this season, Rooney seem to have restored his credit with the club, working tirelessly for the team and recovering from an slump of form earlier season to forge a formidable partnership with Robin Van Persie.
The United faithfulls will hope Rooney will stay at Old Trafford to the end of his career, during which he would surely demonstrate further his versatility and utility for the team and become a club legend.