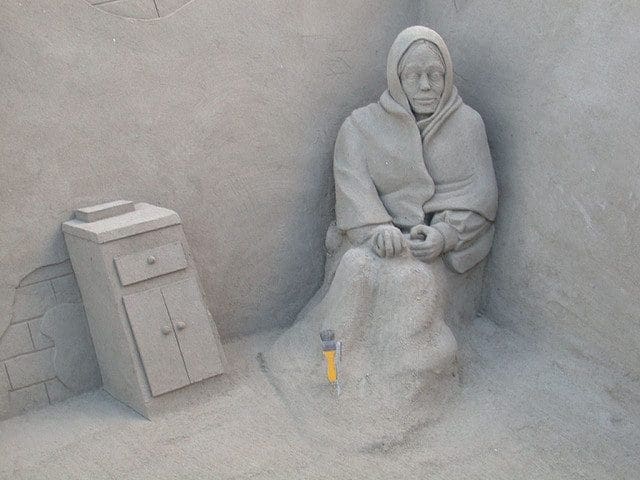 During the Roman occupation of Iberia, Subur was one of the most prominent commercial ports in the western Mediterranean. Nowadays, Sitges, as it became known during the Middle Ages, has a different, albeit still commercial reputation for holiday-makers who have come from further afield.
What we know today as a busy, attractive resort – especially in Carnival time at Lent – and somehow a magnet for gays of all nationalities, seems to have developed towards the end of the last century.
Sand Sculpture in Seaside of Sitges, Spain
Apparently, it's all down to the painter and writer Santiago Rusinyol, who invested in a couple of fishermen's houses, around the turn of the century, improved them in true 1980's yuppie style, and set the result up as a centre of culture, first inviting, then receiving a range of the art world's figures of the era.
Few who live or who have visited Barcelona these days can have avoided at least a day trip to Sitges, whether to sit on one of the beaches, take a meal in one of the many good restaurants or trip the light fantastic in the various late night bars and discos.
The most recent and eagerly-awaited addition to the more sedate aspect of Sitges is the Palau Maricel, used over the past few years as a conference centre and for exhibitions, but opened this summer to the general public. The town's Consorci del Patrimoni has been running guided visits, lasting 45 minutes, to this prime example of modernist architecture, built in 1910 for American millionaire Charles Deering by artist Miquel Utrillo.
Visitors will be shown the interior, moving through the Saló d'Or, the chapel, the shady patio and the palace's terraces. Ending up in the cloisters, you can take a free glass of cava and enjoy some beautiful views over the town, the sea, and the surrounding countryside.
The other two main, more cultural attractions of Sitges are conveniently close to the Palau.
Rusinyol's original bijou converted cottages now form the Cau Ferrat museum, containing pictures from the original owner, as well as some fine works by El Greco, Casas, Utrillo and some Picasso sketches, and one of Spain's best collections of wrought iron works. The Museu Maricel, meanwhile, boasts a small but interesting set of medieval art and sculpture in a beautiful modernist building.
These three buildings, together with the parish church, Sant Bartomeu i Santa Tecla – which dominate the town from the seafront, and appear in every postcard you've ever seen of Sitges – are right next to what many consider the prettiest beach, Sant Sebastià. It may be the smallest and least fashionable in the main part of town, but it is almost never over-crowded and even in winter it is charming.