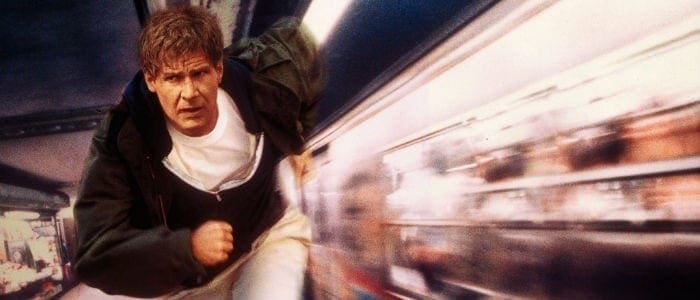 The Fugitive – Based on an old weekly TV series about a man who goes on the run after falsely being accused of his wife's murder.  A simple plot but a great script!  Starring Harrison Ford and Tommy Lee Jones.

Die Hard – A criminal genius forces a New York City cop to play a deadly game with the stakes being New York City itself.  This thriller will definitely keep you on the edge of your seat.  Starring Bruce Willis and Jeremy Irons.

Lord of the Rings: The Return of the King – One of the best movies of all time, based on books by J.R. Tolkien.  Everyone can enjoy this fantasy-filled movie.  Starring Elijah Wood and Ian McKellen.

Saving Private Ryan – Set during World War I, a team of soldiers led is assembled to find and save Private James Ryan after all three of his brothers are killed during combat.  Starring Tom Hanks and Ton Sizemore.

Braveheart – The king of England has seized the throne of Scotland.  William Wallace assembles a ramshackle army to take it back.  Romance buds between Wallace and an English princess. Starring Mel Gibson and Sophie Marceau.

Platoon – The gripping saga of a group of soldiers sent into Vietnam.  A very personal look at what went on during the tragic war.  Starring Tom Berenger and William Dafoe.

Gladiator – A story from ancient Rome involving a jealous son and a fearsome leader who gets sold into slavery but becomes a gladiator to seek revenge.  Starring Russel Crowe and Joaquin Phoenix.

Indiana Jones and the Last Crusade – Indiana Jones and his father finally outwit the Nazis in their attempt to find the Holy Grail.  This is a classic action movie.  Starring Harrison Ford and Sean Connery.

Blade Runner – In this futuristic movie, an ex-detective must track down a group of androids which have escaped from a mining colony.  He also discovers some disturbing plans for the future of the planet.  Starring Harrison Form and Rutger Hauer.

Robocop – A Detroit cop is made into an indestructible robotic crime fighter after being dismembered by a group of thugs.  After he has wiped out crime in Detroit, he sets his sights on corruption inside the company that made him.  Starring Peter Weller and Nancy Allen.