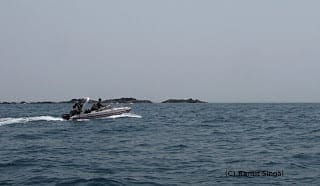 Shakespeare's line from Hamlet is often twisted and used commonly; but it best describes the dilemma in the minds of the people of the tropical city on this rainy morning. Residents of this city are accustomed to waking out to a sunny day where one begins to sweat as soon as one steps outside the house. However, that morning was different. The sky was overcast and even at 7.30 a.m. there was not a single ray of sunlight! It was raining heavily; water, water, everywhere! It led to confusion as many were hoping for a 'rain-holiday'! After pressing the 'Snooze' button again and again, they finally dragged themselves out of bed. It took a while to realize that the pitter-patter on the roof was the sound of raindrops and this was not a dream!
Even the heavy downpour did not deter the spirit of the students and most of them came to college, umbrellas in hand. It was quite entertaining to see the students maneuver their way amidst the pools of water that surrounded the entrance. Jumping out of the cars, opening the umbrellas and then running to the reception; it added a whole new dimension to the otherwise monotonous routine.
There was darkness all around, and one found it hard to believe that this was not 6 in the evening, but 8 in the morning; the beginning of a new day. Within half an hour, water had begun to accumulate in different parts of campus. It was not easy to resist one's urge to make paper boats and go back to childhood! Yet, the students went to the classrooms and attended the lectures. All hopes for the declaration of a holiday because of the rain were shattered.
The fight between the rain gods and the young minds (who could not pay attention to the lectures) continued till about 10 o'clock. Finally, the rain stopped. The weather was amazing and beautiful. It provided ample opportunities for clicking pictures. All one wanted was a cup of hot chocolate and hot pakodas to make the day perfect!