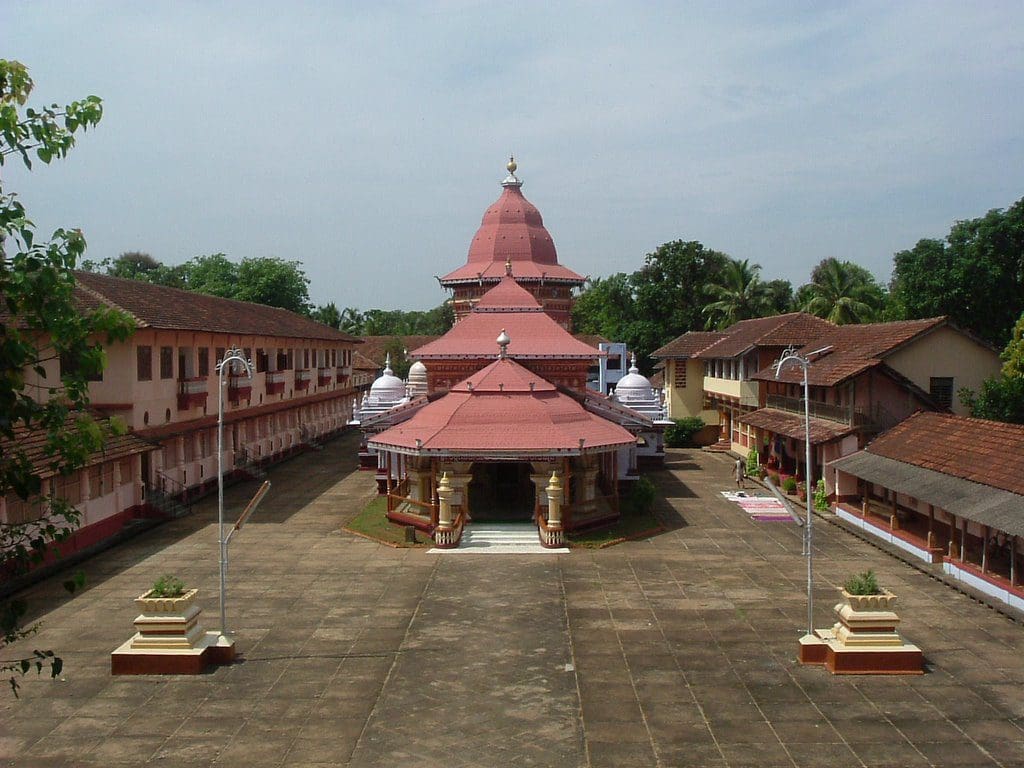 Our temples of the Kuladevatas were originally villages deities of various villages. Life centered round these temples and Utsavas in Kartika, Shravana and during Rathasaptami, take place here with all grandeur, and the Utsava murthy is taken round in a procession. They include the Mangesh at Priol, Damodar at Jambavali (Zambaulim), Devakikrishna Ravalnath at Mashel (Marcella), Ramnath, Mahalakshmi and Nagesh at Bandora, Navadurga at Borim, Mallikarjuna at Canacona, Bhagavati at Chandola, Shantadurga at Fatorpa, Navadurga at Madkai (Marcaim), Bhagavati at Pendne( Pernem), Vijayadurga at Keri (Querim), Shantadurga at Kavale (Queula), Kamakshi at Siroda and Lakshmi-Narasimha at Velinga. In addition, some of the Saraswats while leaving Goa carried their Kuladevatas with them and founded temples in North Canara too. Thus there are the Mahalasa Narayani and the Kundadari temples at Ankola, Mahamayi-Mahaganapati at Shirali and the Katyayani Baneshwar at Aversa. Rathotsava during Rathasaptami, Sharannavaratri, Shishirotsav in Phalgun, and also Holi in the same month, Mahashivaratri, Kartika Purnima, etc., are some of the important utsavas held in these temples.
As most of the Saraswat migrants settled down in Vijayanagara times on the West Coast and as a majority of them were Vaishnavas, they became devotees of Venkataramana of Tirupati. Some of them being connected with the Kumbhakonam Matha in Tamilnadu (which is nearer to Tirupathi) from which the Kashi Matha later branched out also helped to popularize this deity in Cochin, which was not in the Vijayanagara empire. The Venkataramana temple at Mattancheri in Cochin is one of the biggest temples of the Saraswats, and it is believed to have been founded during the 16th century. The Ananteshwara temple at Manjeshwar is more than 700 years old and the Rathothsava here is celebrated on Margashira Shasti. Venkataramna temples are also founded at Cannanore, Kasargode, Ernakulam, Thuravoor, Alleppey, Kottayam etc. in Kerala, Mangalore, Bantval, Udupi, Uppinangadi, Karkala, Gangolli, Kundapur, Mulki etc., in South Kanara, Venkatapur, Honavar, Kumta, Siddapur, Yellapur, Murdeshwar, etc, in North Kanara and also at Nagar in Shimoga dt. all managed by the Saraswats.
The Chitrapur Saraswats have the Ananteshwara at Vitla, Uma-Maheshwara at Mangalore and the Seeta-Ram at Bantval. They have their temples in Uttara Kannada also. Some of these temples have darshan or possession of a person by Kalabhairav who delivers oracles through the possessed as at Gurpur or Mulky. Temples of Krishna, Rama, Vithala and Anjaneya are also founded by the Saraswats in many places. Rathotsava, Kartika Poornima with vanabhojana. and Kartika Ekadashi are some of the festivals commonly organized at these temples. Temples are centers of social congregation. Harikatha, pravachanas, musical recitals etc. are organized in them. Community feeding is a part of many festivals like Rathotsava and Kartika Poornima. Kartika Ekadashi is preceded by non-stop (week-long) bhajana saptaha when bhajan songs in Kannada, Marathi and even Hindi are sung in groups.
These bhajana saptahas are the most important samskaras to which the community is subjected as these songs are replete with devotion to god and moral teachings of the saints like Purandaradas, Kanakadasa, Tukaram, Meera and Kabir make indelible impressions on the minds of the participants. Their continuous singing is echoed into the ears and hearts of the people. Bhajans are regularly performed in many homes daily. The Mukhyaprana temple at Gundabala in Uttara Kannada has a special method of granting boons of the devotees. To have one's desire fulfilled, the devotee will take a vow to finance a Yakshagana performance in the presence of the God in the temple. Such performances are held on almost every alternate day except during the rainy seasons at this Gundabala temple.
Temples have helped the Saraswats all over to maintain social unity by providing the fora for congregations. The rathotsavas are occasions when people who have left their native place for far off towns, to visit their native town annually and meet friends and relations. They have helped people not only to strengthen theistic ideas, but also work in unison and uphold the dignity of labor by serving food, removing the plates (plantain leaves) and cleaning, carrying palanquins and undertaking other menial works for the success of the festivals.
The programs in temples have fostered voluntary spirit and leadership qualities in the young men. They have encouraged fostering of love for fine arts like music, dance, etc. They have helped the growth of the love for culture and for nobler aspects of life in their minds. Many of these temple like the Gopalakrishna at Sirsi, or the Sri Rama at Tirthahalli, hosted all meetings during the days of freedom movement. In bigger cities and towns like Bangalore, Mysore, Bombay or Pune, the community associations (Samajas) play the role of temples by organizing Ganeshotsava, Rama Navami and other such religious and cultural programs. In Shravana exclusive programs for women to exchange Chudi (bouquets) of Umbra (threshold) Puja are organized.