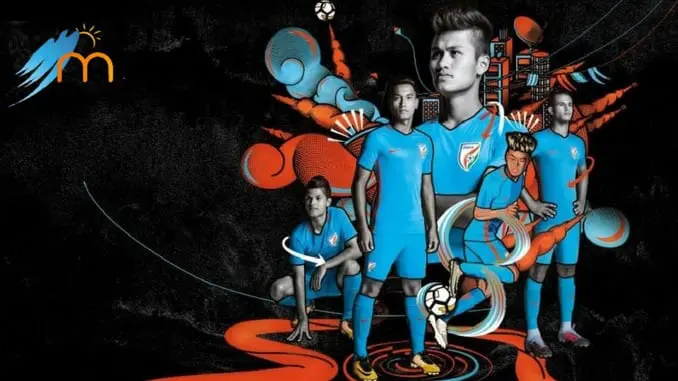 Football is the greatest drama on earth. The field is our stage, our theater, fans and players alike, because when you see them play. You feel their emotions. You feel their pressure, you feel their pain and when that one ball soars through the back of the net. You feel the goal.
One of the greatest things about the beautiful game is that it doesn't discriminate. When you're on that pitch, nothing else other then your talent and skill define who you are. The Indian National Football Players may not be on the level of those participating in the FIFA or UEFA, however the zeal and the determination to win in those players is no less then the likes of the greatest in football. The Blue Tigers smashed the Chinese Taipei team with an astounding score of 5-0, with Skipper Sunil Chhetri scoring a hat trick. At the end of the match he made a plea to all football fans to come and watch them play. "Abuse us, criticize us but please come to watch the Indian national team play" he said.
This is nothing but a small plea from me to you. Take out a little time and give me a listen. pic.twitter.com/fcOA3qPH8i

— Sunil Chhetri (@chetrisunil11) June 2, 2018
A lot of people (me included) have been a part of the Indian football fans tradition, of staying up till 2 am, hiding from parents, and not caring about the morning after, because "our" team was playing the night before. We risk it all, all deadlines and angry parents for those 90 minutes where we have our players on that pitch. We curse at every foul, and cry at every injury but most of all we celebrate at every goal. We jump and shout and scream all just because of that one person thousands of kilometers away has put that ball at the back of the net. It isn't logical, doing so much just to watch that one match, but football isn't logical, it is a feeling, because at that moment of celebration, we aren't huddled up in our room anxiously watching 22 players running on the field. We are a part of our team, celebrating like we are with them, like we are them because in that moment, we are.
Sunil's plea to Indian football fans did not go unnoticed as thousands rushed out to watch the national team play against Kenya on the 4th of June. The Blue Tigers didn't disappount with the captain himself putting 2 goals in India's kitty and winning the match for the team with an astounding score of 3-0. As Indian football fans it should be our duty, our responsibility to promote Indian football as much as we can. The Indian squad has seen a constant rise in it's position, currently ranking 97 in FIFA rankings and now it is up to all of the fans of football, to rise as a community to help get Indian football to new unseen heights.
When scores of Indian Football fans call European Clubs 'theirs' and support them with ferocious passion, it is only fair that we show the same drive for our own National Team!