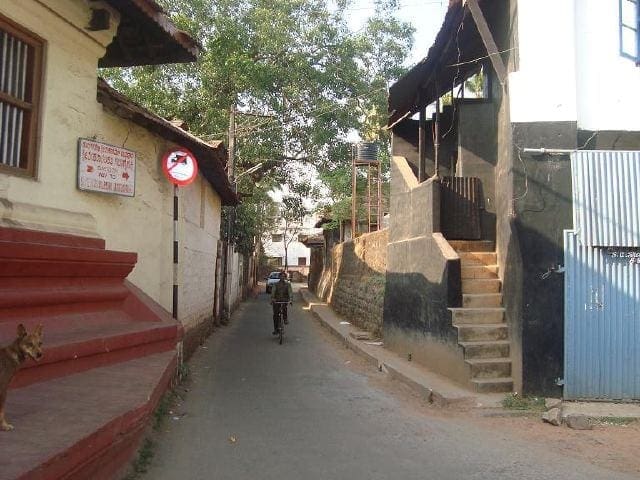 So, anyways, people who know me, feel that there's one thing I'm not really comfortable about. And that's talking about my childhood years. Anyone who can call me a "friend" of mine, knows that I become pretty edgy when the conversation veers off in that direction. Some people in jest think of it as attributed to some weird sort of childhood trauma or whatever. I assure you people, that isn't the reason.
Well, the main reason I don't like to talk about my childhood years, is because I'm damn sentimental about that phase of my life. Again, not because of trauma, but because of the setting that I grew up in. I'm a born and brought up Mangalorean, with all due to respect to my friends of Mangalorean origin but raised elsewhere, you might be Mangalorean at heart, but being brought up Mangalorean is something that isn't in your blood, you have to live in Mangalore to experience that.
It just occurred to me the other day how much Mangalore had changed. As my friends know, despite being in MIT Manipal, I religiously travel to Mangalore once a week. And the journey is so frequent, that every image gets ingrained into your head after a certain point. And for that particular reason, I had lost the excitement that I would initially feel when I reached home. Nowadays, I just sleep it off, not bothered to know what sights and sounds await with each journey.
However, this past week, I had snapped out of my slumber, when the bus hit a particularly rough patch near the outskirts of Mangalore. Sleeping in a Volvo bus isn't the most comfortable experience in the world. Though it has all the merits of an AC, the absurdly small seats without head rests make you wonder if the guys at Volvo ever cared about people who were taller than five and a half feet. Having said all that, my neck had gone all stiff, and I twisted and turn about my seat, making conspicuous crackling noises that become frequent with the passage of time. But what surprised me the most, was the sudden slope that my bus had encountered when I had reached Mangalore.
Being a person who's prone to panick attacks, my sense of being able to think rationally just flew out of the window. I began wondering if in my complacency I had boarded the wrong bus. I double checked my ticket, but it just didn't make sense! And when you lose your bearings like that, you just peer out of the windows to get a sense of the surroundings.
It was then that I realised that we were on a flyover! Oh My God, since when did Mangalore have flyovers?? As we zipped along the flyovers, my mind drifted at an equal speed in the opposite direction. I was flipping back over the days, weeks, months and years. As the bus passed every new stop, my mind would compare it with what the surrounding areas of that stop would look like ten years ago. Mangalore had changed so much from what it used to be in the 90's!
There are certain moments in life when everything puts itself in perspective. This was one of them. I was humbled to realise how much things can change in such a short space of time.
Many of my friends from Manipal who aren't from here have a pet grouse that goes along these lines: "Mangalore is so boring yaar! There's hardly anything to do there!" and then, they would ask me "What's so special about Mangalore man? What makes you go there once a week? Don't you get bored there in the vacations?"
Well, the most obvious answer to that is the fact that my girlfriend stays in Mangalore, but besides that, the thing is that guys, if you think Mangalore is boring now to you, then you would have probably committed suicide had you been here ten years ago.
Mangalore was a much different place back then. There were no Malls, no fast food chains, no fly overs, no multiplexes, no retail stores, and the likes you would associate as a sign of development in modern India. Back then, Mangalore was a sleepy town. The roads here were motorable, and the vehicles so scarce that I remember people would play cricket on the streets without the fear of being run over. This was a time when vehicles had different colourings on their number plates. Mangalore had just been promoted to the status of a "city" from a "town". People never used to go to Big Bazaar or Spar or More. People would just go to the nearest grocer and buy whatever was needed to carry on life.
Branded stuff was a distant dream. If you were that well off back then, you would have to travel to Bangalore to buy such things. Trips to Bangalore were a reward for a good school term. Bangalore which was at the cusp of it's IT revolution, had the best of things that us Mangaloreans would crave for: Pizza Hut, KFC, Baskin Robbins (which would later open on a small-scale), Domino's, McDonald's, etc. People who had shoe sizes greater than size 9 would have had to travel to Bangalore just to buy a decent pair of shoes (I remember doing this until my 9th STD). In Mangalore, there were no hang outs as such. Hanging out meant travelling to a beach on a cool Sunday evening. Or sitting near Sultan Battery, flinging rocks into the Gurpur River, as the orange disc of the Sun faded into oblivion, only to the rise again the next day. Eating chaats like Bhelpuri, Dahipuri, Charmuri and the likes was a way to pass time when School got out. Treating your friends to such things, a sign of having surplus cash.
Night Outs meant going to some decent restaurant, and bars were frowned upon. The best way to culminate an outing would have been to travel to Pabba's, and have their world famous Gad-Bad, not the horrendous imitations that you see everywhere else. There was no DTH, no international TV channels. Just Star, Zee, DD, Cartoon Network and the likes. Growing up watching all those vintage tv shows, makes me all the more bitter when I see TV these days. Things back then were much simpler, with less worries about plans for leisure, and more worries about the next power cut. Inverters weren't as common as they are now either. Primitive yes, but that was 90's Mangalore for you.
Just the other day, at a circulating library, I overheard a kid pleading with his mother to buy him a Chhota Bheem Comic. Chhota Bheem? I know right, kids these days! You gotta pity them! I turned around, and I saw him there, in his clothes from Lilliput, with shoes from Reebok (forget Reebok, having shoes with glowing lights was the it thing in my time) , holding a Baskin Robbin's cone in one hand, and a fast track watch on the other (I still remember having a Dash! watch was all the rage back then). His much harried mother, holding bags from Lifestyle (whatever happened to children's corner?) trying to keep him in check while furiously typing some message on her BlackBerry while her sunglasses threatened to fall any moment from their perch on her forehead.
I would remember how this was a sign of opulence back in the 90's. Now, it's just a sign of the burgeoning upper middle class. The Mangalore as I knew it was dying. And a pseudo modern Mangalore, with all it's small town pettiness, with an increasingly communal atmosphere and tensions underneath all that cosmopolitan attitude is replacing it.
Mangalore is dying folks. Mangaluru is replacing it. Pay homage.