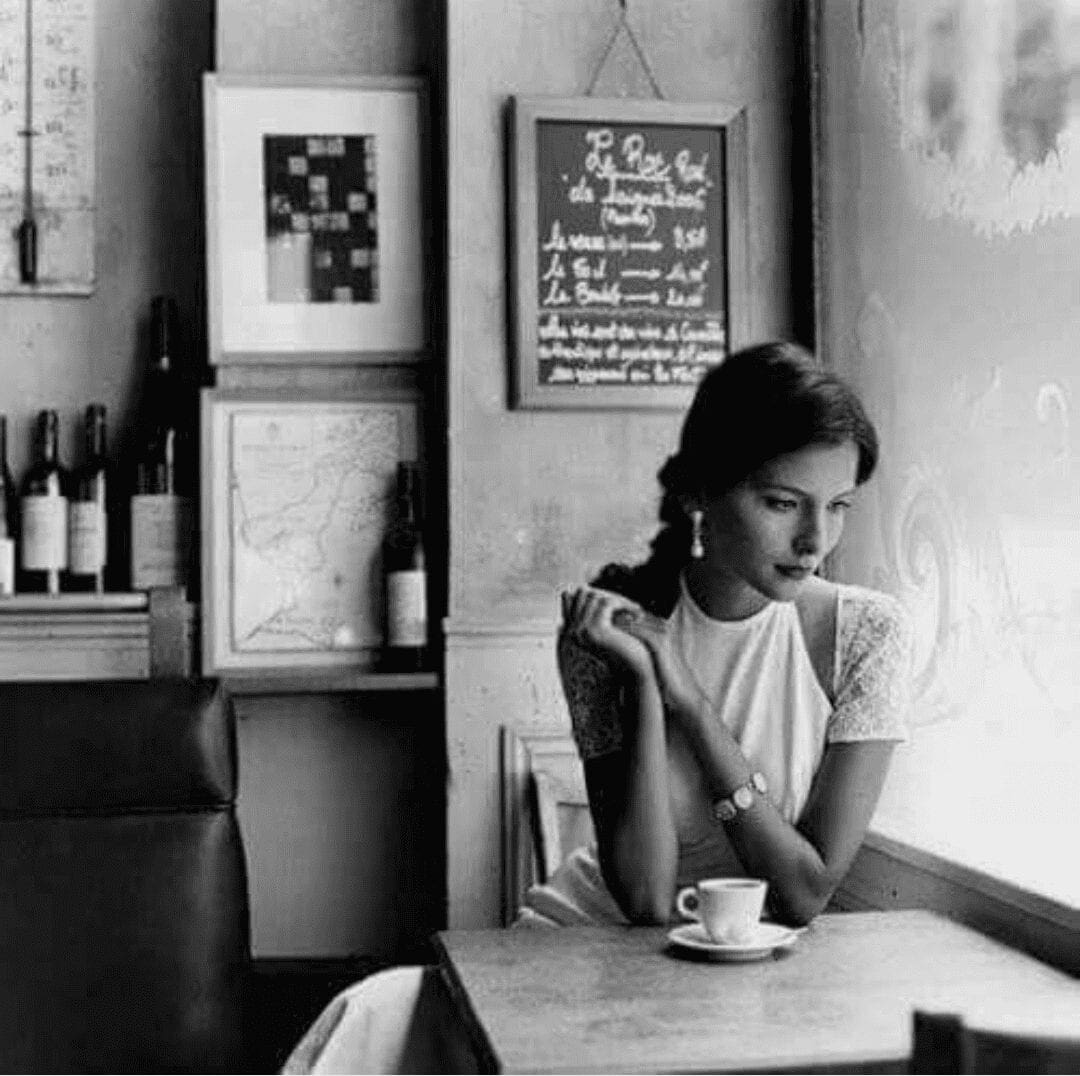 The air was already agitated by the news of the USA plunging into the European conflict after President Woodrow Wilson declared war against Germany. It was an afternoon as regular as any other but for the unusual strange emptiness of Broadway which usually occupied scores and scores of passers-by.
The summer air brushed against the window panes of Mrs Stimson's coffee shop which was unexpectedly unoccupied as well. The clouds had taken over the sky since the morning. Except for a few loud men pontificating their unnecessary opinions on what stance the States should have taken, there was Elsie sitting in one of the shady corners of the dimly lit cafe, the lone bulb glowing over her head, to which Mrs Stimson had hung a wishbone for the safe return of her son from the Isle. The untimely wrinkles on her face didn't suggest that she was twenty-two. She seemed to be brooding about something so important that she had stirred her coffee for past half an hour looking pensive. The radio broadcast had almost become monotonous and faint. "The state is at war", the host stated repetitively.
Elsie was broken out of her moroseness as a mob of protestors shrieked through Broadway's every nook and cranny, shouting out slogans in unison. People began cramming into the square just outside the cafe emerging from the narrow lanes Broadway was connected to. One of the men in the cafe, wiping off the coffee on his bushy handlebars yelled, "It's time to go", he left the cafe hastily and was followed by the rest. "Pay for the order and go", Mrs Stimson cried to which the last man leaving the cafe said in his broken English and Nordic accent, "Add to the dues Madam", slamming the door and merging into the mob in no time.
"Nasty German race", Mrs Stimson said mockingly when her eyes met Elsie's who pretended to chortle at the derision. By the time both the women had exchanged pleasantries, the square had a riot of chaotic din. The crowd was led by none, but only by the newfound nationalism the so-called ethnic Germans in the States had been a good fit to overnight, after Woodrow's declaration the previous day. After a long stretched hubbub, it was a doddle for the police to take over the mess. After all, the German nationalism overseas was still drowsy after its hibernation of aeons. Soon the square returned to normalcy, indeed because now the policemen played the passers-by.
Engrossed in watching the quick episode happening outside, Elsie still hadn't pondered upon the thought of not stirring the already tepid coffee. Understandable because it had been a really bad day for her. She was rejected for the job of a nurse in the Navy for the fifth time due to her Nordic features. The Navy had become intolerant to anyone who had a direct connection with Germany. Policy against potential future treason, it said. Upon the suggestion of her mother, she had come to meet Chloe Bisset, a French psychiatrist who was on her tour to the USA. Elsie's mother thought that Madam Chloe might be of some help in treating Elsie's nervous breakdown being a peer to her.
"Those blue Nordic eyes are a rare sight here, aren't they?", a fair young lady standing in front of Elsie remarked. Her knee long skirt and Paul Poiret tunic reflected boldness and independence and the Red Cross volunteers' badge shined as it's proof. Bringing herself back to the present and breaking the silence she had created while staring at the lady, Elsie stood up and said shaking hands with her, "They are the reason of my agony Madam Chloe".
"What can be more agonizing than having your father in jail?", Chloe asked settling herself on the chair opposite to Elsie. "Not having a father can be", Elsie replied neutrally. Mrs Stimson approached the table and poured Elsie and Chloe coffee in two cups taking away the older one Elsie had forgotten to drink. "Looks like you have a story to tell and I have some time to spare", said Chloe raising her eyebrows.
Stirring her coffee, Elsie began narrating, "I was raised by my mother and I have never seen my father. My mother says he was a Nordic Jew from Germany. After my mother married my step father, she couldn't conceive. My step father committed suicide upon constantly being accused of infertility. My mother was left to herself after he passed away. She badly wanted someone to be her companion in her solitude. She decided to look for someone who could father her child. In the hunt for the perfect man, she met a man from Germany. He was tall, handsome and had blue eyes, just like I have. He decided to foster my birth in lieu of which he demanded a passenger ticket on the ship which sailed to France once every six months. He also demanded complete anonymity. The ticket was expensive but my mother managed to get one by taking a loan from a pawnbroker against her jewellery. My mother conceived within a week after he came to stay at her house. The ship was scheduled to leave sixty days hence. During this stretch of sixty days, my mother says, his behaviour was doubtfully weird and he only left the house at night. He didn't speak much. My mother distinctively remembers that he was left-handed like I am. One day the police came for investigation. He had left by then. He might have gone back to his family in France he talked about. My mother was told that he was a German spy and that she should inform the police if he returned back. I have a cutout of his wanted poster", Elsie took out a piece of paper from her bag and showed it to Chloe.
She took the cutout, unfolded it and kept gazing at it for a while holding it in her left hand. "Hermann Weber!", Chloe exclaimed. "How do you know?", Elsie asked astonishingly. Surprised with a want of words, Chloe as she stirred her coffee in Elsie's pace said, "He was arrested by the French police three years ago. My step father had died in the Boxer rebellion. My mother had to buy him a passenger ticket to Madagascar. My blue eyes aren't French, they are Nordic". Elsie couldn't figure out what was happening, neither could Chloe. Quietude evaded the cafe as soon as the police abandoned Broadway. The wind blew over the window panes and the empty road, the wishbone had its shadow falling upon Elsie and Chloe who were gaping at each other's blue eyes endlessly, the fingers of their left hands intertwined. The coffee in both the cups was still steaming. "US to back France against Germany", the radio broadcast said.