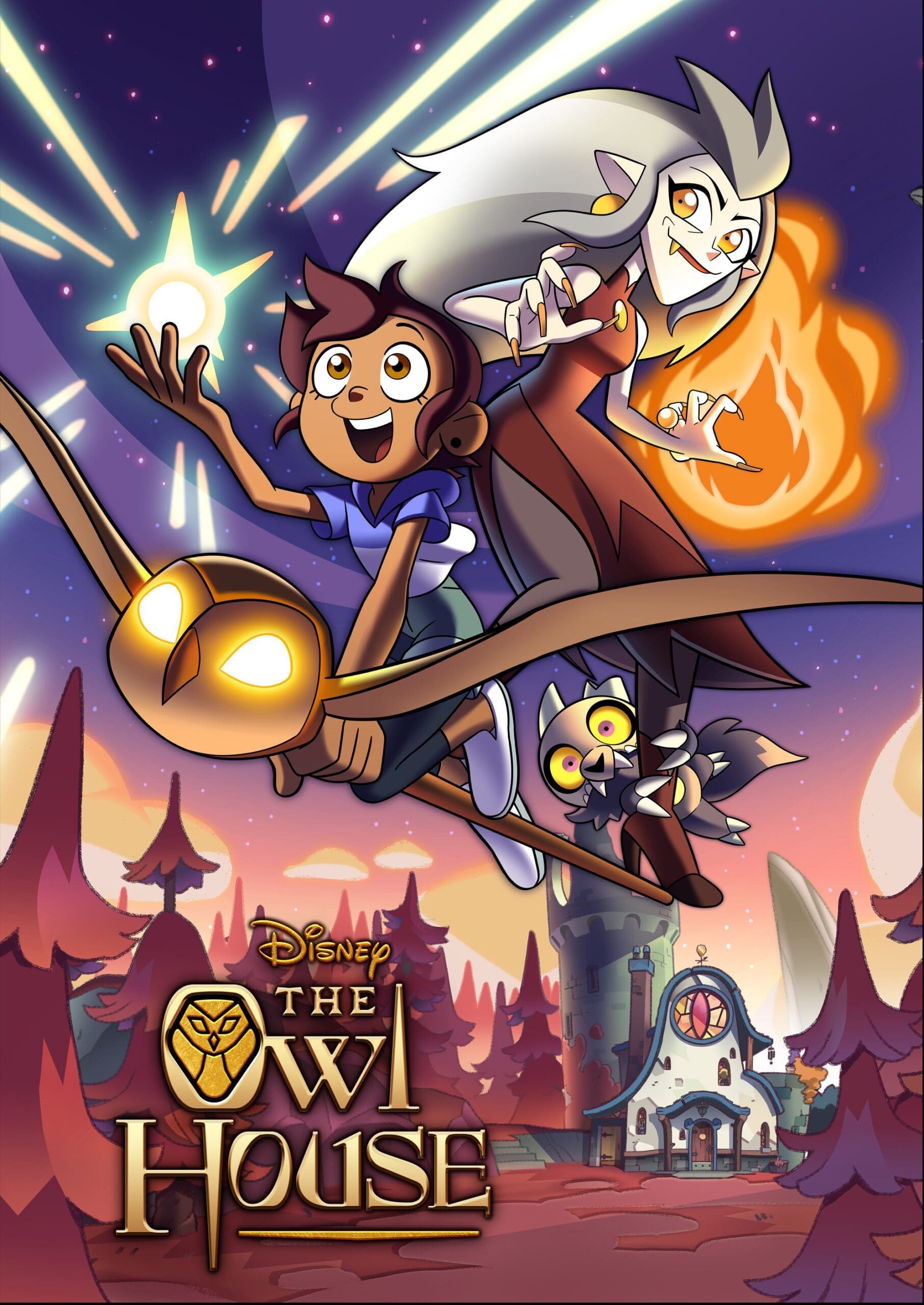 We all know how awesome The Owl House is. I won't bore you with an introduction, let's dig in.
1. Pilot
5 minutes into the pilot episode of The Owl House, we have a reference to the legendary 'The Good Place,' a title inspired by Narnia, and an easter egg from Gravity Falls. Could this get any better? Also, did a Disney cartoon just reference an NBC philosophical fiction sitcom?! Hold up, back up a second.
2. Conception
The show follows self-appointed teenage nerd Luz Noceda, transported to another realm where she joins forces with Eda, a fiery witch, and King, the tiniest and most adorable bloodthirsty demon.  
Creator and executive producer, Dana Terrace, has worked as a storyboard artist for Gravity Falls. The roots of the magical strangeness of TOH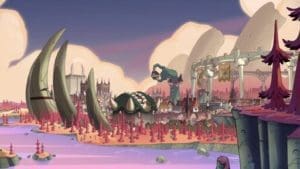 go all the way to 2016 when Terrace was feeling 'creatively unfulfilled' and decided to take a shot at her own thing.
Visually, she was inspired by medieval art and surrealism, so the show has a very unique look that continues to surprise her.
3. S01
The show is just so smart and witty. The characters are real, quirky, and extremely weird in the most relatable way. Luz, the main lead(confirmed to be bisexual), embodies the universal teenage experience; not feeling understood and struggling with self-doubt. But at the same time, it's like she validates my emo nerd brain with her infectious bravery and enthusiasm. Dana Terrace, you absolute witch! (*wipes tear*).
For Luz, stepping into the Demon Realm is like a fantasy come true. Her dream of becoming full-fledged witch blossoms (extra points if you caught that reference) with Eda, the most powerful Witch on the Boiling Isles. In Eda's words. But it's true.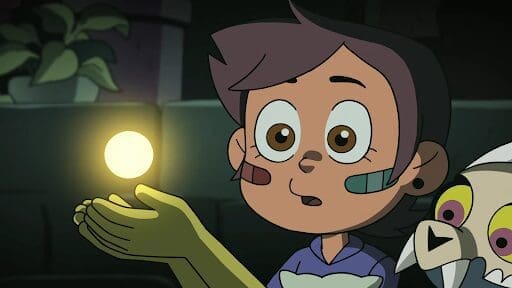 Although there is plenty of lore to be found in this new world, the characters generate most of the plot. The arcs get progressively darker, but the scary is balanced with comedy, like the perfect blend of sweet and sour that turns into an entirely different addictiveness.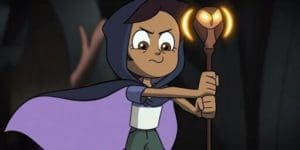 The season finale raises the stakes with Luz needing to rescue Eda from the Emperor, a witch intent on destroying wild magic and limiting the use of magic to a strict hierarchy. It ends with Luz destroying the portal to the human realm to protect it.
4. LUMITY
DO I EVEN NEED TO EXPLAIN THIS PART? OH MY GOSH, LOOK AT THEM THEY'RE SO CUTE?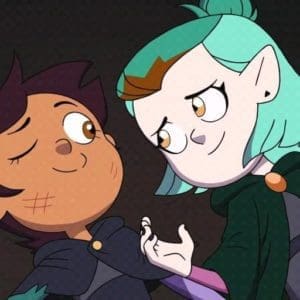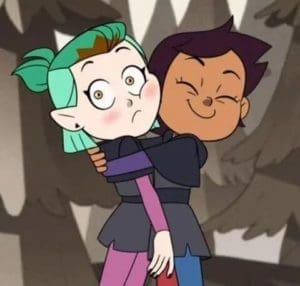 5. S02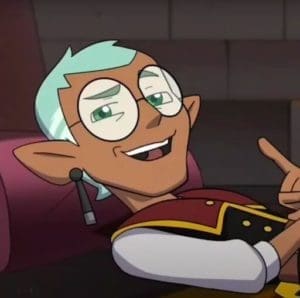 The stakes, of course, are on a steady rise throughout season 1. But somehow, the emotional stakes are also evolving throughout season 2. We are treated to Disney's first non-binary character, Raine Whispers, head of the Bard coven. They are part of a rebellious group that doesn't want to let Emperor Belos destroy wild magic. We also learn that they are Eda's ex-partner. 
The relationships between each character are treated with such tenderness; Eda hurts to think of her kids leaving her, as Luz tries to find a way to contact her mother and King tries to find his family. Eda and Raine's reunion is tragically cut short. However, the most bittersweet cliffhanger we are left with is when Luz finally explains everything to her mom. It's raining, with Luz merely an apparition before her mother, telling her where she's been, how she's doing her best to find a way back. Season 2 went on a sudden hiatus as we leave Luz's mother heartbroken at the thought that her daughter willingly chose not to come back home.
6. The Final Season
Season 2 went on a sudden hiatus but is expected to air 11 more episodes. The series had been renewed for a season 3 even before the premiere of season 2, and it looked like the ratings were doing well. However, in a Reddit AMA, Dana explains why the series would unexpectedly conclude in only 3 special season 3 episodes: "At the end of the day, there are a few business people who oversee what fits into the Disney brand and one day, one of those guys decided TOH didn't fit 'that brand. The story is serialized… our audience skews older, and that just didn't fit this one guy's tastes."
     She further explains that this decision was made before the end of season 1's premiere. While it seems mind-bending to cancel such a groundbreaking and insightful series, maybe it's just not what the higher-ups want in terms of their target market audience.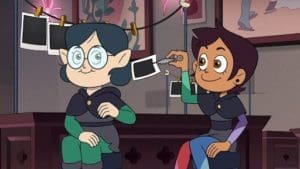 Nevertheless, story-driven cartoons like TOH, Gravity Falls, Infinity Train, and Steven Universe are sure to ride off into the sunset and endure until the end of the earth. There will always be folks talking about them because, let's face it, this would be one heck of memory to burn…er, erase. 
And now, to our wall of 'interesting characters' I wanted to talk about but never got around to until I finished writing the entire article: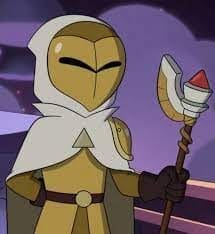 Hunter: Also known as the Golden Guard, he's on the enemy's side(presumably) but has a softer heart than we expect. He's clearly torn between his loyalty to the Emperor, his uncle, and following his own path with his fascination with wild magic. It creates an exciting back and forth identity question and makes us root for him even though he clearly gets on Eda and Luz's nerves.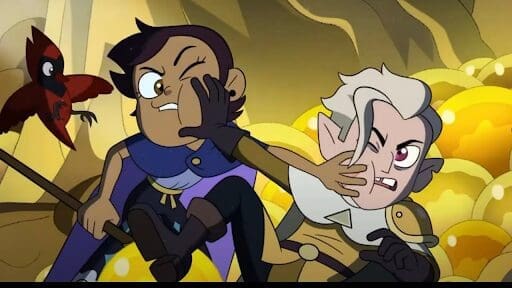 Hooty: HOOT HOOT I'M A DOOR!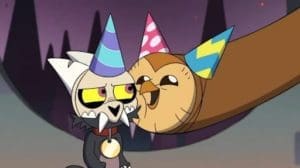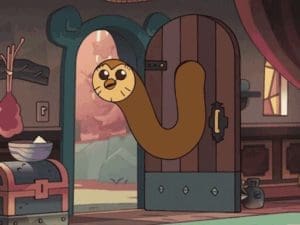 Kay byeeeee!