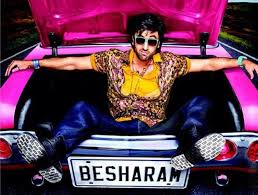 Yet another fiasco Ranbir Kapoor added to his list. Ranbir tried to copy actors like Salman and Akshay who transcend in action-comedy but was a complete wash out. Though I agree that it was only he who glued the film together but even his charisma could not do any wonders to the box office collection and way too many songs tormented the audience even more.
Abhinav Kashyap's Besharam was more of Ranbir's holiday movie where he got to spend some reunited father, mother and son time on screen.
Orphan babli falls in love with Tara Sharma (debutant Pallavi Sharma) and decides to mend his ways for the girl. He steals her car but falls in love with her so he must steal it back from a dangerous hawala king to win her back (I know folks, that is the actual story!).
Ranbir tries to bring out Govinda from his inner self and he does this new genre unabashedly. Whereas the lady stayed all stone-faced and grumpy (only in the portions when she was not dancing!). Jaaved Jaaferi tried to pull something out of the box, his serious acting was a fresh change. While Rishi Kapoor and Neetu Singh made sure that the audience dint leave the hall, the 80's couple made us awe and smile like they always did.
So the final verdict folks, if you have the money to spend and you are all depressed with no work to do at all, then go for the movie. And if you have a different thought I appreciate your concern towards the society!! I hope you make a right choice amigo!