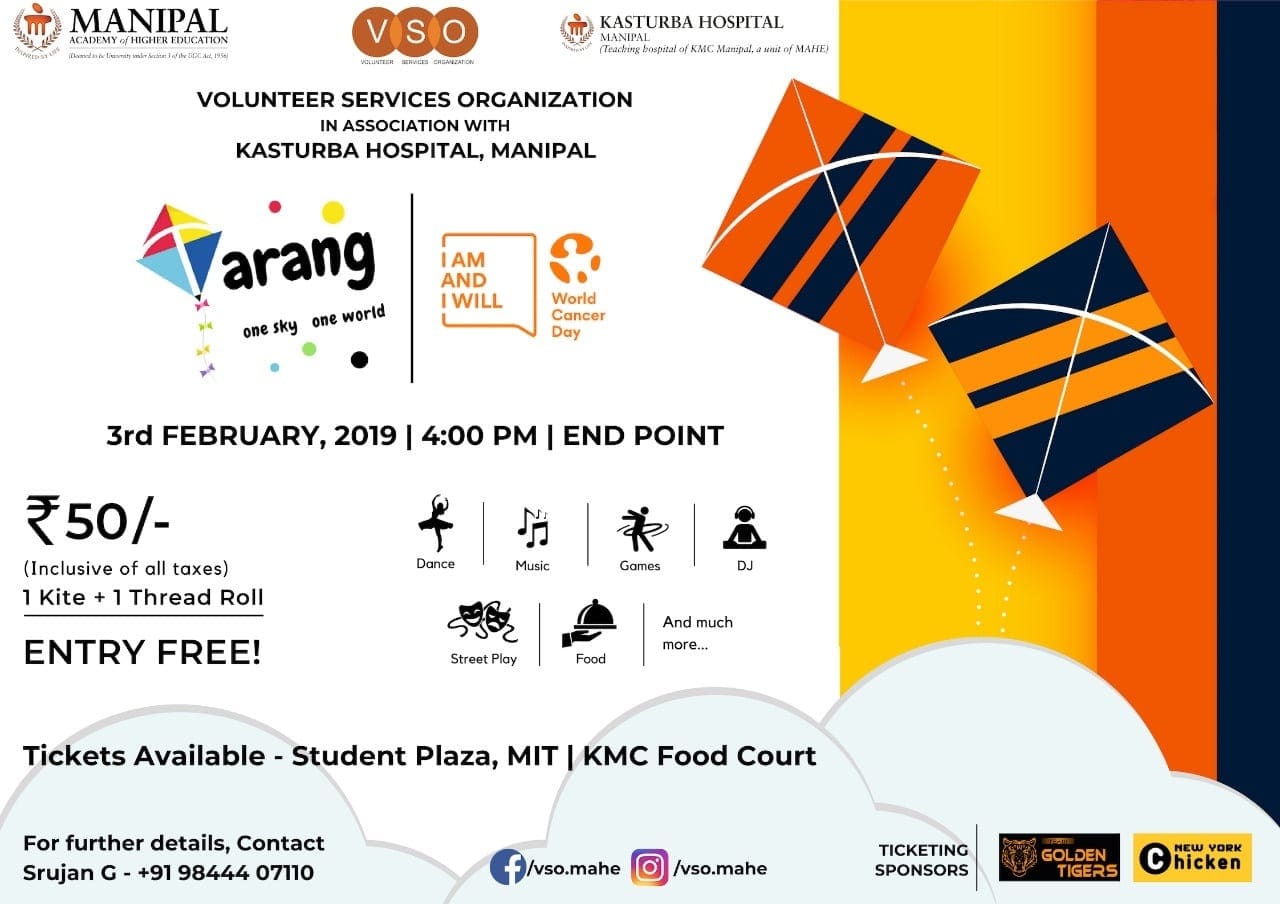 Tarang, the annual kite festival organized by the Voluntary Service Organization (VSO), is right around the corner and all of Manipal is abuzz with excitement. VSO is the social upliftment club of MAHE which works at the grassroots level and promotes selfless service. Being one of VSO's major fundraising events, this kite carnival sports a new humanitarian theme each year.
This year, VSO is doing its bit in observing World Cancer Awareness Day (4th February) through Tarang as all funds collected by means of this event will be directed towards spreading awareness about Cancer in the form of Checkup Camps and more.
Cancer is one of the biggest prevailing medical evils of today and is caused by a gene mutation that occurs either by birth or due to external factors like smoking, viruses, radiation or obesity. It is the second most fatal disease in the world with a mortality rate of 163.5 out of 100000 people per year and it becomes crucial for everyone to contribute to its elimination.
Even small steps like consciously making better lifestyle choices and discouraging intake of carcinogenic edibles can impact our overall health and play a big role in the prevention of cancer. Also, the significance of early detection cannot be emphasized enough. It not only allows for complete and successful treatment of the disease but also facilitates accurate diagnosis which may become difficult in the later stages. Tarang aims to recognize and propagate these motives that can save millions of lives around the globe and ensure better provision for people living with cancer.
Tarang 2019 will be held on 3rd of February at End Point and it entails music, dance, games, street play, food and most importantly kite flying. The event promises to be a lot of fun and a great opportunity to get a new and colorful display picture while making a contribution to the lives of those living with cancer. Let the winds of compassion blow, then the kite will really fly high.