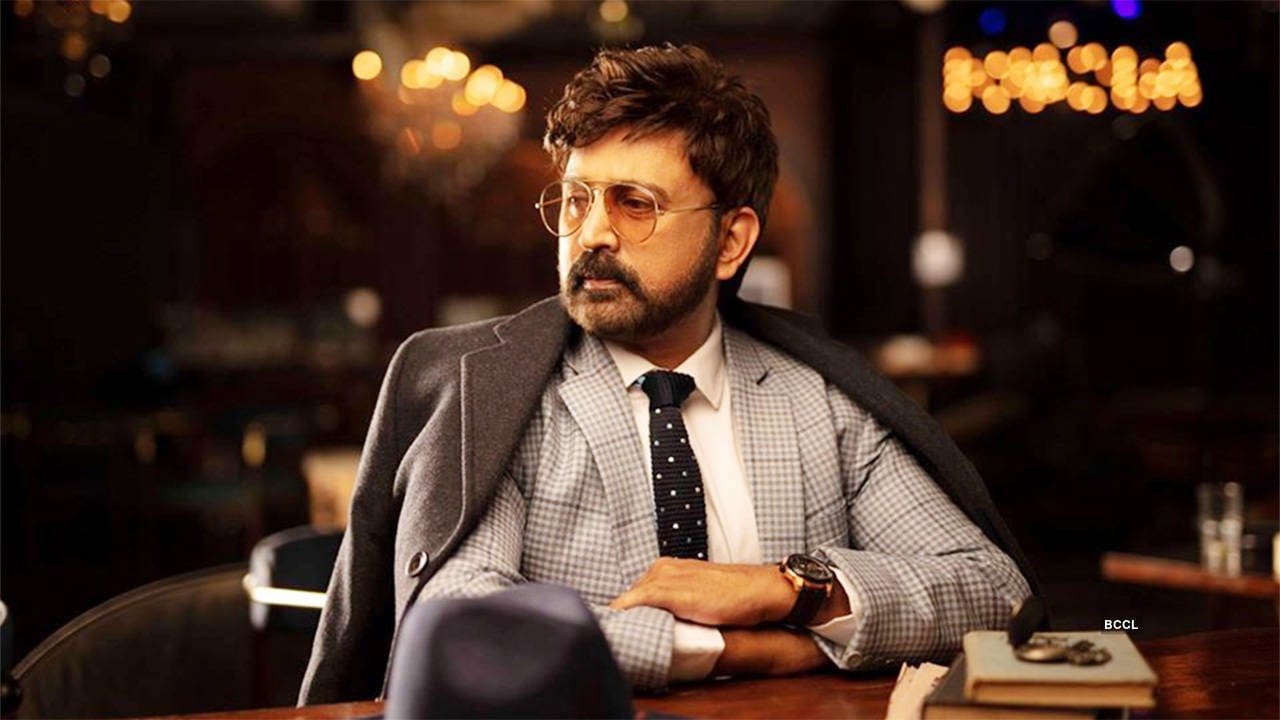 Ramesh Aravind is known to all as a fun-loving, happy-to-go-lucky leading man that brought a smile to the audience's faces whenever he was on screen. With over 140 films across 6 languages to his credit, he has more or less maintained the same demeanor in all his films. Even in films like Aryabhata where he portrayed a villain or Accident where, as a husband bereaved by his wife's death, it was a more serious tonality of his otherwise largely typecast persona. To more casual consumers of Kannada content, he is famous as the empathetic host of Weekend with Ramesh and most recently as the host of Kannadada Kotyadipathi, but for his 101′ st Kannada venture, he sheds all these skins and comes up with a character he's never played before!
As the eponymous Shivaji Surathkal, he (tries to) transform into a mish-mash of the various iterations of Hercule Poirot or Sherlock Holmes we've seen over time. With his introduction pinning him as 'the policeman who solves crimes with his imagination' the audience is left expecting a psychedelic recreations of crime scenes with him prancing about trying to find clues. Instead, we find him shouting about blabbering nonsense like 'Something is Wrong, wrong, wrong, wrong' or 'What is missing, what, what, what, what' with choppy and haphazard editing, cutting from the recreation of the crime scene to the investigation much to the viewer's irritation. Shivaji is cool, suave and modern. He not only looks at your face, mannerisms, and surroundings to deduce what you do/did, he also stalks you on Facebook and Instagram! Director Akash Srivatsa has tried to innovate with the story and the characters, but like the homage paid to 'Arthur Canon Dale' it falls flat each time. Cinematography by Guruprasad MG, picks up and becomes watchable by the 2nd Half, but the first half is so bad it's just short of inducing epilepsy.
The story moves along at a nimble pace, although riddled with a number of inconsistencies and plotholes, and is one of the redeeming features of the films. Set in Ranagiri at the foothills of the Western Ghats, a couple of miles short of Madikeri, the mysterious murder of a politician's son at a Resort creates shockwaves. This brings a reluctant Shivaji to Madikeri, a place he hasn't set foot in since his pregnant wife Janani was mysteriously kidnapped and killed 4 years ago. Raghu Ramanakoppa, as Govindu, the clueless, bumbling assistant to Shivaji follows his superior through thick and thin. The legend of spirit that kills unmarried men on full moon nights to exact revenge on the townsfolk who shunned and kill her looms over the mystery trying to (and failing to) bring in the supernatural element for multiple reasons. Shivaji's flashbacks of the night his wife was kidnapped and murdered and the investigation he conducted run parallelly shifting to and fro at clever moments that could have been edited much better.' Tulu and Telugu are littered throughout the film which as a native Tuluva, I'd say did more harm than good.
Ramesh shines through and through in many scenes. Especially ones that he hallucinates, and the flashbacks rife with emotion showcasing his vast years of experience and range as a performer. Radhika Narayan puts up a strong and convincing performance as Janani, an advocate and Shivaji's significant other taking home all the praises. Aarohi Narayan, Raghu Ramanakoppa, Avinash and Ramesh Pandit round off the main cast with a few newcomers with strong showings. The soundtrack and songs are beautiful, especially in scenes where the beauty of the Ghats is shown exemplifying them with the music. Judah Sandhy brings in a few inspired background tracks to accompany Shivaji's mystery-solving and they fit the film well, I have no complaints. The cinematography was one found to be sorely lacking in quality save for a few scenes littered here and there, one baby-shower scene prompting a comment – "Was this shot and edited by a Wedding Photographer? Because this scene is very well done!"
The film has been a runaway success with whodunit mysteries being scarce in Kannada. Cringeworthy brand placement and overly acting for the plot to move on in some areas aside, the film has a strong case to continue as a franchise. Thrillers like Kavaludari have set the bars high, but when films fail to meet expectations, the audience seem to accept anything they get. The success has prompted more sequels currently in the works and I hope they get better with time.