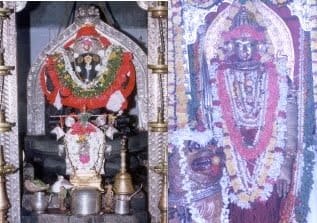 Shri Pete Vinayaka Shantadurga or the more popularly known Shri Mahaganapathi Mahamaya Temple at Shirali is a divine abode steeped in history and situated in the southern part of Bhatkal taluk in North Kanara.
The temple has a large following and is also the 'family deity' of several Konkani families who come to pay their respects after every auspicious occasion in the family. Be it a wedding, birth of a child and even in times of distress to make vows to the deity and ask for blessings.
Historical touch
According to historical records, the Gowda Saraswath Brahmin families of Prabhu, Shenoy, Kamath, Kini, Kudva, and Pai—who earlier resided in Goa—migrated to the south to avoid forceful conversion by the Portuguese in 1540 AD. This included the ancestors who were serving at the Shri Vinayaka and Shri Shanthadurga temples in Naveli and Golthi. They moved to Bhatkal four hundred years back with the sacred mask of the deity Ganesha, a silver trunk and other sacred articles from the temple and installed the deity at Shirali.
Renewing the old
In 1904, the new garbhagudi was constructed and the two deities were re-installed in the temple. In 1971 Shrimath Sudhindra Sripadangal presided over the activities of the temple and introduced poojas, sevas and various construction works. The main poojas conducted at the Shirali temple are the Ganahoma, Sahasrachandikahavana, Shasraganayaga and Rathotsav.
In 1971-72, the front block of the temple was constructed and accommodation for the temple priests in 1974. In 1986, yagna mantap construction work was also started. Since then various efforts have been made to improve the services at the temple with financial help from devoted members of the Konkani community.
Helping hand
The Shri Mahaganapathi Charitable Trust was set up to offer a fillip to many a worthy cause that include providing all kinds of medical relief to the sick and suffering, assisting and rendering help to the physically and mentally handicapped. To assist educational institutions in setting up infrastructural facilities including libraries, gymnasiums, granting of scholarships and provision of medical relief to the needy.
Temple address
Shri Mahaganapathi Mahamaya Temple
Shirali – 581 354
Uttara Kannada,
Karnataka, India.