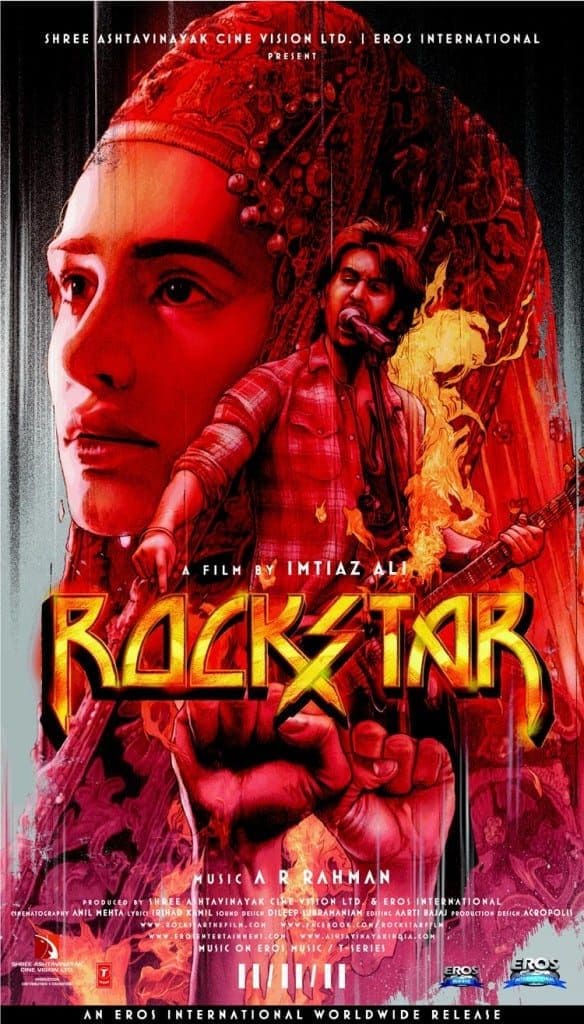 Synopsis: An inhibited youth woos the hottest about-to-be-married college girl. He rises to become a rock-star – then self-destructs. IMDB
What's Good: Ranbir Kapoor's acting is fantastic.  For the first time he showed that he might actually have an iota of talent. 
Barring a couple of points that I will elaborate later in the post, I really liked the story especially in the first half and a bit.  They've depicted the innocence between Ranbir and Shammi Kapoor really well.  
But what really made this movie stand out was that it was a movie based on Music and the music was just fabulous. Right from the beginning to the last one.  The Saada Haq literally will have your heart racing all through out.  There is so much energy in it.
Imtiaz Ali's direction was apt.  I loved how it kept moving around between the past / present / future so you really couldn't look away for any period of time.  Even the earthy tones through out the movie and some beautiful visuals made this a treat for the eyes. 
What's Bad:  I will say yes that it got stagnant in the end half or so.  The story as it ended was so cliche it wasn't even funny.  I had figured out the details in the first 10 min of the movie honestly. That was a big letdown to an otherwise beautiful script. 
But the reason this movie did not get a higher score that it deserved can be attributed SOLELY to Nargis Fakhri.  Good lord this woman can't act to save her life.  Her best scene was the time she was falling down while fainting, and lying in the end acting dead.  Had she done that for the rest of movie this movie would've definitely got another star.  
End Note:  A simple, predictable tale but the simplicity is it's strongest feature and the music will just blow you away.  Lastly if not anything else Ranbir's acting makes it worthwhile.