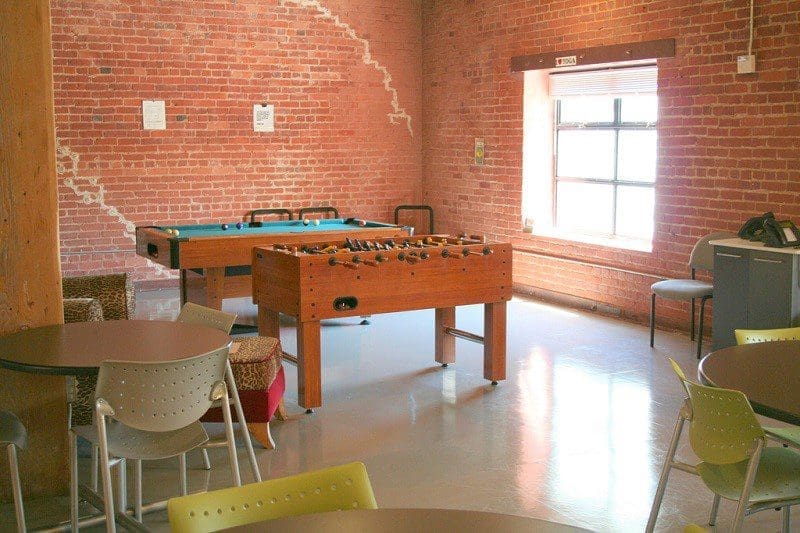 In order to help boost your employees' productivity, allowing them to make the most out of their breaks using an office break room is definitely the right thing to do. Actually, taking breaks every once in a while, even if it's for a couple of minutes, can help the employees reset and regain their focus and motivation. And, obviously, even more so when they have a nice place to eat, relax, chat, etc. during their lunch breaks. This is precisely why having an office break room in your office can make a huge positive difference for your employees and your work.
This particular room doesn't have to look outrageous; it's more than enough to follow simple and practical tips for its design.
Dining area is a must
Did you know that almost 30% of workers in Australia don't take their full lunch break? The situation is similar in other countries, too. Sometimes the main issue is with the company culture that wants the workers to be at their desks all the time. Other times, the problem lies with no adequate space for employees to enjoy their lunch. However, missing such an important break during the day can only make employees miserable and less productive. This is why you should designate a break room area and add a dining table or two.
The simplest dining tables will do but, in the end, you can make do with what you may already have. Just make sure that your workers have a place to eat their meal in peace and actually get away from their work stations/desks.
Introduce necessary kitchen appliances
Your break room won't be complete if it just has dining tables. In order to make lunch breaks more enjoyable, you should definitely add essential kitchen appliances. You can easily get everything you need from Winc Australia as they offer every single office necessity you can think of. Obviously, you may not need a stove and an oven, but a microwave and a fridge are definitely useful for any office environment and employee benefit.
And, most importantly, don't forget a great coffee maker.
Bring in the entertainment
Dining area with kitchen appliances is essential, but if you want to really boost employee morale, motivation and productivity, you should provide them with entertainment options as well. After all, you want your break room to be available for all kinds of breaks and not just lunch. In that sense, you may want to consider investing in a TV and gaming consoles.
Regardless of what your decision is when it comes to gadgets though, keep in mind that you should still introduce some form of entertainment; these can include playing cards, darts, board games, indoor sports items, books, etc.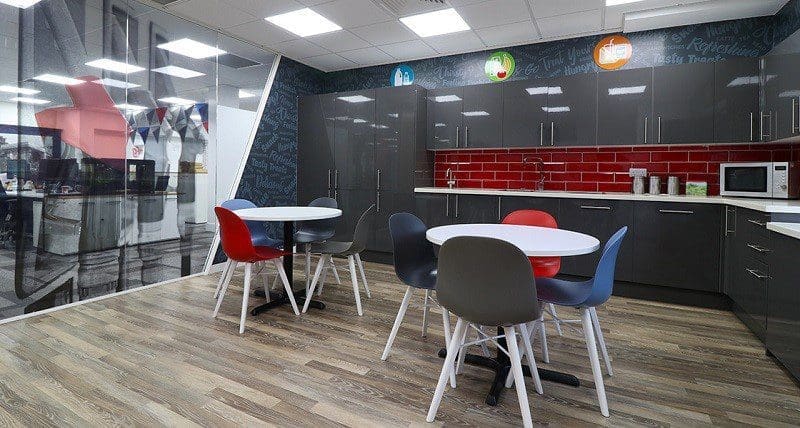 Choose the right colors
Now that you know what essentials you'd need for your break rooms when furnishing and amenities are concerned, it's important to think about some crucial design elements as well. Aside from the functional room layout, the colors you choose can make a lot of difference. For instance, grey won't be good for relaxing, it can only add more pressure.
But, vibrant colors like orange, yellow, green and similar will look great! You can mix and match them with neutrals, of course, but definitely consult the color psychology as well in order to create the best break room for your employees.
Let the light into the Office Break Room

You can install curtains and blinds in your office break room, but make sure to keep these open most of the time. These days, offices don't get much natural light and spending time in front of the computer has its own health and mood consequences.
This is why it's so important that your employees have space where they'll get to enjoy the benefits of the natural light and fresh air when they open the windows. This will instantly improve their mood and productivity, which is something you'd want as well.
Before you start work on your office break room don't hesitate to include your employees in the process. After all, this is largely for their own good and they should be able to provide you with the necessary input in order to make this area perfect and relaxing for everyone to enjoy.