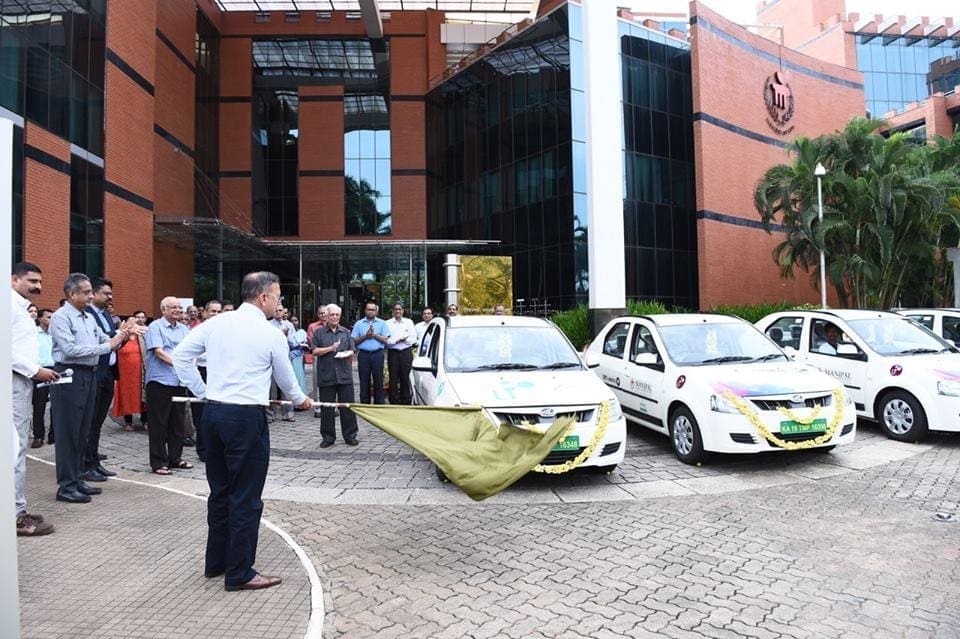 This Daan Utsav, Manipal Academy of Higher Education (MAHE), Manipal added another set of gems to its already heavy crown making it one of the top Green universities in the continent.  The Electric Vehicles or EVs for short, built in collaboration with Mahindra, aim to negate the impact of vehicular emissions. These eco-friendly rides are also solar-powered and promote non-renewable sources of energy. MAHE is the first institute to start this green initiative in South India. These cars would be used for the Commuting of University Officials and Guests as part of its Green initiative. The cars were flagged off for duty by the Chairman, Manipal Education and Medical Group, Dr Ranjan Pai on Sunday.
These EVs will help reduce about 50 metric tones of carbon emission annually. This translates to roughly 5000 additional trees which would otherwise be needed to absorb such emissions. Zero tail-pipe emissions of hydrocarbons, carbon monoxide and nitrogen oxides helps reduce human health impact on local community. The charging stations for this cars are fed with solar generated electricity, thus practically making it 0 carbon emission in literal sense.A true Daan to the environment!
As any normal car, it has all the usual features like AC, GPS, Ample leg space, etc.  This model has 72V 3-phase AC Induction Motor with max power of 30.5 kW (41 hp) @ 3500 rpm and max torque of 91 Nm @ 3000 rpm. The car has a range of 110 km in single charge and takes about 8 hrs for 100% charge and 1hr 45min to charge it upto 80%.
Even though its not as fancy as a Tesla, its costs less than 50% of the cost of Tesla's cheapest car (provided you buy in USA without any taxes and subsidies).
FunFact: EVs in India will have Green Number plates.