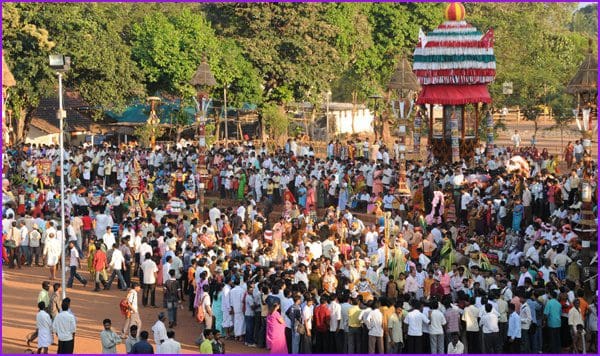 Early Kings of Karnataka including Tulunadu were Kadambas. It is believed that Mayura Sharma (Varma) the founder of this dynasty (350-365 A.D.), brought some Brahmin families from Ahichathra in North India. The Brahmins settled in various places in North Kanara, South Kanara, Tulunadu etc. mingled with the local people and accepted their languages Kannada, Tulu and so on. Since this part of the country was inhabited by the tribal people, the King brought Brahmins to spread vedic culture here.
When did they come to Tulunadu?: The accurate date of Brahmin's occupation of Tulunadu cannot be mentioned. According to scholars, they might have come here in the 4th or 5th century AD.
Different Surnames: Bhatta, Upadhyaya, Shastry, Joisa, Joshi, Udupa, Heggade, Madhyastha, Hebbara, Sabhahita, Acharya, Kulakarni etc. are based on their scholarship and position. The surnames of Tulu speaking Brahmins are sometimes based on the names of the places where they lived first. These Topological names are added to their proper names- Puninchathaya, Kakkillaya, Badakkillaya, Thotanthillathaya, Manolithaya, Kekunnaya, Naduvanthillaya etc.
 Languages Spoken: In Tulunadu, there are several Brahmin sects speaking different languages- Tulu speaking, Kannada speaking Brahmins are in Majority. Marathi and Konkani speaking are in minority.
 Culture: Vedic culture is common to all Brahmins, although there may be some differences between one sect to another.
Cuisine: Brahmins are mostly vegetarians. Some of the Konkani speaking are non-vegetarians. Coconut and its oil is widely used in their food preparations. Milk products, fruits, tender coconuts are in common use. Paddy is the food grain. Different curries mixed with rice: Saaru, Sambaru, Huli, Menaskai,.Chatni, Gojju, Kosumbri, thambli, Kuutu etc. Various eatables prepared with rice- idli, dosa, semage, chakkuli, kadubu, kottige, genasale are in common use. Sweet preparations- holige (kayiholige, kadale bele holige), laadu, jilebi, jahangir, maddi, ksheera, chiroti, kesari bhatu, haluva, saatu, sukrunde, Paayasa, Rasaayana.
Konkani Speaking Brahmins have curries of their own – Dalitoy, Gasi, Potato Song, Mushroom Butti, Saal, Ambaat, Kathkatho, Gaslathe, Val Val, Sukke, Forest Bittergourd saasam etc. Some of their sweets are Kichidi, mandige, maandi, Kiiri, Pattoli, Mudhdhodudhali.
Important Brahmin Families: Shivalli, Havyaka, Kota these three are very important here.
Important Personalities from Tulunadu

Shivalli – Past:- Madhwacharya (Dwaita Philosophy), Thrivikrama Panditha (scholar), Narayana Panditha (scholar), Vadiraja Swamy, Niranjan (novelist), S.U. Paniyadi (novelist), Malpe Shankaranarayana Samaga (Yakshagana).
Shivalli – Present: Dr. U.R. Rao (Nuclear Physicist), Dr. U.R. Ananthamurthy (Jnanapeetha Award Winner, Writer), K.S. Haridasa Bhat (Scholar, Writer), Bannanje Govindacharya (Vidwan); Dr. K.V. Ramesh (Historian, Epigraphist), Prof. S.V. Parameshwara Bhat (Writer, Poet), Venkataraja Puninchithaya (poetry), Vyasaraya Ballala (writer, Novelist), Haridasa Upadhyaya (Scholar), U..L. Acharya (education), Dr. U.P. Upadhyaya, Dr. Susheela Upadhyaya, Dr. Padmanabha Kekunnaya (Tulu Research)
Kota – Past: Dr. Kota Shivarama Karanth (Writer, Jnanapeetha Award winner), Ramakrishna Karantha (Educationist), Sooryanarayana Adiga (Banker).
Kota – Present: B.V. Karanth (Dramatist), Smt. Vaidehi (Writer), Ammembala Shankaranarayana Navada (Poet), Dr. Chandrashekhara Udupa (Divine Park), Ramadasa Samaga (Yakshagana).
Havyaka – Past: Muliya Thimmappayya (Writer), Sediyapu Krishna Bhat (Writer), Yermunje Shankara Joisa (Astrologer), Yermunje Ramachandra (Astrologer), K. Shambhu Sharma (Writer), Kadengodlu Shankara Bhat (Writer, Journalist), Kanneppally Parameshwara Shastry(Sanskrit Scholar), C.S. Shastry (Law), C.N. Shastry (Music), Prof. Mariappa Bhat (Linguist), P. Subraya Bhat (Past), Kaverikana Krishna Bhat (Writer), Agari Ganapathi Bhat (Cinema), Moleyar Shankaranarayana Bhat (Writer, Translator).
Havyaka – Present: Dr. D.N. Shankara Bhat (Linguist), T. Gopalakrishna Bhat (Writer), Dr. P. Krishna Bhat (Scientist), Varanasi Subraya Bhat (Agriculture, CAMPCO), Neerkaje Subraya Bhat (Agriculturist), Urimajalu Rama Bhat (Political leader), Bolanthakodi Ishwara Bhat (Publisher), V.B. Moleyar (Writer, Publisher), V.B. Hosamane (Journalist), Ra.Mo.Vishwamithra (Writer), Sheni Gopalakrishna Bhat (Yakshagana), Nurpaje Bheema Bhat (Literature), Shirankallu Ishwara Bhat (Literature), Khandige Shama Bhat (Sanskrit Scholar), Dr. N.T. Bhat (English & German Scholar), Dr. U.R. Bhat (Literature- Kannada, Research), Venugopala Kasaragod (Drama), Dr. Padekallu Vishnu Bhat (Writer).
Past (Konkani): Manjeshwar Govind Pai (Poet, Scholar, National Poet), Panje Mangesha Rao (Story, Poetry), Ugrana Mangesha Rao (Writer), Molahalli Shiva Rao (Co-operation), Benagal Rama Rao (Education), Benagal Subba Rao (Constitution), Benagal Shiva Rao (Education), Hattiyangadi Narayana Rao (Novelist), Dr. T.M.A. Pai (Education), T.A. Pai (Political Leader), Srinivasa Mallya (Corporator), Dr. AV Baliga (Medicine), Dr. B. Sundara Rao (Education), Dr. R.S. Pai (Medicine).
Present (Konkani): T Ramesh U Pai (Education), K.K. Pai (Banker), M.V. Kamath (Jounalist), Santhoshkumara Gulvadi (Journalist).
Past (Marathi): Balipa Narayana Bhagawatha (Yakshagana)
Present (Marathi-Karada Brahmins): Perla Krishna Bhat (Yakshagana), M Prabhakara Joshi (Yakshagana), Shankara Khanderi (Law), Ballapadavu Vasudeva Upadhyaya (Vidika-late).
Important institutions- Education: Academy of General Education, Manipal; Manipal Academy of Higher Education (MAHE), Academy of Liberal Education, Sullia; Mahatma Gandhi Memorial College, Udupi; Rashtrakavi Govinda Pai Research Centre, Udupi; Regional Resources Centre Udupi; Yakshagana Kendra, Udupi; Manipal Institute of Technology, Manipal; Divine Park, Saligrama; S.K. Dravida Brahmins' Association, Mangalore-Udupi; Havyaka Sabha, Mangalore-Udupi.
Religious Institutions: Sri Krishna Math, Udupi (8 Mathas), Balekudru Math, Hangarakatte; Edneer Math, Edneer, Ramakrishna Ashram, Mangalore; Kuntikana Math, Neerehal; Ramachandrapura Math, Mani & Bhantwal.
Temples: Udupi, Kollur, Subrahmanya, Madhur, Adoor & Kumbale.
Hospitals: Kasturba Medical College Hospital, Manipal; Mangalore Nursing Home; Mangala Nursing Home, Mangalore; Kasaragod Nursing Home, Kasaragodu; Mitra Hospital, Udupi; K.K.Hospital, Udupi, Gandhi Hospital, Udupi.
Commercial Institutions
Banks: Syndicate Bank, Corporation Bank, Vijaya Bank, Teachers Co-operative Bank, Karnataka Bank, CAMPCO,
Charity Organisations: Old men's Home, Konaje, Prajna, Udupi (Institution for mentally retarded), School for mentally retarded children, Mangalore, Sri Krishna Bala Niketan, Udupi.
Note: This article is adapted from an article by Dr. U Rama Bhat and needs to be updated