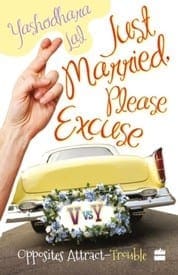 Title: Just Married, Please Excuse
Author: Yashodhara Lal
Genre: Romance, Relationships
Publisher: Harper Collins India (2012)
ISBN:9350292270
ISBN-13:9789350292273,978-9350292273
Binding: Paperback
Price: Rs. 199 (Buy from Flipkart for Rs.149)
Pages: 264
Before I review the book, here is a small thing that happened when I received the book a few days ago. What actually happened was I had signed up for the Indiblogger program to review this book but had forgotten all about it. When I was one of the lucky few who did receive this book, I did not know what good fortune made me land up with a book for free, and the author signed at that!!
The image captured from my Facebook wall shows what happened next!!
Synopsis of the book:
Caution! Marriage Ahead……
Yashodhara, a quick-tempered gal from the big city, is hitched to Vijay, a laidback desi boy from a small town, in one word- Trouble! The young couple must learn to adjust to married life and to each other – whether it is Yashodhara's 'tamper tantrums' or Vijay's foot-in-mouth syndrome with a bit of help from their idiosyncratic staff, Zarreena and Vinod, their nutty friend Vivi and, of course, their respective families.
With the unexpected arrival of baby Anoushka, a.k.a. Peanut, the battles escalate, fueled by their vastly divergent views on raising a child. Will their many differences – so endearing at the start of their romance- actually mean that they are incompatible? Will they ever manage to agree on anything? Or have they just bitten off more than they can chew?
A fresh and honest take on marriage and parenthood and all the chaos that comes with it. This is a story of self-discovery that will have you laughing out loud – and sympathizing wholeheartedly with its quirky and likable cast of characters.
My Take:
The book began very slowly, and I had difficulty getting myself to continue reading it. The cliche of a smart-bossy girl meeting a rustic meek/geek and the blossoming of love between the two put me off. To be honest, I continued to read the book only because of the commitment to the Indiblogger program and the charming intervention of the author on my Facebook wall.
But once you get past the 50th page or so, the story is utterly likable, and to this, even my better half agrees (that's quite rare actually). It helps that the narrative is simple English and doesn't need a dictionary to understand. It also helped that, like the Author's story, we too had to go through the rigamarole of a new birth to the family and the associated travails.
Who will enjoy this? – Newlywed and expecting parents, The ones in love and planning to be together, Girls.
Who may not enjoy this? – Guys.
Buy or Don't Buy? – Go for it. Even though you may find it a bit cliched, the smiles the narrative brings to your face would be worth the book's price. At the moment, Flipkart is even giving a Rs.50  discount on the cover price. It's a steal at Rs.149/-.
I'll leave you to it.  Anyone who has ever been married, or wants to get married, or doesn't want to get married, or have a baby – both men and women or anyone who wants to read something that is both great fun and truly meaningful, read this excellent book.
(The review is part of the IndiBlogger / HarperCollins Book Review initiative. To know more about Yashodhara Lal, do visit her blog.)