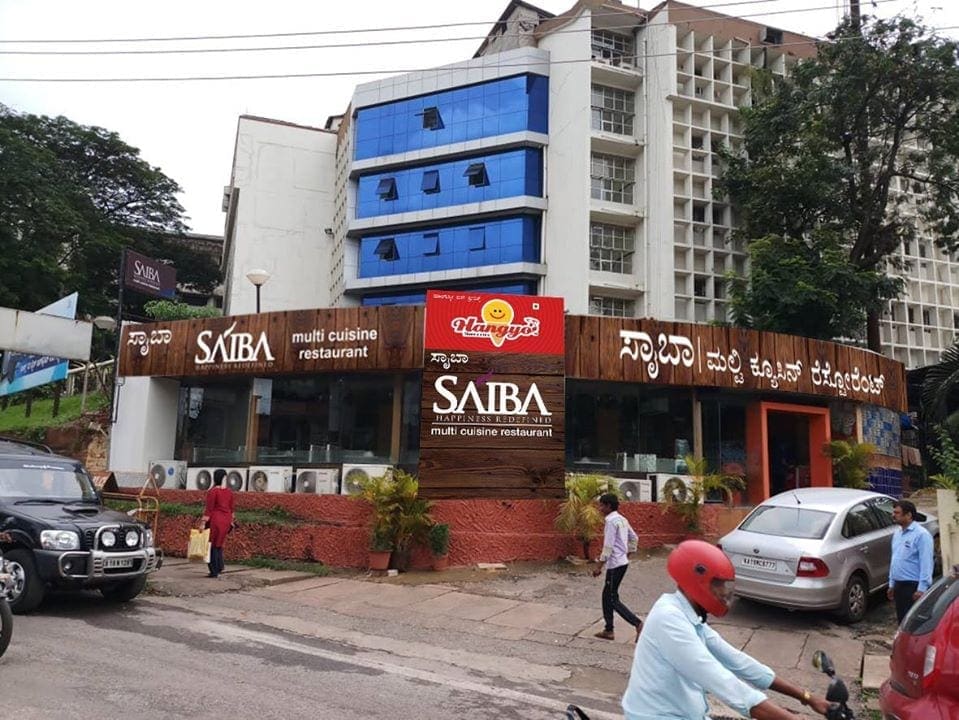 We have a fresh entry in the array of restaurants here in Manipal. Opening up on the premises that housed Wimpy's earlier, under the banner of Sri Krishna Milk Specialities Pvt Ltd., allow me to introduce to you, the newest member of the Hangyo family – Hangyo Saiba. Konkani for 'guest', Saiba marks the entry of Hangyo into the multicuisine restaurant sector. Already established as a popular ice-cream chain, Hangyo now seeks to translate its popularity to provide Manipalites a much-awaited "complete" restaurant.
Hangyo Saiba – Prime Location in Manipal
Manipal has its share of low-priced food but it still seems to lack in quality. We seek to fill that vacuum," says Ravi R. Prabhakar, the manager of Hangyo, Manipal. Incidentally, Manipal is the first stop in the long journey Hangyo Saiba seeks to traverse in the restaurant industry across the coastal belts of Karnataka and Kerala, the latter being its present area of interest.
With 24 successful ice-cream outlets up and running in the Mangalore and Udupi division and 15 more on the anvil, Hangyo is an already established brand. Guided by one of the best professional consultants from Bombay, S. Fernandez, and a prime location to boot, Hangyo Saiba is going to need little else to promote itself before its inauguration somewhere near the end of this month.
Yet, the promise of the gourmet spread is mouth-wateringly worth a mention. With Saiba, Hangyo plans to round up the best among the culinary experts from across the country to bring to you a wide variety of cuisine ranging from Chinese, Mexican, Indian and Italian, to name a few. This varied menu comprises all three meals – breakfast, lunch, and dinner, apart from snacks and short eats. "The assorted national and international population as observed in Manipal will perfectly complement the variety of food we plan to serve here," comments Prabhakar while he also adds, "But we would like to target customers from Udupi as well."
Apart from the food, there is no compromising on the ambiance either, what with provisions available for Digital Worldspace and FM radio receivers, computer mp3 music banks, CD players, and the like. Also, one part of the ambiance is proposed to be dedicated to families alone complete with couches and children's area, etc. But the accent is primarily on the student population with even the breakfast being served in accordance with college timings. Prabhakar stresses on quality when he says, "Hangyo's motto has always been consistency – be it food or service and we will not compromise on that. We never have and never will." With all the hype being generated around this newcomer in the food business, what do the competitors have to say?
Surprisingly, a current student favourite, Roosta's Area (Dollops) seems unperturbed. "We don't believe in competition. There might be a slight difference in business for a while, its only natural. But our style of business is entirely different and we are confident we can retain our customers," says Deepak, manager, Dollops.
A medicine student says, "I can't deny I'm excited about this new place but I just hope this initial fizz doesn't die out. I guess I'll just have to wait and watch." And that's what everybody will be doing for the question uppermost on everyone's mind is whether Saiba will be accepted into the Manipal family or will it still remain a guest?
About the Author: Rima Rajan is a student at Manipal Institute of Communication, MIC, Manipal.