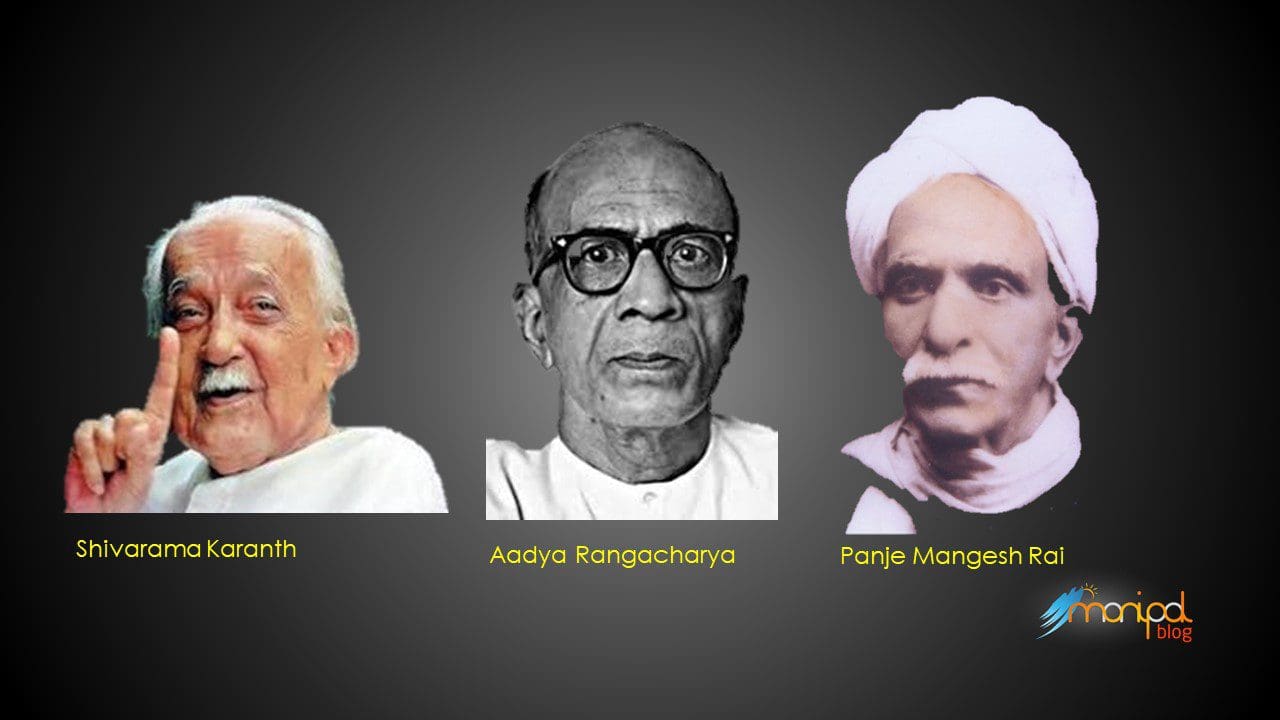 The dwindling interest in literature was revived in the 19th century. English literary works influenced the writers. The tussle between the English and Kannada brought about a national awakening and a powerful pride to fight for Kannada.
Based on ancient scriptures, dictionaries and grammar books came into existence. The stirrings of a new age literature were more pronounced in Old Mysore, Bombay Karnataka and in South canara. Works from Sanskrit and English were translated.
Govind Pai caused a furore when he discarded the initial rhyme of the second syllable in Kannada.
Panje Mangesh Rai wrote the first short story in Kannada. Other names that were in eminence were Muddanna, M.S.Puttanna, and Gulvadi Venkat Rao. Gulvadi Venkat Rao's Indira was the first independent social novel in Kannada.
In 1890, the Karnataka Vidyavardhaka Sangha was founded in Dharwad and in 1915, Kannada Sahitya Parishad was started in Bangalore. These two organisations helped writers and lovers of Kannada to come together.
Kannada literature in the modern age can be chronologically studied under these heads as: Navodaya, Pragathishila, Navya, Bandaya and Dalita.
Navodaya means the Renaissance. Names to be remembered here are B.M.Srikantayya, Masti Venkatesh Iyengar and K.V.Puttappa.
D.R.Bendre sowed the spirit of pride in Kannada. The Kannadigas in Bombay formed the Geleyara Balaga-friends circle.
The Navodaya age reaped the richest harvest in the twin fields of poetry and short story.
Drama:
Two playwrights – T.P.Kailasam and Aadya Rangacharya shaped the Kannada theatre. Kailasam was a master of humour and satire and sought to influence the peoples views through his drama which reflected on injustice and exploitation in everyday life.
Tragedy entered Kannada drama when Sri translated  Aeschylus' the Presae and Sophocles' Ajax.
Parvatavani, whose real name is P.Narasinga Rao and G.B.Joshi-pseudonym Jadabharatha, are other well known names in the field of Kannada drama.
Fiction
Two towering writers shaped the tradition of Kannada fiction. Shivarama Karanth
and Masti Venkatesh Iyengar. Masti, pen name Srinivasa is considered the father of Kannada short stories.
Some of the best novels by Karanth are Marali Mannige, Chomana Dudi, Kudiyara Kusu etc..
Kuvempu's Kanooru Heggadati was an epic novel where nature and village were the main ingredients. Other excellent works by him are Malegalalli madumagalu.
Goruru Ramaswamy Iyengar is another writer who specialised in short stories.
This era gave rise to a few historical novels, as was natural, for the fight of freedom awakened a keen interest in the land's past. Masti's Chikkaveerarajendra and Channabasavanayaka need a special mention.
Women writers too emerged during this period like Triveni.
Prose
Kannada prose acquired lucidity, power, range and flexibility. A.N.Moorty Rao, Siddavanahalli Krishna are to be mentioned.