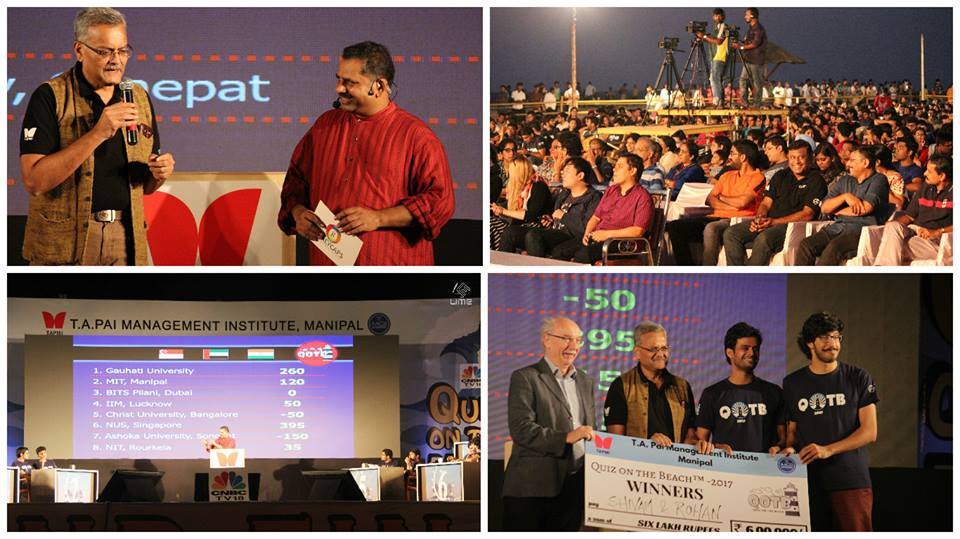 The grand finale of the 14th edition of Quiz on the Beach™ (QoTB™) hosted by T. A. Pai Management Institute took place on 8th January 2017. The quizzing event was held on the sands of Malpe beach against the stunning backdrop of the Arabian Sea. It was a unique and pleasant experience for both the participants and the audience.
Tough competition was seen amongst over 2000 quizzers from India, Dubai and Singapore in a span of 4 months.  Only the top 26 teams qualified for the semi-finals. Teams arriving in Manipal were from all over India, with participants coming from as far as Haryana, Uttar Pradesh and Guwahati.
The neck to neck semifinal saw some exceptional quizzing, to select the final 8 teams. These finalists were from NIT – Rourkela, IIM – Lucknow, Christ University – Bengaluru, Gauhati University, MIT – Manipal, Ashoka University – Sonepat, NUS – Singapore, and BITS Pilani – Dubai. Quiz master for the Grand Finale was Mr. Giri Balasubramaniam also known as 'Pickbrain', of the TATA Crucible fame.The event started off with a special address by the Director of TAPMI – Dr. Gururaj Kidiyoor. In a fierce battle of wit and intelligence, the team from National University of Singapore, Shivam Bharadwaj and Rohan Naidu, proved its mettle by securing the first position and a prize of INR 6 lakhs.
The team of Jyotish Kalita and Kumar Shivam from Guahati University were the first runners up and won a prize of INR 3 lakhs.
The team of Sailesh Sriram and Nabil Silva from Manipal Institute of Technology were declared the second runners-up and took home a prize of INR 1 lakh. The prizes were distributed by Prof. (Dr.) Gerd Gigerenzer, Director of the Max Planck Institute for Human Development, Berlin, Germany.