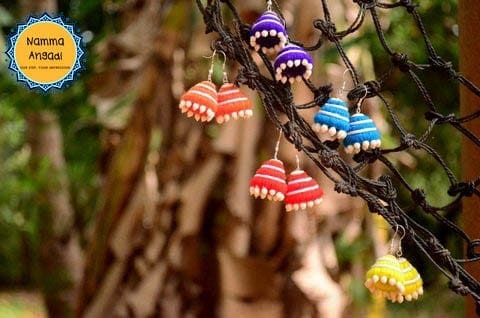 For the 13th consecutive year, School of Communication (SOC) formerly known as Manipal Insitute of Communication, will host Namma Angadi, a three-day sale-cum-exhibition of handicraft, handloom and eco-friendly products, at SOC premises starting from March 11.
Namma Angadi is an annual sale of organic, handicraft and handloom products which is organized by the post graduate final year Event Management students of SOC, Manipal University in association with The Concerned for Working Children (CWC) which is a not-for-profit secular, democratic development agency based in Bengaluru. Their aim is to empower children to identify their own problems, construct their own solutions and promote self-sufficiency.
The products sold during Namma Angadi are produced by skilled artisans of Namma Bhoomi, Hattiangadi, an NGO established by CWC as well as children who are trained during the vocational training provided by the NGO. This year the sale will take place from 11th March till 13th March, 10 am to 7pm at School of Communication, Manipal. All the proceeds from the sale will go directly to the artisans supported by Namma Bhoomi.
Last year, Namma Angadi attracted a footfall of about 12, 000 people from Manipal, Udupi and Mangalore and did a gross sale of 14.85 lakhs. With the wide range of products such as handmade wooden furniture, hand cut and stitched, trendy cotton apparels, handmade cosmetics and jewellery, Kalamkari and Mangalgiri Sarees, house hold products, organic food items among others. This year's event is bigger and thrives to provide a better experience with the establishment of an easier mode of payment where credit and debit cards will be accepted.
About SOC
The School of Communication, Manipal University has been ranked 5th best college in India by Outlook survey 2015. The college teaches wide variety of courses ranging from journalism to new media, advertising to film making, public relations to event management, web designing to creative communication. SOC is ISO 9001:2008 and ISO 14001:2004 certified. It has achieved 100% placement of graduates passing out every year.