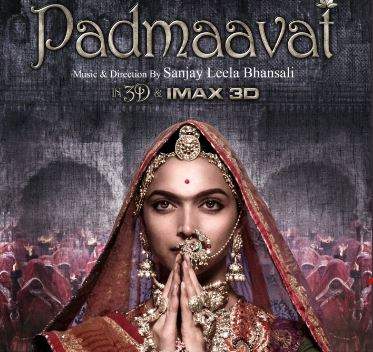 Upasana Sengupta | Staff Writer
The much debated, much anticipated, highly controversial film, Sanjay Leela Bhansali's magum opus 'Padmaavat' has finally hit the celluloid and it is safe to say, totally worth the wait!
The film starts with rise of an ambitious and scheming  Sultan in Afghanistan and blossoming of a royal lovestory in parallelly in the kingdom of  of Singhad, and how these two stories progress to culminate in the bloodied war of Rajputs and Khiljis for Rani Padmaavati. Deepika's potrayal of Mewaar's Rani Padmaavati adorned in beautiful Rajasthani attire, essays her role with equal  aplomb of a woman of grace and valour  and Shahid as Raja Rawal Ratan Singh, with kohl on his eyes and body toned and chiseled, portraying the role of the alpha male who firmly abides by his Rajputana principles are praise worthy, but Ranveer steals the limelight with his portrayal as the menacing Alauddin Khilji that is sure to send a chill down your spine. The chemistry between the lead actors stands out throughout the movie. The supporting cast consisting of Aditi Rao Hydari as submissive Begum Mehrunissa and Jim Sarbh as a scheming homosexual Malik Kafur have done justice to their roles.
Being a Bhansali product you are bound to get bowled over by some marvellous cinematography, which creates a canvas that comes to you as magnanimous painting  especially the war scenes. The film is a royal depiction of the Rajputana Aan , Baan and Shaan. The 3D effects adds to the beauty of this visual gem. specially the Jauhaar scene. The ethereal costumes , graceful choreography and the haunting background score  will stay with you for a long time. A Foot tapping number in Ghoomar and soulful romantic number Ek Dil Ek Jaan are noteworthy.
This three hour ride of visual treat is one to be relished on this long holiday weekend as it reminds us of our country's rich culture and heritage and also celebrates the spirit of womanhood. Hail Bhansali as the adroit creator of  opulent period dramas who outshines yet again with this cinematic gem.
Padmaavat has released in theaters worldwide and is currently on air in INOX and Bharat Cinemas, Manipal