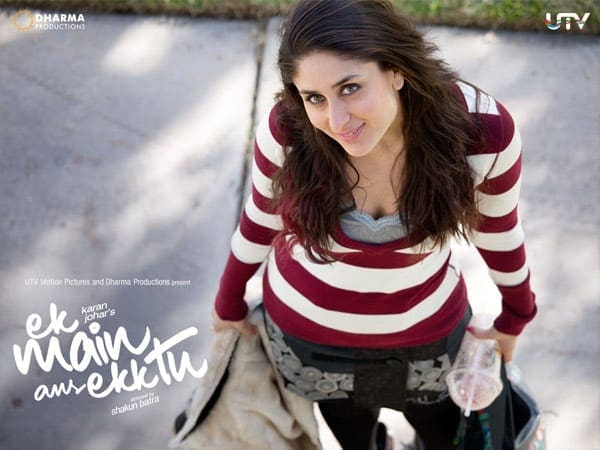 When Kapoor khandaan's precious doll, steps onto the silver screen with Aamir's nephew (although he Has carved quite a niche for himself), sparks seem to fly all around. Have to?
She has the oomph,
he has the quiet intelligent streak,
they have the Dharma banner…
So while Karan Johar seems to have 'found his goldmine' in this movie, what is it that is making this movie click? Having grossed over 12 crores in its first two day of run.
Well, valentine's around the corner, and for all the 'happily in love' birds out there, this is one flick that seems to be quite high on the to-do list over this week. So, for all you googlers, who want to think before they leap,
Read on…
The big Valentine release of this bolly-take off on 'What Happens in Vegas' is a light hearted, attempt at entertainment of the romantic kind.
In a gist, Rahul meets Riana, the two start off on a few of ill-fated trysts, till a beer prompted visit to the Cathedral gets them married and zapp!!! back to reality. Now, Riana needs to pay her rent, travel to India AND find a job while Rahul needs to confront his authoritarian parents…sheesh…there we go head first, diving into the humdrum of melodrama and bolly masala…The concept of the rebellious rich kid with the photography hobby, which sparked off in movies like 3Idiots and Wake Up Sid, seems to have become quite the trend. And while, I doubt if all of us watching the movie can relate to it,(or appreciate it, as in WUS or 3I) it surely has its bits and pieces of wit, humor and engaging banter.
The songs are fun, trendy and quite feet-tap-able. The plus being that there is no excess melodrama, no bhaag ke shaadi, no unnecessary fights, no villain bashing…it tries its hand at real, well at least as real as Bollywood can get, with its stereotypes! The cast, replete with its stereotype fit of the snobby upper-middle class 'Maya Sarabhai-esque' Ratna Pathak-Shah in contrast to the jovial Braganza family, has the entire ensemble packaged and filmed, characters in their blacks and whites… Kareena manages to role-play her 'jab We Met' character yet again and Imran tries his hand at the disgruntled, disillusioned youth.
 But, no, its not a Jab We Met…nor is it a Jaane Tu Ya Jaane Na…
And so, while the storyline has hardly much to offer, that is, if you really ventured into a Dharma production for something apart from the grandeur of the sets and the song-dance. Thankfully, the dressers give the quintessential Dharma-chiffon saris in NewZealand sequence a miss…
The movie however, redeems itself at the end, and as always, you come out of a Dharma production feeling happy and believing in happily ever-afters.
Final verdict: 3/5
Hit the MultiPlex! If you have a great date to share it with…
ps-Miss! If you want to watch a good movie (Sony should be airing this soon, anyway)