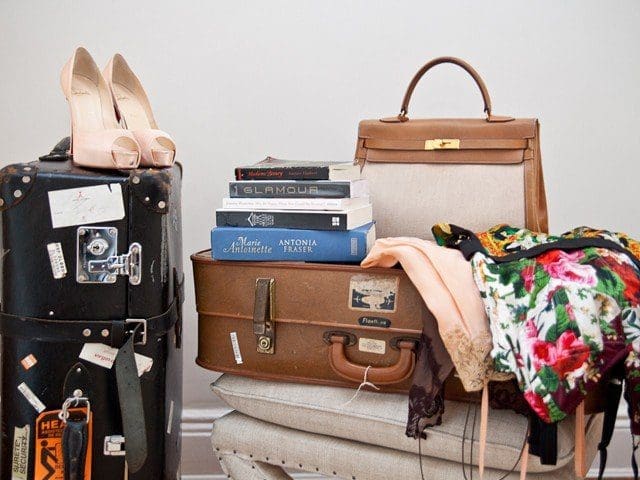 A trip starts and ends with luggage. The most important thing to remember when packing – travel light and prepare for the worst. Sure it sounds simple, but there is an art to packing. It's a balancing act that separates the novice from the expert traveler. As with any art form, mastery comes with experience and is subject to personal taste. However, first and foremost, one must understand the definition of 'travel light and prepare for the worst.'
An efficient way to reduce the clothing in your luggage is by color coordinating outfits.
TRAVELING LIGHT AND HERNIA-FREE
A bag should never weigh more than the person carrying it. This is especially true if you are a backpacker or budget traveler who does not have the luxury of a bellhop or skycap. If you are unsure, here is a good test: after you finish packing, carry your bags up and down a few flights of stairs. If you have a hernia after your second or third step, you should unload a few items.
An efficient way to reduce the clothing in your luggage is by color coordinating outfits. Through color coordination, three pairs of shorts and five tops can easily stretch into a week's worth of clothes. Bring a travel size bottle of detergent and a sink stopper so that you can spot clean or hand-wash your garments as needed.
Mixing and matching outfits can make less seem like more. This also applies to business trips. A man can survive with two business suites and several shirts and ties if he sticks to one color scheme. For women, a three-piece set – jacket, skirt, and slacks – and a few complimentary blouses can suffice.
PREPARE FOR THE WORST (WITHOUT PACKING EVERYTHING)
Now, 'prepare for the worst' doesn't mean pack everything in your closet. But it does mean you should plan for the unexpected. A potential hiccup on your trip can be the weather. A sweater, a windbreaker, and a raincoat can be layered or interchanged depending on the temperature or precipitation. Layering is also helpful when flowing through climate controlled (and uncontrolled) environments such as buses, planes, airports or train stations. It is easy to peel off and add layers for comfort, and it saves cargo space.
Preparing for the worst also includes the unthinkable – lost luggage. When flying especially, always have an emergency reserve in your carry-on bag. If your masterfully packed luggage gets lost, the two pairs of underwear, one set of clothes, and toiletries you stuffed in your carry-on will hold you over for one day. Have a credit card with you just in case your bags aren't recovered quickly, and you have to buy a new wardrobe.
ARTISTIC INTERPRETATION
There are many different techniques in the art of packing. Individuals develop their own quirks and styles over time, but it all starts with the 'travel light and prepare for the worst' principle. If you understand and heed that, you will be well prepared for an enjoyable trip.