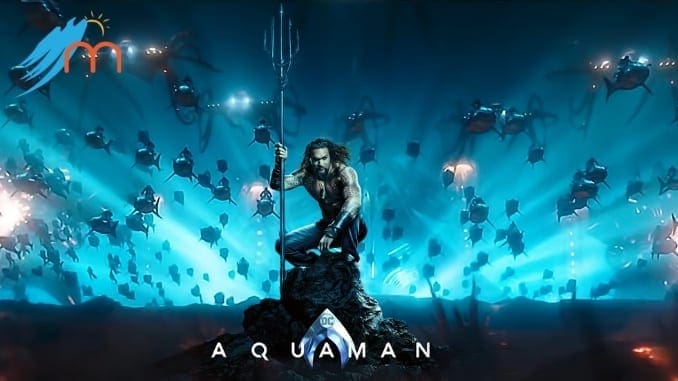 I heard you can talk to fish! – Bruce Wayne in Justice League
When this corny line was dropped in Zack Snyder's Justice League, all of the fanbase groaned. Thanks to the widely popular Superfriends Cartoon that ran way back in the day and still airs reruns at ungodly hours, Aquaman became the butt of the worst of all jokes. The Big Bang Theory, another fad that the Geek Kingdom takes after has even dedicated an entire episode to cribbing about how lame the character is!
All that changed, when Warner Bros cast a badass looking Samoan in Jason Momoa to play the Atlantean King and longtime fans of the character and comic book purists alike were ecstatic! It hasn't been a smooth ride for DC's version of the shared Universe with all movies save Wonder Woman criticized by most audience and critics alike. Although Momoa's Aquaman was treated extremely well in the Justice League, the character's first outing, James Wan in Aquaman hits the home run.
The cast is amazing with Momoa as the titular Aquaman, William Dafoe as Aquaman's mentor, Vulco and Patrick Wilson essaying the film's baddie – Ocean Master. Amber Heard is a breath of fresh air in this underwater flick as the fiesty Xebelian Princess, Mera and Nicole Kidman essays the role of Queen Atlanna. Yahaya Abdul Mateen II is brilliant as Black Manta who surprisingly wasn't on screen for all that much. The performances coupled with some of the best effects seen in films brings the underwater kingdom to life. That and James Wan's amazing direction keeps the film well paced and interesting.
It is not without its faults though. Like many of DC's other outings, it falls prey to having to build a new world and not make the introduction choppy. This is done via many plot devices, cases in point, Vulco's mentoring and Mera's talks with Aquaman but it fails to impress. While it might have worked for the Fast & Furious franchise, James Wan's signature style of mixing situational comedy even in midst of fast-paced action and fight sequences, it comes off a bit jarring in Aquaman especially when the character is a regal badass and essayed by Jason Momoa who could easily pass off as a WWE Wrestler anyday.
Another thing that works against this film is its runtime which drags on for more than 2 hours forcing you to sit through some scenes that were stretched out for far too long. The characters are well fleshed out and their motivations could have had you rooting for them on another day, but the storyline this film follows is fairly overused with the rightful heir once reluctant to the idea of being king, returning to his long-lost home and reclaiming what is his through his bravado and leadership. And the film's over-reliance on phrases like 'The One True King' and 'Save my Home' one minute and the supposed true king making corny jokes while fighting for saving his home leaves a sour aftertaste in the viewer's mouth.
Another technical masterpiece with a splash of different color and a whole new world to boot, it looks like Aquaman's days of being called lame are over and things look bright for the DC slate of films with the Wonder Woman sequel and Shazam releasing next year!
Here's to another great year for comic book movies!