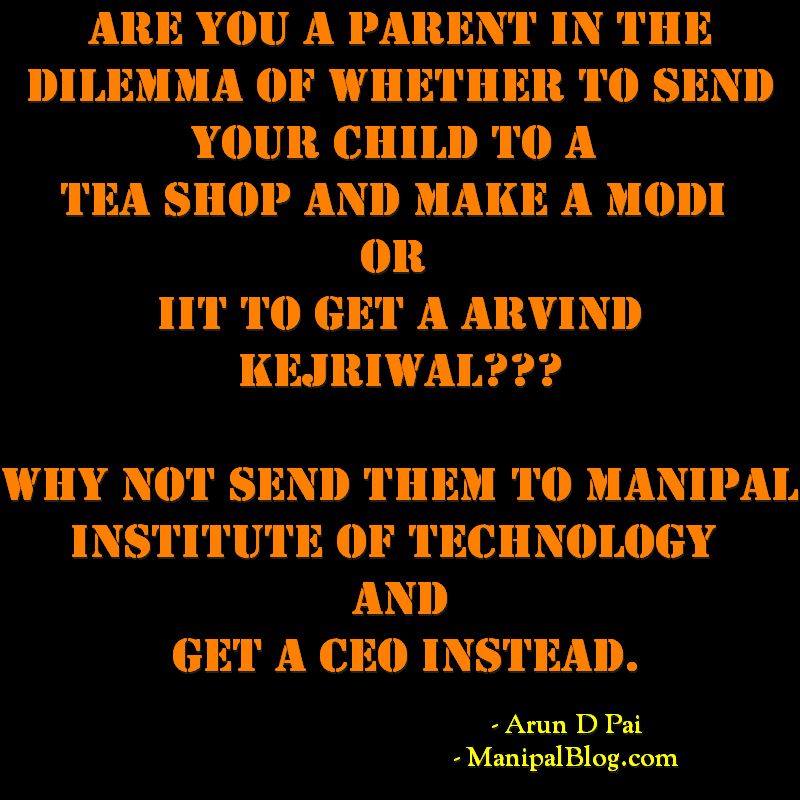 India has turned a new leaf. A commoner has upstaged the palace. We are looking at a new dawn. Hope Modi is able to fulfil the aspirations of the young India. I am pleased with the result for one more reason. It has discarded the obnoxious coalition politics. It means that now Modi and solely Modi is responsible. It is a good way of fixing accountability. Provide good governance or be prepared to be extinct.
During the two months preceding this watershed moment, there was excitement and anticipation in the air. Lot of heat was generated on the Twitter and Facebook. Campaigning was at its most feverish best.
Scores of students from Manipal are connected to me via Facebook and Twitter. We had heated debates, arguments and 24/7 entertainment. It feels like I had never left Manipal. A student even joked that I knew more about what is happening in Manipal than him. So virtually I am still there. So much for turning a new leaf!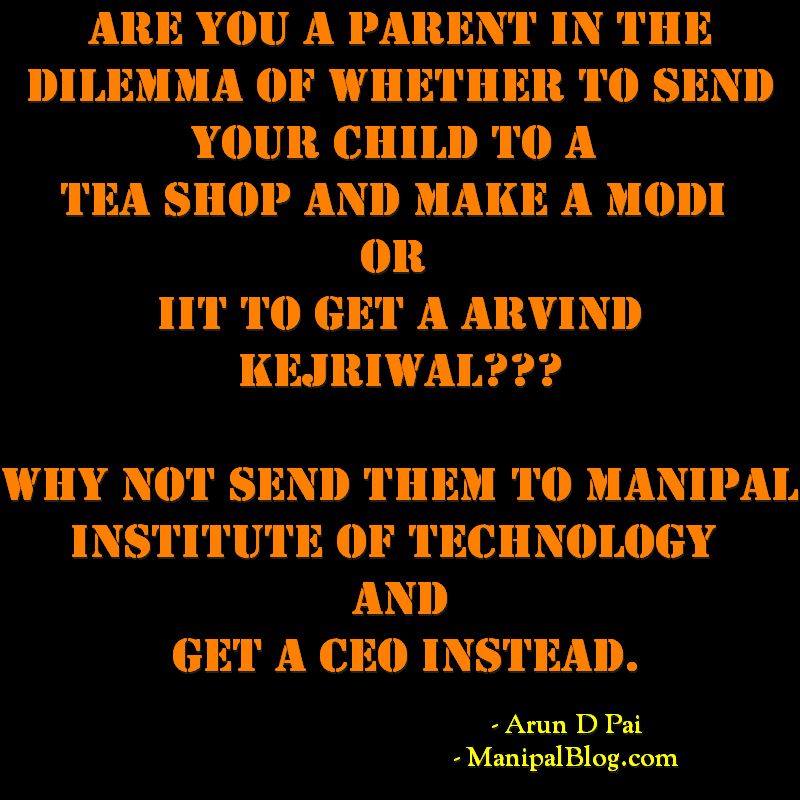 I don't really care. I would always like to be connected to my dear old Manipal. It keeps me young with a sense of belonging!
"Are you a Parent in a dilemma of whether to send your child to a TEA SHOP and make a MODI or IIT to get a Arvind Kejriwal??? Why not send them to Manipal Institute of Technology and get a CEO instead?"
This is not another one of the self adulatory advertisements of the authorities of Manipal University that have suddenly mushroomed. This is the post of Arun Pai, a quintessential Denizen of the holy land.
Arun can be irreverent, most of the times, but deep inside he is sensitive and caring. Not just Arun, all these youngsters superficially give the impression that they are carefree and fun loving and give two hoots about anything more serious than where to spend the weekend. But that is far from true.
They are the reason that I am still attached to Manipal.
'There is no better teacher than life', this is the mother of clichés. My English teacher hated clichés. She believed that clichés are like crutches. You only use them when you are handicapped. Yet we cannot do without them.
Modi's fantastic victory has taught us some rare lessons which even our favourite professor will fail to do. To be honest, I don't remember a single thing that our good professors taught and I didn't do badly in life.
Modi has shown us the limitations of our degree. A fancy degree will fetch us a job. But to achieve something bigger, we need to trigger our dreams. But again dreaming alone is not enough. It has to be backed by some ass busting work. So Dream Big and be prepared to slog.
Another lesson that one can learn is not to get distracted or demoralized. He faced harsh criticism for almost a decade. The criticism may be right or wrong. But he withstood it. Manipal has a history of being very thin skinned. The number of suicides per year is a testimony to that. Here is a man who had the grit to ignore all the barbs and work relentlessly to achieve his goal. So guys, when you aim high, be prepared for hardships. If you cannot stand the heat, stay away from the kitchen. Ouch! one more cliche.
I am not going to stress about his oratory. Manipal has never been shy or inhibited.
Do I idolize Modi? Not really. I would have tried to find the positives even if the winner were a Kejriwal or a Rahul. Acrimony should be restricted only till the campaigning. But yes, I did vote for Modi and I am his fan.
Finally Modi taught us to be pragmatic. He had a backup plan if he failed. He could go back to selling teas.
I prefer opening a laddoo shop instead. Damn. One large order after the election result and I don't have to work for the next five years!
The aim of writing this post was not to promote Modi. He has already won with a handsome margin. Many times in life we feel clueless and thoroughly beaten. In times like these we must find inspiration. This inspiration can come to us from around us. Even something as dirty as politics can sometimes inspire us. All we need is an open mind and a willingness to learn.
Meanwhile, keep being good to me Manipal!