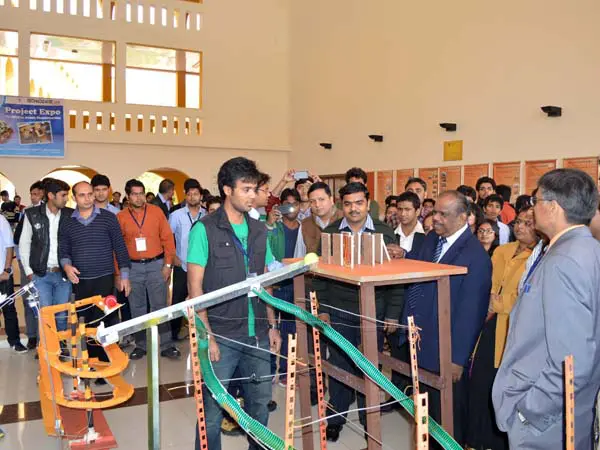 As a mechanical engineering student, I feel it is one of the most diverse branches one can opt for with a plethora of opportunities.

Here at MUJ we have outstanding facilities for mechanical students.

The faculty is extremely experienced and efficient. We have some of the most caring and understanding Professors.
The Department has introduced a mentorship programme through which each student of the Mechanical Engineering Department is allotted a faculty under which he/she has to pursue a project of his own interest or one given by the mentor. These mentors also take care of the academics of the students. They try imparting the textbook knowledge to the practical and pragmatic applications which can be widely found in the modern industries.

We also have regular industrial visits giving us the required modern-day exposure.
The labs and workshops are equipped with the latest machinery and equipment one can expect.
We also have GATE classes for students who wish to pursue higher education in the same field which is free of cost. As far as the placements are concerned, opportunities for Mechanical students are ample as core companies like Sonalika Tractors, Asahi Glass, Shipping Companies etc. visit campus for recruitment along with lots of mass recruiters and Non Technical Companies. However, it is the student's caliber that will help him getting placed.
Since mechanical engineering is a field requiring substantial practical knowledge I would suggest the student to widely take part in the workshops and technical clubs available in our college to further boost their proficiency.
Placements: Core companies didn't use to visit our campus till 2017. But since then the scenario is changed, not for the best but definitely better. I'll be going to 4th year and I guess the gravity of placements at this very moment can be felt by me and my peers. Most of the job opportunities are in PSUs, which can be grabbed through GATE, so college basically doesn't play any role in it except for the teaching. We have free GATE classes for same.
College is trying it's best along with the Training and Placement Cell doing a tremendous job. If we start comparing ourselves to likes of IITs or even MIT for that matter, we are making fool of ourselves. Ours is just 7 years old college, and these colleges are 50-60 years old, but still we are definitely giving them a fight.
There are many achievements to boost off, best example is that our college got central government grant for entrepreneurship and we were ahead of some IITs as well. So the conclusion is we might be new and small, placements aren't definitely best or something that college can boost off, but few years down the line, it is surely going to get best.
I would like to once again point out that placement of your ward will depend on the following:-

The skills he/she has after 4 years. This include the technologies they know, how proficient they are at coding and the soft skills they have.

How many projects they have done and what kind of projects they have done.


How good their CV is. Basically their Skills, Projects and Work Experience they have ( Internships and Freelance Work)

If they have written any research paper

If they have done any certified course, If yes from where
Moreover you can visit the following link for further information about mechanical engineering at Manipal University Jaipur.
About the Author: This post is by Mohammad Aelia a student of Mechanical Engineering at Manipal University Jaipur.