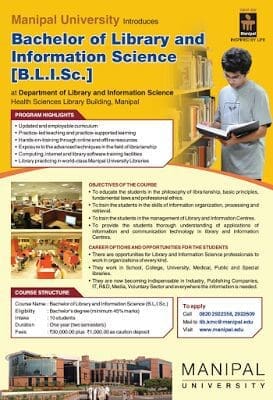 Click on Image to enlarge
Program Highlights
Updated and employable curriculum
Practice-led teaching and practice-supported learning
Hands-on-training through online and offline resources
Exposure to the advanced techniques in the field of librarianship
Computing, internet and library software training facilities
Library practicing in world-class Manipal University Libraries

Objectives of the Course
To educate the students in the philosophy of librarianship, basic principles, fundamental laws and professional ethics.
To train the students in the skills of information organization, processing and retrieval.
To train the students in the management of Library and Information Centres.
To provide the students thorough understanding of applications of information and communication technology in library and information Centres.
CAREER OPTIONS AND OPPORTUNITIES FOR THE STUDENTS
There are opportunities for Library and Information Science professionals to work in organizations of every kind.
They work in School, College, University, Medical, Public and Special libraries.
They are now becoming indispensable in Industry, Publishing Companies, IT, R&D, Media, Voluntary Sector and everywhere the information is needed.
COURSE STRUCTURE
Course Name : Bachelor of Library and Information Science (B.L.I.Sc.)
Eligibility : Bachelor's degree (minimum 45% marks)
Intake : 10 students
Duration : One year (two semesters)
Fees : Rs. 30,000=00 plus Rs. 1,000=00 as caution deposit
To apply

Call

Ph: 0820 2922358, 2922609

Mail to

Visit