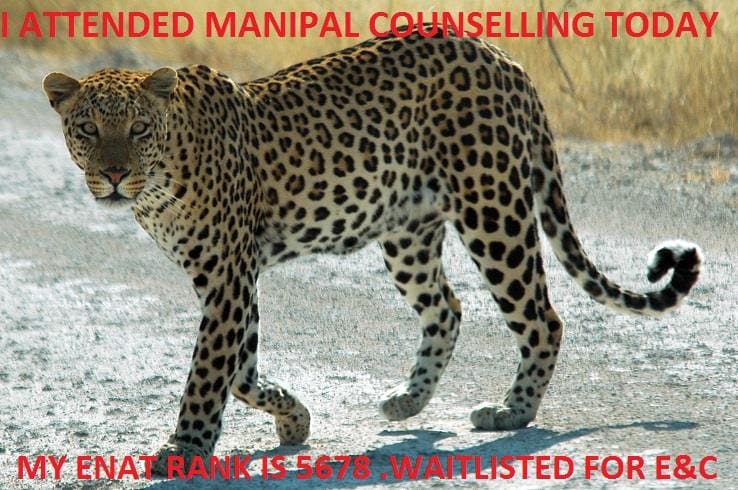 Dear friends, there is news that leopards have been sighted in Manipal. The number of animals seen near the End Point complex varies depending on sources (i.e. from 1 – 5).
Either they have decided to migrate en-masse to Manipal (Bangladeshi immigrants??) or we are witnessing the first of its kind phenomenon of rapid mitotic fission / budding / fragmentation / parthenogenesis in these big cats.
Also, another unique phenomenon that is being reported is the spontaneous transformation of these animals. According to several reports, the animals that were seen include leopards, tigers, cheetahs, and even lions. The reasonable explanation that can be offered for this simultaneous spotting of multiple species is one among the following –
1. People do not know the difference between leopards, tigers, cheetahs and lions
2. Two shots of Jägermeister can make a leopard look like a lion (or even like a hippo….).
3. The members of Felidae family decided to have their annual family reunion in Manipal.
Anyways, I like to stick with the theory that these animals have somehow learned the art of transfiguration from Professor Minerva McGonagall. So enemies of the heir, beware!!!
If my theory is correct, then, in the coming days we might also hear sightings of Jaguar, Himalayan snow leopard, puma, clouded leopard, Asiatic golden cat, Sumatran leopard, African Serval, Andean mountain cat, Canadian lynx etc. at the 'End Point'.
But there is one important question that remains to be answered. Like someone once said "Of all the gin joints, in all the towns, in all the world, she walks into mine…." (I know….. I know…. you know that it's from Casablanca).
Ya, So why choose Manipal???
Well, I have developed some theories about this…
1. Last time the animal had actually come to see the inaugural show at INOX (then playing Ragini MMS-2 featuring a tigress!!!). But since it was house-full, the animal could not get any seats. Now that the students are on vacation and Manipal is deserted, it (or they?) has decided to give it another try… (Will have to be satisfied with Godzilla 3D now…)
2. Admissions and counseling going on in Manipal (might have come for a seat in Engg./Pharmacy/MBBS).
So guys and Gals feel free to contribute your theories too …
About the Author: Dr. Anoop Kishore Pai is currently working at Manipal College of Pharmaceutical Sciences, Manipal.