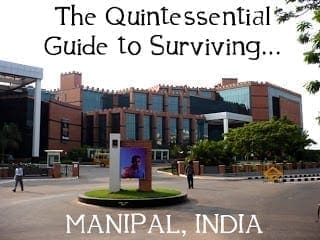 There are a ton of other things one might regard as essential, but these are the absolute basics of the basics. This email would be useful to new Manipalites and maybe give some info to the old ones.
Mode Of Transportation
This could be a motorcycle, a car or hell even a bicycle (I've seen enough people having them). Though I'd recommend against the last one for routine use as I don't recall seeing bike parking anywhere. Chances of theft would be ridiculous.
If you want to get a bike / scooter / car, get it checked by at least one knowledgeable friend and more importantly a mechanic (even if you have to pay the mechanic to look @ the vehicle). If the vehicle you're interested in is sitting at a mechanic shop, take it to a different one to get it checked. It'll save you a lot of trouble in the future and might give you a bargaining chip also with the seller. Getting a bike without papers implies less work and waiting time yes, less money also but the amount of trouble that you'd get into if you get caught by the cops with no papers is really really not worth the hasell at all. So pay the extra grand or so, get the stuff with full transfer papers and what not.
Licence: Whether or not you're an Indian Citizen you need an Indian Drivers Licence. Where do you get that? Two options: Go to the drivers centre yourself. It's in the crossroads of the SH 65 and NH 17. Straight road from Manipal. Or take the easier option, go to the place in front of Amita Bakery near Tiger Circle there is a guy there that deals with licencing. He'll get everything done for you. Oh btw you'll really really need to be stupider then a dog or a cat and pretty much someone who crashes the car once you're in the driver's seat if you're not able to get a licence. It's so easy.
Insurance: When you have a vehicle, you'll need insurance. It's so ridiculously cheap in India anyway; I don't know why anyone wouldn't get it. The same guy from the licencing will help you here. If you would like to do it yourself, go down the Amita Bakery Road and you'll see United India Insurance about 300 – 500 mt or so down. Get it from there.
Pollution Certificate: You'll need this. The only place for it is in Udupi, in the petrol station on the main road (SH65) next to the local bus stand.
Get copies of all the above and just keep the copies in your vehicle at all times.
Cell phone
It'll be your life-line. Which cell phone you buy isn't important. It's the carrier. Biggest ones are Vodafone and Airtel with sprinklings of Docomo, idea and a few others. Airtel has best reception but is slightly expensive, Vodafone's decent all rounder. Make sure you get the student plans only. But now here is the key. Manipal is a student town, you can buy SIM cards at literally every shop in town. But I'll urge you NOT to do that. Go to the main Vodafone / Airtel / carrier showroom and get the card. When you buy SIM cards from outside vendors it's on their name as such you can't get a replacement if you loose your card. You will not be able to provide proper documentation for the card if needed as such you might loose your connection.
If you have already bought it from a vender, go to the respected office and get your name etc changed on the card.
Laptop / Desktop with Internet
I'd suggest Laptop. Not a desktop. The power cuts are pretty bad unless you live in the residences. You can take them anywhere including class / library. You'll need internet access. Airtel again has one of the best ones, the others include BSNL (I wouldn't) and the MAHE Connection (Stay the hell away. Sluggish, blocks so many sites, completely useless). You can even get a USB Internet connection from a few companies.