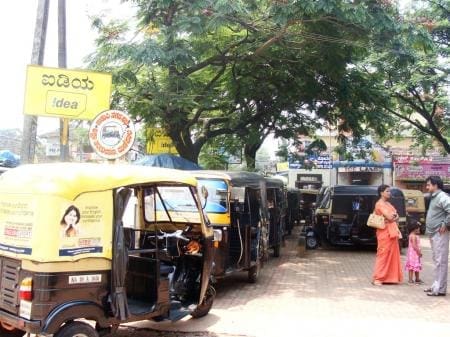 Elated by the decision of revocation of bus services inside the campus by the MIT board, the Auto Drivers' union decided to felicitate the management of the college. It was also announced by the union president B.S.Sadanandappa Shettar at Tiger Circle in a press release late this evening, that the Auto union has also decided unanimously to slash the Auto fares beginning midnight tonight.
Though MIT took the decision due to safety concerns,the auto drivers are the ones who are going to benefit by this decision as the students are most likely to opt for autos in the absence of buses.
The Auto union decided to slash
auto
fares by 30% as a token of gratitude to the no college bus policy.
Speaking to ManipalBlog, Sadanandappa said,"First of all,I thank MIT management for its decision.All these days we've struggled to earn decent money due to influx of many autos from outside. But now I think we need to get more autos to meet the demand."
As a gesture of gratitude, we decided unanimously to slash our auto fares by 30% on all routes within Manipal and to neighbouring important daily destinations like the Udupi railway station, Big Bazaar and Malpe beach."In our union meeting,as a token of gratitude,we've also decided to offer a concession-ride for faculty and non-teaching staff of MIT over and above the 30% rate slash. Now they can travel within Manipal in any auto under our union with a fare of Rs.10."
ManipalBlog has tried to contact the management of the college without success so far. This decision by the Manipal Auto Rickshaw union is likely to be welcome by the over 15000 strong student population of this University town.
However, a student of MIT, Shiva Balath commented that there would be no benefit to the college goers who will still have to eat lots of KFC buckets and Pizza Hut pizzas to make up the calories they lose due to the daily trip from the 19th block to the lecture halls, as there are no vehicles inside the campus.
A student of neighbouring KMC spoke to us and said, he wasn't sure how this will benefit. "The auto fares in Manipal are at the whims of the auto driver. They will simply demand the same fare and say that it is a reduced fare. 30% is just an eyewash."
We at ManipalBlog will continue to keep track of developments and bring you the latest as and when it happens. Meanwhile, happy auto riding!!
P.S: All the facts in this article are made up! But you already knew that didn't you?
About the Author: This article was sent in by a concerned student of MIT, Manipal. He wishes to remain anonymous to avoid any repercussions.