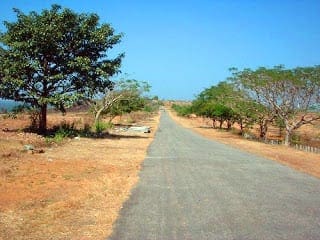 Nostalgia! Some of these photos will remain just that. Such views may not be seen anymore due to the rapid construction activities taking place around Manipal, so guys and gals, send in more pictures to
[email protected]
, which we can post for all to see in the coming years.
The Original End Point Road – Before the barricades, before the football and cricket grounds, when It truly was a road to nowhere. This was in early 2006, before the construction of the football and cricket grounds started!
View from the IX block MIT in 2006. A wintry morning as the mist shimmers in the Sunlight, Manipal awakens for another day in the Sun.
Ah! Scenic beauty, construction has ruined such beautiful vistas!! Another photo from 2006 album Can't believe the pace of change taking place in Manipal. Such pictures will remain only in magazines!!
Let it rain.. let it rain.. let it rain (of course it doesn't snow in Manipal, so had to improvise)
A beautiful sunset seen from the MCIS, as it overlooks the Manipal Lake. Another view lost to the construction activity. Truly, in the quest for progress, the environment takes a pounding 🙁
The quintessential Manipal photo!! The night photo has been expertly captured!!