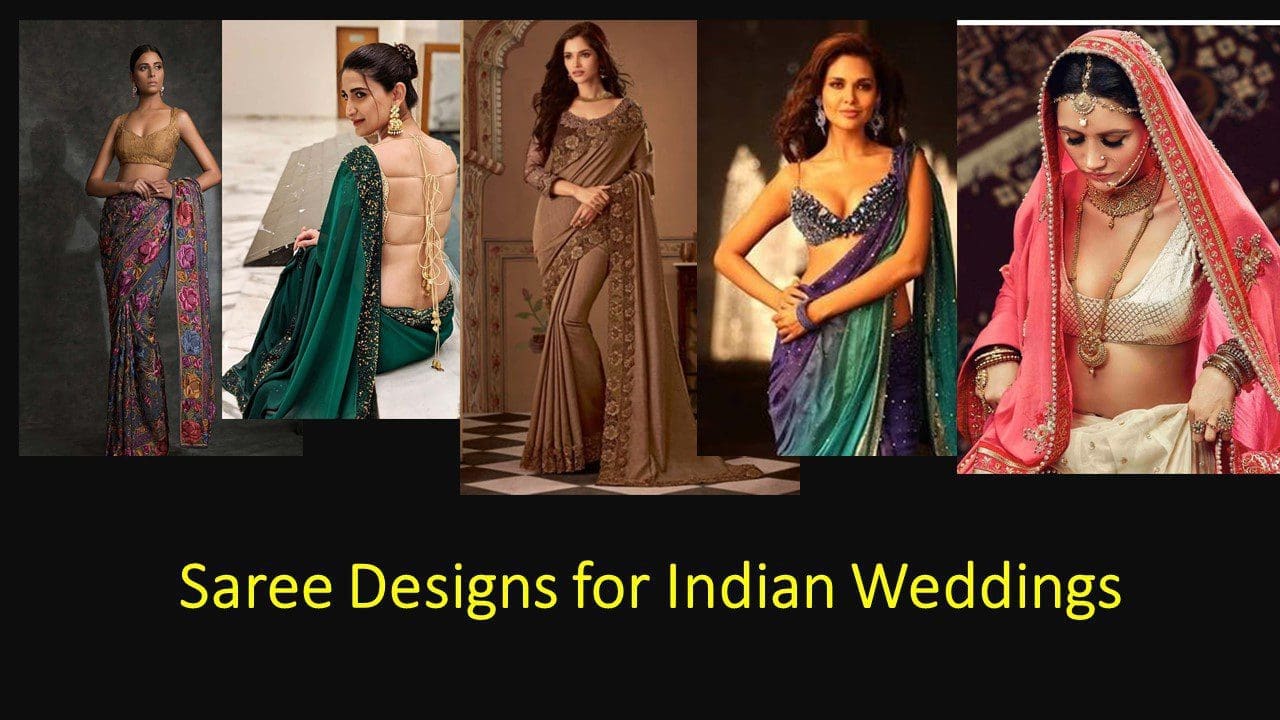 A saree is a beautiful attire that is worn by all Indian women during different ceremonies, festivals, as well as weddings. Sarees are worn along with a petticoat and a blouse. Today, women across the globe are flaunting a saree in different ways. Weddings are one occasion where you can flaunt a saree. Combining the latest saree design along with the right accessories can give you an amazing look.
There are several saree styles and designs to choose from. In this article, we would be talking about the different types of sarees that can be worn at a wedding.
Top Trends in a Wedding Saree Design

While wearing a saree to a wedding, one has to look the best. Thus, you need to choose the best type of saree for a wedding. The different type of wedding sarees that are in trend and are being worn by many women across the globe are as follows:
Banarasi Silk Saree
Banarasi silk sarees are the ones that might never go out of fashion. They are one of the finest sarees in the Indian market and are a perfect option for a wedding ceremony. They resemble the Indian tradition and ethnicity. Banarasi silk sarees are well-known for their silver and gold brocade, zari, fine silk, as well as opulent embroidery. These sarees are made from pure handloom silk that gives them a royal look and feels when you wear it for a wedding ceremony.
Kanjivaram Silk Saree
Another option to consider while choosing a saree for a wedding is the Kanjivaram silk saree in a bold and bright color. The Kanjivaram sarees are mostly worn by brides in South India. These are made up of pure silk and hence, they give a long luster. Kanjivaram silk sarees are of great importance as this saree has a zari weaving work that contains motifs such as floral paisley, scriptures, animal pattern, the art of temples, and so on.
Georgette Saree
The color red has been a favorite among the Indian brides for a long time. The latest saree design in georgette saree features zari and thread work. Textures such as georgette and chiffon fabric give a woman the fantasy of a thin body. These types of sarees are also very comfortable to wear for long durations.
Net Saree
Net sarees are another type of sarees that are very much in demand these days, both for the bride as well as the bridesmaids of the wedding. This type of saree is famous among Bollywood celebrities with many of them adorning Net saree on different occasions and functions. A wedding net saree can be easily found in every color and is very light in weight. It gives a perfect and sophisticated look to the wearer.
Half N Half Saree
A Half n half saree is based on a two-part saree concept. These types of sarees are stylish and bold and are quite comfortable to wear. A half-n-half saree is a perfect choice for a wedding or a family occasion for grabbing attention. Such sarees can be found in a variety of colors as well as fabrics which make it suitable for several other occasions.
Tissue Silk Saree
Tissue silk sarees are another form of the popular and feminine forms of sarees in the Indian culture. The borders of a tissue silk saree can be made from the pure form of tissue fabric. Such a saree is very much in fashion and demand for a wedding ceremony as well as other occasions. These are generally embroidered for adding elegance and style while wearing the saree. Tissue silk sarees are very light in weight and are easy to carry around. These types of sarees are mainly woven using silk thread.
Designer Saree
One can never go wrong with a designer saree. Designer sarees are a rage among the young generation. One can go for a half saree or a Dhoti Saree for a wedding function or a party. The latest saree design in a designer saree is an asymmetrical hemline in the saree that is paired with a long cape jacket. This makes for a great combination of saree.
Conclusion
The above was the latest type of sarees that are in trend these days. They are being one by several celebrities as well as by the common people. Make sure you choose one out of the above for the next wedding of the season according to your tastes and preferences.