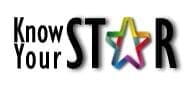 Life, perfect metaphor for itself…I had words but I held my speech… I was in quest of inspiration… Problems in the society overshadowed the positive energy around… Every whine dug the wound deeper…Urge to help others was urging me to taste the dark…Yes; I was in dark, waiting for the stars…
Welcome to Virtually There (VT), version twelve, one after launch of KnowYourStar!
This break had a purpose. And how it happened was indeed a fancy story. On a day of Bharat Bandh, I woke up to see no eateries open. Someone has rightly said that our brain works when our stomach is empty! My cousin and my guru fueled this idea of inspiring the youth. Soon we found support from our friends and we had a dedicated team in place. Strategies were thought and then came up the much appreciated teasers and video promo. I knew I was living a dream!
I lost track of writing assignments here and I am grateful to my editor for his support. My day job demanded more hard-work on weekdays, and weekends were spent on shaping up our dream. Now I am sure, when we wish for something from all our heart, the universe conspires to get the task done. Universe is people around for us and yes off course, we found, with the help of universe, dots starting to connect to take us somewhere where we dreamt!
Idea was simple – to impact society. We are totally against promotions and advertisements. End of the day, we are happy if someone is motivated from our work. Thought of money making is the last thing in our mind. For you, we have a message. LIVE your DREAM!
Some dreams are worth living. All of us dream. When we dream we simulate them. We actually wish it happens. If it happens we start believing in the "Secret" documentary concept and tell our "awwww moment" to everyone. If it doesn't happen, do not forget your dream, congrats, failed dream is nothing but an experience and experience is what that has taught you, feel honored. Your teacher was GOD!