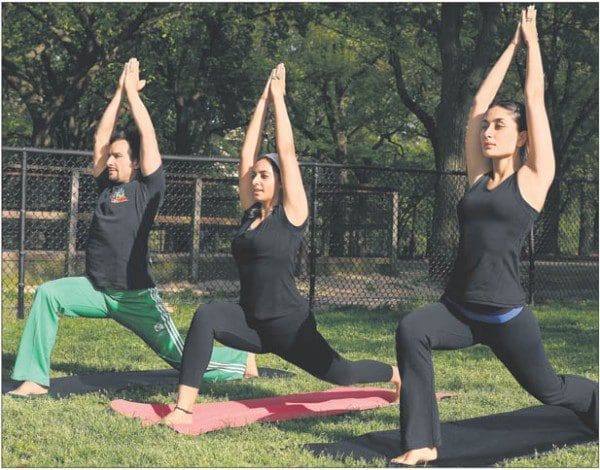 Shahrukh, Salman, Hrithik, Priyanka, Kareena, Aamir, Ranbeer and the list is endless. We always have praised their acting on-screen. Their physique, figure, skin, face, lips, almost everything looks so perfect. Obviously it's every women's dream to have a boyfriend like Hrithik, a figure like Priyanka, skin like Kareena, Lips like Katreena, Perfect back like Bipasha, etc. These endless dreams of ours, I must say, true for each girl in her own way, are unique as well as justified. But have we ever thought, what it takes for those actors/actresses to maintain that body of theirs and continue to look the same for years together.
Some of us would have an instant reaction- liposuction, botox, nose-job, lip-job, steroids, and many more 'jobs'! But folks, if it was so easy to do these and live happily ever after, it would be wonderful, right? The side-effects, adverse reactions, consequences are way beyond your imagination. No one wants a face like a doll or a mummy, but that is a usual phenomenon with botox injection. Think in the depth of these, can these surgeries and medicines really keep you young forever? Look at you granny and grandpa, they ate hell lot of green leafy veggies, fruits, nuts and milk. These not only gave them strength but also to live for longer time. I wouldn't agree with you if you say these make you fat and  plump due to the extra calories they have. Nature has balance in each and everything. These food items instead are 'the' best for your body.
The actors not only exercise daily to maintain the normal metabolism but also have healthy diet. So let's have a look at what these celebrities have to say-
1- Bipasha Basu: The ultimate fitness diva. Yes she is! Get up at 8AM, go to the gym, 2 hours over there, return back, have a beauty bath of 2 hours, shooting whole day long, return back at 10PM, party-night out till 2AM, sleep for 6 hours.
Diet: Start your day with 2 glasses of water, 2 glasses of juice after exercise, have fruit salad with lots of pulses in the breakfast, 1 chappati with salad and dal, have two glasses juice in the evening and salad at night.
2- Kareena Kapoor: One of those actresses who ripped off the body of 'puppy-fat' and turned into a 'skinny-babe'! Her figure, that glow on skin inspires lacs of women world-wide. Let's have a look what this zero-size beauty has inside her pockets.
Yoga with her hubby- the first and foremost thing that boosts up her day, is one of those most essentials in life that she can never forget. Yeah, after all it makes her look picture-perfect. A change  from that 65+ kgs girl to 50 kgs gorgeous body was a turning-point in her life. Secondly, she changed from a non-veggie to a pure vegetarian that added up to her weight-loss, staying healthy and fit, without any extra fat of course.
All you fitness freak girls, instead of going under the knife, keep your diet on ground zero and follow the foot steps of these beauty divas.
The news about our Bollywood hunks soon! Till then stay tuned to [email protected].