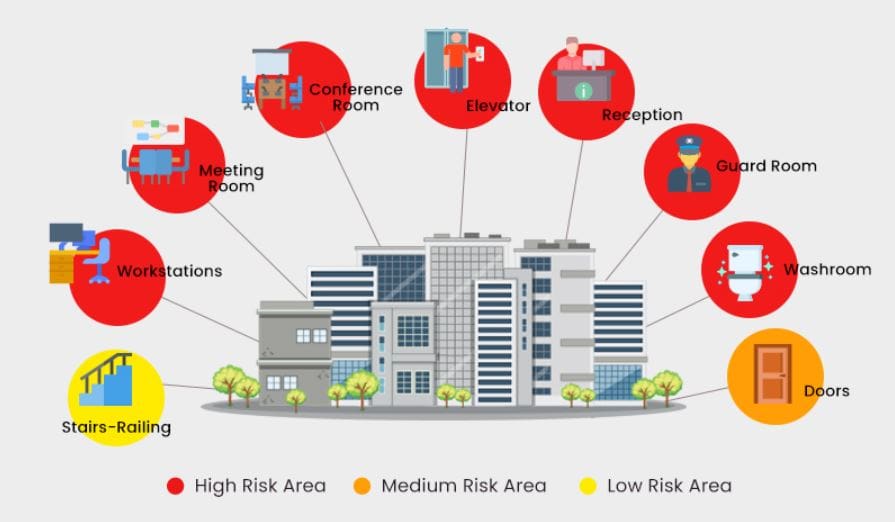 Running for our life and hiding in our own homes may or may not save you from the deadly viruses and germs. The words that should lead you and become a part and parcel of your life must be cleaning, sanitizing, and disinfecting.
Hence, along with washing hands and prohibiting touching your eyes, nose, and mouth as much as possible, sanitization of public and personal places is essential. That is the reason office and house sanitization services are becoming more than imperative.
Hygiene and sanitization are the only ways
Prevention is one of the biggest weapons in fighting deadly viruses. This is why professional services of hotel sanitization, hospital sanitization, restaurant sanitization, and gym disinfecting services have become really significant in the current times. Whether it be a regular sanitization of your upholstery or commercial space, hop over to here.
Maintenance of thorough cleanliness, hygiene, and proper standards of sanitization is really important to arrest the spread of this global pandemic. 
Checklist for keeping commercial spaces germ-free
Commercial spaces or office sanitization is now the need of the hour.
STEP 1- Stairs- Railings and Elevator
These are the facilities that are used to enter a corporate building. Hence, they are primary and the most used places by visitors.
The railings must first be wiped with a soft wet cloth to get rid of the dust.
A green anti-bacterial disinfectant solution must be used to wipe the railings.
The elevators must be cleaned and sanitized in all its aspects like doors, inner walls, floor, carpets if any and very importantly the elevator buttons.
STEP 2 – Counter, Table and Surface Tops
Offices are nothing but a cluster of workstations. These could be the reception table or even the work cubicles of the general employees.
The countertops, tables, chairs and other surface tops must first be cleaned with soapy water.
You can also use effective hospital disinfectant solutions, as they are capable of killing more germs.
Be sure to use green and safe chemicals.
STEP 3 – Floor
The floor often accumulates a high degree of dust, dirt, and bacteria as people often visit and move by putting on their shoes.
The floor must be swept and mopped twice a day with proper disinfectants.
If there is a carpet, then deep cleaning of the carpet must be done every weekend.
STEP 4- Doors and Windows
The doors and the windows always demand extra attention as they are often touched by the employees with their hands and palms on a regular basis.
The doorknobs must be cleaned with soapy water and then disinfectants.
The chemicals used must suit the material of the doors and the windows.
The windowpanes must be cleaned with soapy water and then an anti-bacterial solution.
Checklist for Keeping Residential Spaces Germ-free
Your house is a place where you are confined during the period of lockdown, even later this is the place where you will return after a hard day's work. Hence proper home sanitizing service with high standards are imperative.
STEP 1 – Dusting
Always begin with attacking the dust in your place
Vacuum and dust the furniture, carpets, upholstery, curtains
Always dust your beds and beddings separately
STEP 2 – Wipe with a cloth
Clean the different surfaces with soapy water
Clean the surfaces with an only wet cloth to remove the soap
Wipe with a dry cloth
Spray a disinfectant
STEP 3 – Kitchen & Bathroom
The bathroom must be given special attention.
The kitchen surfaces must be sanitized with special care.
You must understand there is a huge difference between cleaning and sanitizing. Cleaning will only remove dust and dirt and sanitize will kill the germs. Your choice should cater to something that will help you stay safe and healthy always like Germ Shield, where the surface will be 99.99% germ-free for three months with an antimicrobial transparent coating on it.
Sanitization for Commercial Spaces
You need a specially formulated disinfectant solution for commercial sanitization, that will be perfect for any element and surface, without adding any smell or stain to your office space and will also keep you and your employees' safe from dangerous viruses spreading ailments like SARS.
Sanitization for Residential Spaces
Just like offices, your residential spaces need proper home sanitizing service on every corner of your home and kill 99.99% germs and most importantly won't have any side effects to anyone.
Your home and office are the two places where you spend your entire day and most importantly your family and loved ones reside here, so you cannot think of risking their lives. So, make the right choice and save your life!