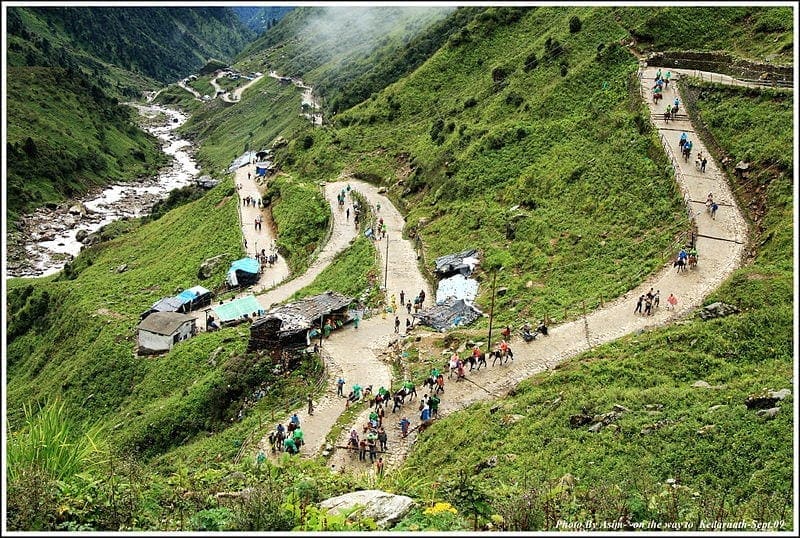 When I first came to know about the calamity at Kedarnath and the rest of Uttarakhand, I was unable to react. From colleagues to flat-mates, there were murmurs and concerns everywhere about the magnitude of lives lost. I tried to avoid most of the conversations because  I was feeling shy to admit that this tragedy personally disturbed me. Otherwise, I am guilty of apathy which sets in due to over-dose of news related to natural disasters and accidents. Most of us would have to admit that we read these articles with a poker-face and go about our everyday lives. This time however, my mind was flooded with sounds, voices and images from my trip to Kedarnath when I was in sixth standard.
My dad works at a bank and he gets an LFC (Leave fare concession) every two years. We would look forward to these trips around the country which mostly covered sites of culture and pilgrimage and not simple recreation. My father wanted to take my grandparents to most such religious places while they were still fit.
We boarded a bus from Rishikesh to Kedarnath (215 Kms). The roads were perilous and the turns were nauseating. It was not possible to drive after dusk so the bus would halt at small towns like Devaprayag, Rudraprayag etc. 'Prayag' is the confluence of two rivers. At Devprayag, Alakhnanda (flowing past Badrinath) meets the Bhagirathi River and officially becomes the Ganges. At Rudrapayag, Alakhnanda meets the Mandakini river (the one which caused the flood at Kedarnath). The nights were chilly, and the deafening, gurgling sound of the swift mountain-river added to it. The footage which I saw recently of guest houses collapsing within seconds and cars being toyed from one boulder to another did not make my jaws drop, but clench my teeth instead as if I was witnessing it first-hand.
Gauri Kund (14 kms from Kedarnath) is the drop-off point for all vehicles. From here, you have to trek on a 10-12 ft wide road or ride a pony. It was raining that day too and the narrow road without railings had become slippery. My dad advised my grandparents to stay at Gaurikund instead because even pony-ride could have hurt their back.
We then bought two pairs of walking sticks since the uphill journey is tiring, especially as oxygen depletes at the high altitude. We were brimming with enthusiasm and devotion as we set out on that trek. As we left Gauri Kund behind us, it was like an adventure- scaling the steep road, cut into the mountain. We had to maintain strict left almost touching the mountain wall fearing running into the ponies or the travelers on the return path. The sun was out now and I started sweating. I took off my sweater and tied around the waist.
We rested after every half an hour or so for 5-10 minutes. We used to take in the dry glucose itself by pouring on our palm. We could not rest for long because we had to reach Kedarnath before dusk. There was a moment when we had gathered our breath, only to have it blown away when we saw that spectacular view- the snow-covered peak of the 'Sumeru' mountain playing peek-a-boo amidst the clouds.
We slowly lost the energy to have conversations. At times, we would ask the returning pilgrims – "How much far?" They would laugh and say- "Bus thodi door aur, Baba Bholenath ka naam lete jaiye" (Just a little further, keep chanting the name of Divine Shiva"). I knew that this was just to egg us on, because in this tough situation, your tired body is not powered by your muscles, but by the fuel of your spirit. Soon, we reached Rambara (7kms from Kedarnath).  It was pleasing to see a bustling township of pilgrims and traders in the valley. We had tea, some snacks and chatted with the shopkeeper who took turns every week with his son to earn there.
We rested there for an hour till our energy returned. This is a half-way resting spot and many travelers spend their night  here if they think they cannot reach Kedarnath before dusk or if they are unwell or too tired. As I recollect the colorful and buzzing crowd of Rambara, I shudder to imagine the last moments of those unsuspecting, happy and reveling folks. Almost 5000-6000 people are suspected to be dead in Rambara alone. No survivors! Corpses buried under meters of mud and boulders. What was once a resting place of devoted pilgrims; is now a wasteland of corpses which cannot even be extricated or identified. The mountain trail that led to and from it has vanished under landslides. Only some TV crew managed to reach there and recount the horror in a show titled- "100 hours at Rambara".
It took almost 6 hours for us to finish the trek. We forgot our exhaustion when we could finally see the simple yet majestic Kedarnath temple cradled in the lap of snow-covered peaks. The pristine Mandakini flowed by it. Our immediate task then was to find a dharmashala. My dad met one of the panda-ji (temple purohits). He arranged for our stay at his modest dharmashala. We had dinner, and crashed within minutes of burying ourselves under thick blankets. The next day, our panda-ji guided us to the darshan of the jyotirlinga amidst the crowd of devotees. We thanked our panda-ji , gave him dakshina , exchanged contacts and bade farewell till next time.
Every year, when the snow covers Kedarnath in winter, our panda-ji travels the country meeting up with his jajmans (pilgrims whom he assisted) bringing news and 'prasad' from Kedarnath. But this year, we are bound to fear the worst.  I could hear it in the broken voice of my Dad when I was speaking to him on the phone that day.
A trip like this during summer vacations is undertaken by an entire family. There are old people above 70 and kids even below five. To think that many of them were stranded without food, water and shelter, in the dark, fearful rainy night with the danger of getting caught in a landslide, is quite haunting. And for the lives lost and the trauma of the survivors, let mind dwell just long enough for a heart-felt prayer.  R.I.P.
About the Author: Saswata Ghosh is an alumnus of Manipal Institute of Technology, MIT, Manipal. After completing his BE Computer Science in 2011, he joined Mphasis, where he is working as an Associate Software Engineer.