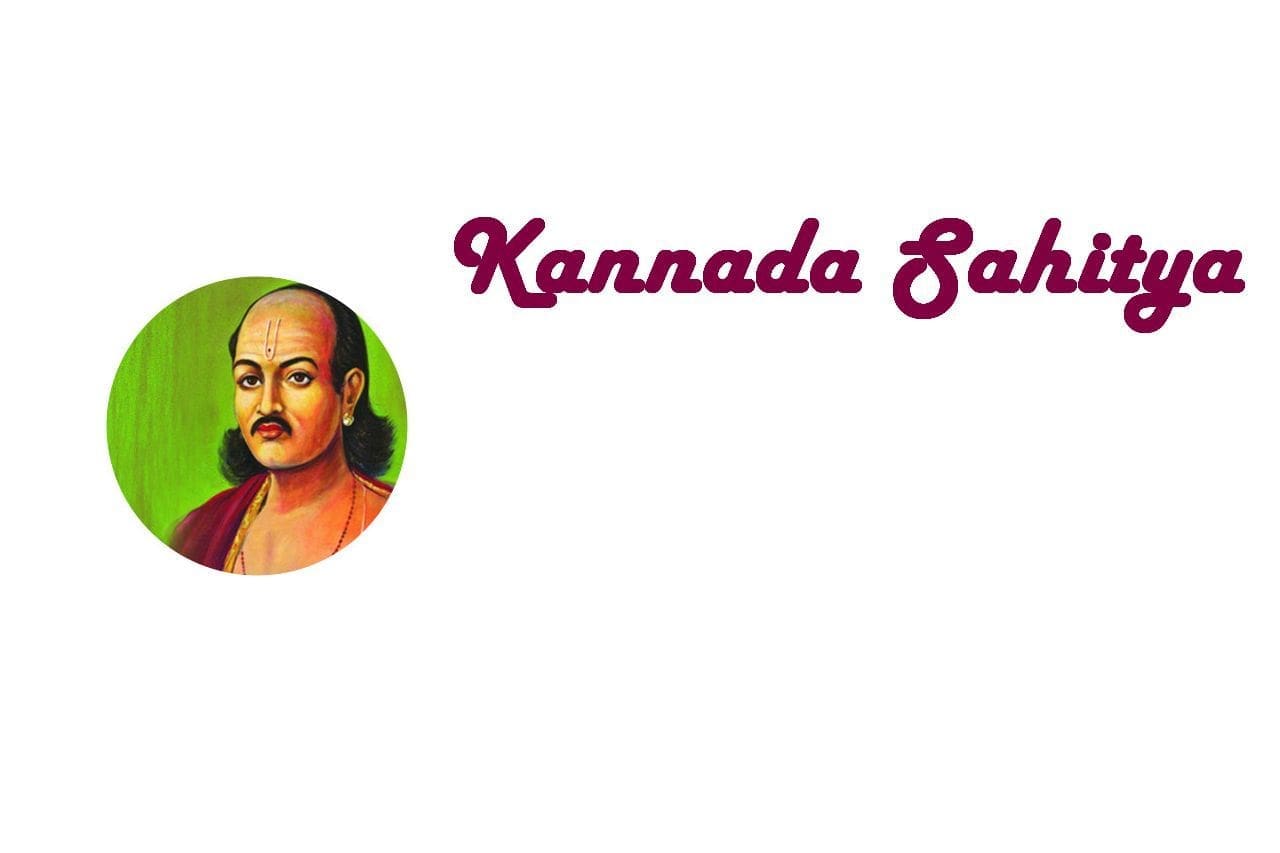 There are many poets in the subsequent 11th and 12th centuries who have written works in Old Kannada or Hale Kannada emulating the example of Pampa. Chavundaraya, Nagavarma I, Durgasimha, Shantinatha, Nagachandhra, Nayasena, and Brahmashiva may be mentioned among them.
Chamvundaraya:
Chavundaraya is famous even today. He erected the huge statue of Gommateswara on the hills at Sravanabelagola and became famous in history. Chavundaraya was the Minister and Army Chief of the Ganga ruler Rachamalla (974-984 A.D.). He was a Jain devotee, a patron of poets, a hero, and a scholar in Sanskrit, Kannada, and Prakrit languages. He has written 'Trishashtilakshana Mahapurana' for popularising the Jain religion. It is popular as 'Chavundaraya Purana' and belongs to the period of 978 A.D. It is one of the first prose works in Old Kannada literature. The work may be described as the handbook of the Jain religion. The poet has described the stories of the 63 Jain saints.
Nagavarma I:
Like Pampa, Nagavarma I also hails from Vengi Mandala or Vengi Nadu. He is the eldest son of Venammayya and Polakabbe, a Brahmin couple. His period is 990-1000 A.D. He has become famous for producing five works. They are 'Chandombudhi', 'Kadambari', 'Bhasha Bhooshana', 'Kavyavalokana', and 'Vasthukosha'. He had earned a number of titles for his works. 'Chandombudhi' is said to be the first work in Kannada on 'Chandas' (prosody). He mentions authoritatively about the Kannada prosody and the poetic subjects. Like Pampa, Nagavarma was also a hero and a poet. Nagavarma I is a poet of debate as one more Nagavarma existed in 1145 A.D.
Nagavarma has written 'Kadambari' in Old Kannada, based on a Sanskrit work of the same title, written by poet Bana. Nagavarma's work is not a translation. He has shown his mastery over Kannada language and verse in the Champoo style. In 'Kadambari' also, Shiva and Parvathi have been praised. Kannada scholars have described 'Kadamabari' as Kannada's first love-poetry. 'Kadambari' is the name of the heroine of the work. The heavenly maid is very beautiful and attractive. She is attracted by the young prince, Chandrapeeda. She falls in love with him. Their love is the theme of this classical work. This is how the poet describes the joy, eagerness, and modesty of the damsel while offering him 'Thamboola' (a welcome gift of betel-leaves) to her lover:
bemarim muLugidhapem sam
Bramadhim biLdhappenarasa kaigudu neem bE
gamenippa theradhe thaamboo
lamiLithamam kaamthe needidhaL nijakaramam

Durgasimha:
Durgasimha has brought the famous 'Panchatantra' stories into Kannada in the year 1031 A.D. A Brahmin by birth, he was born at Saiyadi Agraha of Kisunadu in Karnataka. He had received patronage from Jayasimha Jagadekamalla I. He has built some temples of Harihara. He has translated Vasubhaga Bhatta's famous moral stories 'Panchatantra' into Kannada. Vasubhaga Bhatta's work is not available now. Apart from Vasubhaga Bhatta, Vishnu Sharma and Poornabhadra have also written 'Panchatantra'. As Vasubhaga Bhatta's work is not available, Durgasimha's 'Panchatantra' has assumed importance.
Shantinatha:
Another famous poet of the 11th century is Shantinatha (1068 A.D.). As a Minister under Lakshamana Raja, who was working under Chalukya Emperor Bhuvanaika Malla (1068-1076 A.D.), Shantinatha was an officer of finance at Banavasi. He has written 'Sukumara Charitham'. It is a work on Jain Dharma and is in the Champoo style. Apart from 'Sahajakavi' and 'Chathurakavi', he had some other titles as well.
Nagachandra:
Nagachandra has praised himself as 'Abhinava Pampa' (Modern Pampa). However, his self-praise is not out of any unwanted pride. The poet has produced works of merit to deserve the title conferred on him by himself. The devotional works he has written, 'Mallinatha Purana' and 'Ramachandra Purana', are two Jain Puranas. 'Shantharasa' flows abundantly in both the works. 'Mallinatha Purana' deals with the 19th Theerthankara or 19th Jain Saint. 'Ramachandra Purana' is the first Jain Ramayana.
Till Nagachandra's work, no Jain Ramayana had been produced. There was no classic which made Ravana, a tragic hero. Kannada scholars are of the opinion that Nagachandra has produced 'Ramachandra Purana' on the lines of Vimalasurya's Prakrit work. Like Pampa's 'Vikramarjuna Vijaya', which is famous as 'Pampa Bharatha', Nagachandra's 'Ramachandra Purana' is popular as 'Pampa Ramayana'.
Giving a place in Jainism, Nagachandra highlights Ravana as a character of admiration. Having separated Seetha from Rama, after abducting her, Ravana greatly repents for the separation and sorrow he has brought about between the divine couple. Repenting for his mistake, Ravana becomes a tragic hero of the epic story. The poet creates a feeling of sympathy for the demon king of Lanka. Deviating from the Vedic tradition, the Jain poet treads a new path and gives a unique place to Ramayana. Thus 'Ramachandra Purana' stands out as a unique work in Kannada literature.
Nagachandra is believed to be of Bijapur in Karnataka and was in the court of Hoysala king Ballala (1100-1106 A.D.). More details are not available about the poet.
Here is a piece from 'Ramachandra Purana'. Ravana realizes the foolishness when Seetha rejects his love offer in the Ashoka Vana, where she had been kept after being abducted by Poulasthya and repents as follows:
ivaram praaNapriyaram
nevamilladhe karmavashame nevamene kamdha
rpa vimOhadhimdhagalchidhe
navevEkiyenenna kuladha pempaLivinegam

Nayasena:
Nayasena's period is 112 A.D. He has produced the work titled 'Dharmamritha'. It is a compilation of stories. He explains Jain principles and customs and thus preaches Jainism. Thus 'Dharmamritha' stands out as a mirror to the Jain religion. With his sharp words, the poet ridicules the other faiths. Cutting out a new way of writing, Nayasena creates a model style in Kannada literature. He becomes a guiding poet for preaching faith through stories and mocking at other faiths. Besides, Nayasena also brings the traditional Champoo style to the pure 'Desi' style, and here also he lays a new path. 'Dharmamritha' has 14 chapters.
Brahmashiva:
Brahmashiva follows the path of Nayasena in mocking the other faiths and becomes the second poet in that path. He strongly ridicules the practices of other faiths. Without any hesitation, he mocks at them. While doing so, the poet brings to light the social and religious practices and methods of his period. He takes a partisan view in favor of Jainism. The poet deserts Jainism and takes to Shaivism. But, disappointed, he returns to the original faith and makes a strong attack on Shaiva and Vaishnava faiths. While mocking at these two faiths, he also uses light humor and thus improves upon the way of writing of Nayasena. Brahmashiva, the 12th-century poet, has written two works, 'Samaya Pareekshe' and 'Thrailokya Choodamani'.
Besides these important poets, there are many other writers during the Pampa era, who have made their own exclusive contribution and enriched the Kannada literature. A few of them may be mentioned here: Karnapaya (1140 A.D.) who has written 'Neminatha Purana', Rajadithya (1120) who produced the first work on mathematics in Kannada, Keerthi Varma (1125) who composed the work 'Govaidhya', Jagadala Somanatha (1150) who wrote the first work on medicine 'Kalyana Karaka', Nagavarma II (1145) who produced three works 'Bhasha Bhooshana', 'Vasthukosha' and 'Kavyavaloka', and Udayaditya (1150) who brought out 'Udayadityalankara'.