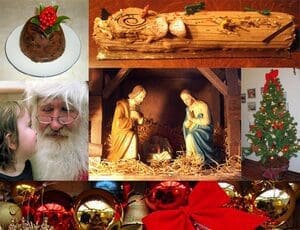 Image via WikipediaAs Christmas is fast approaching, everyone seems to be preparing for the festive season. The market is filled with decorations and customers are flocking towards the stalls to stock up for the upcoming season.
The young are fully engrossed in the preparation of cribs. Everyday after school, they are found to be busy decorating the crib at home as well as at the nearby chapels and churches. There are also crib decorating competitions held all over the state to make the festive season even more delightful.
Talking about his experience in crib-making, a friend in Goa says, "It is fun to participate in the crib making competitions, using the latest conceps, fresh ideas and experimenting with some new technical work. It takes time and effort to make cribs beautiful for the viewers."
The Holy Bible says that Christmas is the occasion of the birth of Jesus Christ. Nativity scenes are therefore created as a way of reminding us of what Christmas is really about – the birth of the saviour.
Gwenn Gomes, a television personality and a real estate agent says, "The children go out in the fields, collect the dry hay, seek for mud and Christmas tree branches. They make use of some stones and mud in which they sow seeds. Then they make a hut and use the statues of St Joseph, Mother Mary, baby Jesus, shepherds, three kings and some cattle and sheep. An angel is hung above the hut and stars are used for d'cor."
"Christmas is a season that brings families together. The role played by the 'Grotto' is that it showcases creativity and adds to the joy of the entire family that creaed it together. Cribs are sometimes made inside houses, in verandas and also in gardens," says my colleague John.
Christmas decoration ideas are a matter of insight and it helps to use a little creativity. A fun way to plan decorating is to involve your children when you go shopping for Christmas decorations. Children like to help when you decorate your home.
"Christmas artwork doesn't have to be expensive. It gives a special touch if you let your children use their imagination to make something nice. Give them some paint and Christmas motives or items and they will create something unique which can be used as Christmas decor."
Don't forget to adorn the front door with a cristmas wreath which is very welcoming. Cribs give a warm feeling to the house and create a real Christmas atmosphere. Use your imagination, involve your children and the whole family in the decoration of your house and you will have the best Christmas ever
Related articles