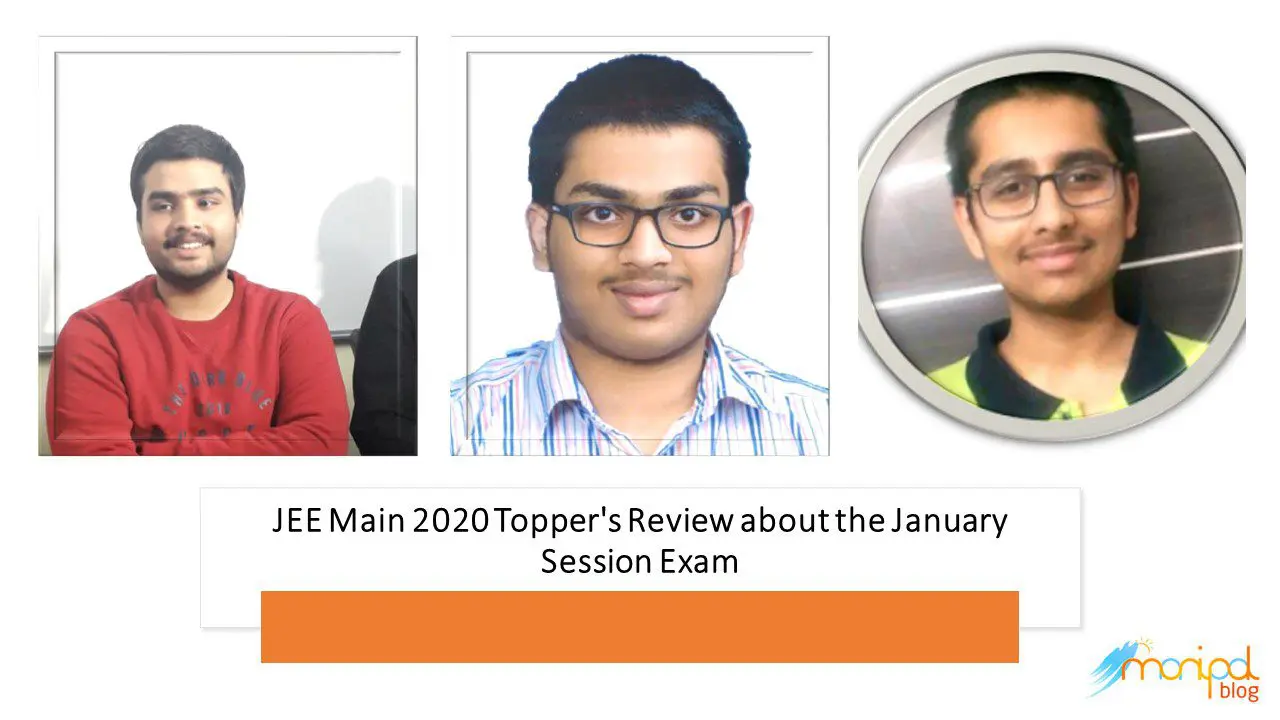 For the majority of the students, getting a chance to study in IIT is a lifetime achievement which undoubtedly needs hard work and dedication. Scoring high in JEE Main exam is undoubtedly the happiest moment in the life of a student who studied day and night to get admission to a renowned engineering college or university.
National Testing Agency on January 17, announced JEE Main 2020 result for Paper 1 (BE/BTech). According to the official notification released by NTA, there are a total of 9 toppers in JEE Main 2020 January session which made their family and teachers proud.
We are sharing the experience of some of the toppers of JEE Main 2020 (January session).
1.   Chagari Koushal Kumar Reddy- 100 percentile
Chagari who lives in Telangana state scored 100 percentile in JEE Main exam. He shared his experience and how he studied dedicatedly to score high in the exams.
How did you study to secure a high score in JEE Main 2020?
I joined the Sri Chaitanya coaching institute to begin my dream of pursuing engineering from a renowned college. My teachers and professors acted as the pillar and motivated me a lot to study hard. Even they assist me regarding the selection of the right books, which helped a lot in my studies.
Which books you referred to prepare for the exams?
I referred to the study material and notes provided by my teachers at my coaching institute. Also, I had gone through the NCERT books in a detailed way to understand the course. My teachers at school and coaching institute helped me a lot in preparing for my JEE Main preparation along with preparing for boards as well.
How did your parents support you in the JEE Main 2020 preparation?
My parents are my strength, and they also showed supportive concern towards me. They also insisted that I take some gap as well in between the sides so that I don't feel stressed out regarding my studies. They were in communication with my teachers at school as well.
What do you start preparing for the JEE Main?
I was clear from the beginning only that I will give the JEE Main exam. I joined coaching for JEE Main in class 8 as I wanted to clear the base as well. My main subjects were Physics, Chemistry, and Mathematics but along with preparing for JEE Mains, I never compromised on my school studies as well.
How many hours do you devote to studies?
I study for almost 12-14 hours each day as my target was to score high in JEE Mains. But I don't compromise with my eating habits and with my sleep as well and assures that I drink a lot of water in between my studies as well.
2.   Divyanshu Agarwal – JEE Main 2020 January session NTA Score: 100 Percentile
On January 17, 2020, another name announced by NTA was Divyanshu Agarwal, student of Hisar's Shree Ram Ideal School, who scored 100 percentile in the exam and secured his place in the list of top 9 scorers.
Hisar based Divyanshu Agarwal who is a son of a doctor couple, had a perfect score in his first attempt only in the JEE Main examination. Agarwal is one of the JEE Main toppers who scored 100 percentile score in January session and also the topper of Haryana.
Will you give the JEE Main 2020 April exam as well?
I will not give JEE Main 2020 April attempt as I am completely satisfied with his performance and is enjoying the happiest moment right now.
Tell us about your preparation strategy for JEE Advanced 2020?
I am preparing the same way I prepared for the JEE Main 2020 exam. Though the syllabus of the exam is quite different from that of the JEE Main, my next target is to prepare for the JEE Advanced which will be held in May and is conducted by the IITs under the Joint Admission Board (JAB).
What was your preparation strategy?
I studied for almost 8-9 hours in a day without compromising on the quality of studies. I believe in self-studying which helped me a lot in scoring the highest marks
To what extent did Mock Tests and Previous Years' Question Papers are useful?
I believe that the students should pay attention towards mock tests and previous years' questions papers as they help a lot in understanding the exam pattern and weightage of topics. According to Divyanshu, the students who are preparing for JEE Main should pay detailed attention to last year's tests as well and need to understand that these some months of studies will give them a chance to chase their dreams.
What is your parents' role in your achievement?
My parents are supportive and show the utmost concern and care in each step of my life. Though in my early years, my parents wanted me to become a doctor I told them that I love mathematics more and I wanted to become an engineer. They respect my feelings and allowed me to chase my dreams.
3.   JEE Main 2020 January session Topper Interview: Parth Dwivedi
Parth Dwivedi is one of the 9 students who secured 100 percentile in JEE Main 2020 Paper 1. Initially, Parth was shocked knowing about his JEE Main result, but he secured 100 marks in Mathematics, 96 marks in Physics, and 96 marks in Chemistry. For Parth who hails from Rajasthan, his father has always been an inspiration who himself is an IIT pass out.
When do you decide to study engineering?
My father is an IITian so you can understand where I got the inspiration. I always wanted to follow his path. Though I have not decided on my branch, I think that I might opt for Computer Science.
When did you start preparing for JEE Mains?
I started aiming to get admission in IIT when I was in class 11th and from then onwards; I studied hard to achieve my aim. I mainly worked towards three things, Boards, JEE Main and now JEE Advanced.
What was your daily routine?
As far as my day to day routine goes, I get up at 7 am and then go to school. After coming back from my school, I take a short break and start with my self-studying from 4 pm onwards. I prefer self-study more, and assure that I don't feel stressed while studying. Maintaining a cool mind and calm temperament were my strategies which helped me a lot in doing well in my exams.
Did you take coaching for JEE Main 2020 January session and if yes from where?
Yes, I joined Allen Institute to prepare for JEE Mains. I think that the teachers at the coaching centres are more updated with the latest trends and help the students in the best possible way to secure high in the exam.
Along with the declaration of AIR list of JEE Main 2020  January session toppers who scored percentile score, NTA has also disclosed the list of state-wise JEE Main 2020 January session toppers list and their NTA Scores in Paper-1 (BE/BTech) along with JEE Main 2020 application number. We wish heartiest congratulations to all the JEE Main toppers and wish them success for their future endeavours.