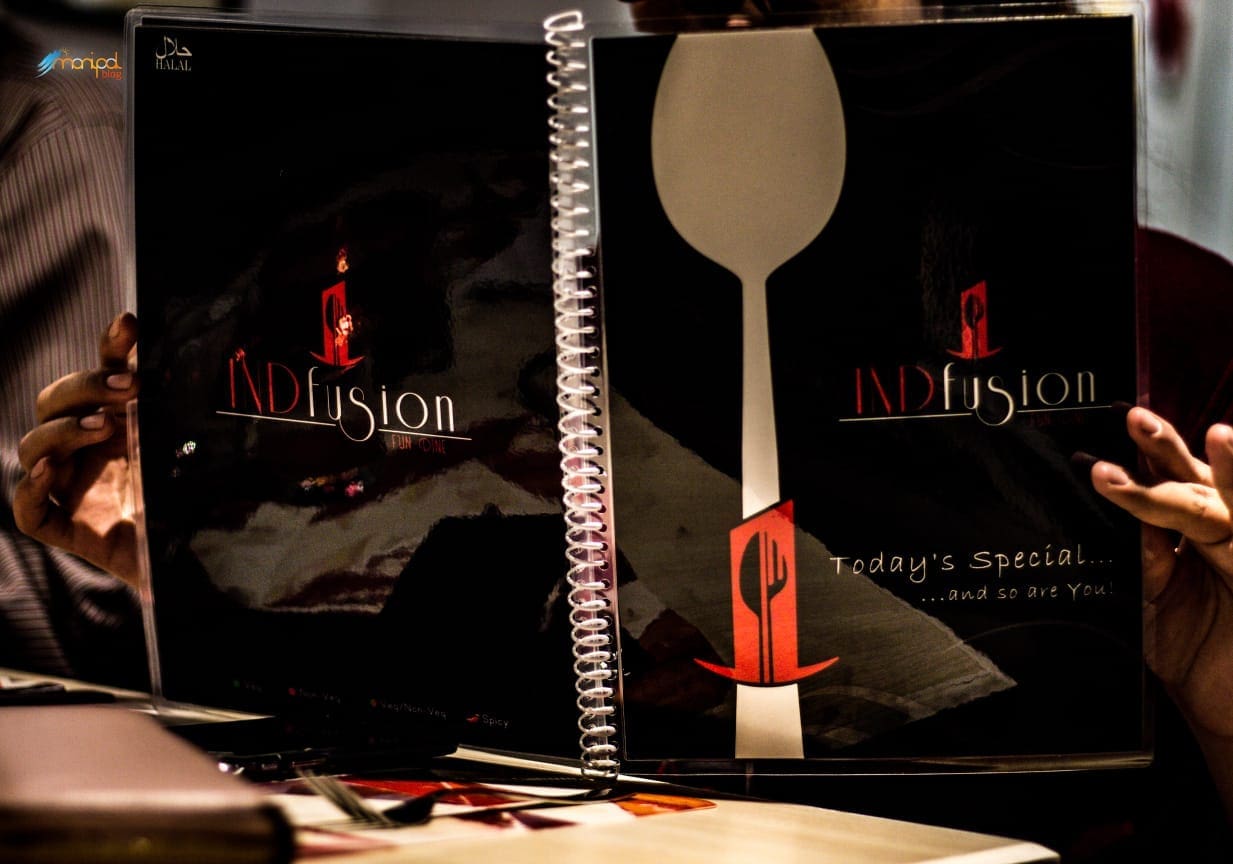 With an aim to create a dining experience like no other, as opposed to just another eatery in the slew of restaurants in Manipal, Indfusion Fun Dine, Hotel Tranquil's newest resident service has opened its' doors recently. Joining the lodging services offered by the Hotel and the Banquet Hall, Daffodil, this new restaurant in town ticks all our boxes in terms of what we look for in a diner. We, at ManipalBlog recently visited the restaurant to grab a bite to eat and chit chat with Mr Subhash Sankalkar, the owner of the property about the new initiative.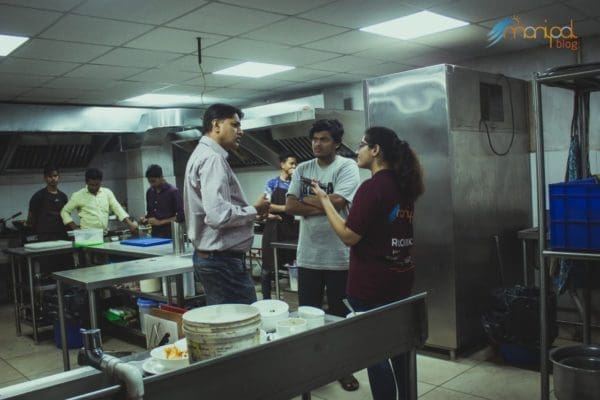 Here's an excerpt from what he had to say.
What's the idea behind naming the facility, Indfusion?
At the outset, one may think it's a cuisine fusion, it's actually not! Although it is India centric, we offer other cuisines also. We have continental, we have Chinese, we have North Indian, we have Karavali cuisine which this area is known for. So the name is actually a misnomer. It is a fusion of everything that makes for one of the best dining experiences. It's more than just food or ambience. It's the careful distillation of an experience that you can cherish, one that will have you come back here again and again.
What's new about Indfusion that's not there anywhere else?
Well, we have taken some bold steps while coming up with the restaurant. We have a Live Kitchen that's probably not anywhere else in Manipal right now. Seeing your food cooked in front of you builds some semblance of trust and gives you satisfaction and builds up excitement for when the dish is to come. It's gastronomic foreplay like no other and I think that adds to the experience and the uniqueness of the restaurant. Also, we have an in-house talent, Mr Rishabh Borcheta known professionally as RISU. He's a talent that has come all the way from Assam to perfect his craft in music. He plays an assortment of different genres of Music from Folk to English and Hindi and should anyone want to perform during dining, he's more than capable of accompanying them on the instruments as well.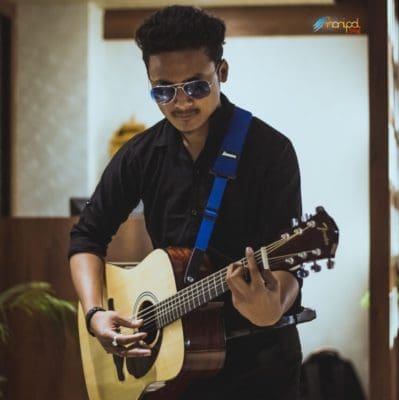 A couple of days ago, there was a guest who was a really good singer. She wanted to sing and he accompanied her on the Guitar. It developed into this sort of Jugalbandi which turned out to be quite an amazing evening. That is something that she will take back home with her. That's a connect she will build with this place. It's a lasting impression that we try to create. It's just not meant to be someone coming here for food, have their food and then go away.
Who are are the target customers? Is it more for a family-centric place or is it better suited for students?
It is both.
We aim to provide something for families, at the same time students who may not require liquor- I think this is a misconception, that students require liquor to have a great time- so the whole thing is that you can enjoy good food, in a good ambience, with good music. So you can come, be free to sing along and enjoy the food.
What do you think is the best dish to order on the menu?
See, all the dishes that we have chosen, we have chosen them carefully. So any dish that you pick and choose – be it Chinese, continental, North Indian, would be of a certain standard. If we serve Continental, any ingredient that had to go it, we make sure that it is a part of that. We don't cut corners. We ensure that any dish served stays true to its name. So anyone who enjoys continental cuisine, who had travelled across, gets the same taste here!
My personal favourite is the Fruit Salsa Bruschetta and the Singapore Cheese Steak. It's a unique experiment that has paid off quite well!
Tell us something about the decor of the place.
It was actually designed by one of the Manipal Alumni, Mr. Alfonso Peter. The atmosphere here, it's one where you can relax. It's not very claustrophobic. It's an open space with nice, ambient lighting. When we briefed our interior designer, we told him that we want to come up with a place where people can relax. It's not overdone. Not too many colours, very subtle colours.
Each of these colours has a soothing power. We have ensured that our decor matches our overall concept. That is what you see here.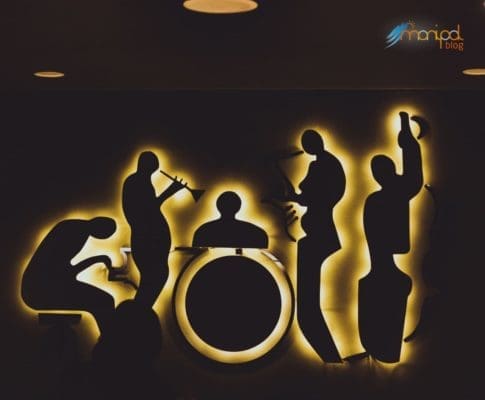 What is your strategy to attract consumers and promote this place?
Our strategy is word of mouth. Even when we started with Hotel Tranquil, we followed the same strategy. We had not many promotions, no launch parties nothing at all. We intend to follow the same strategy here. People who come here, they will spread the word. And they will do so only if they get something good in terms of food, ambience and music. These are the three main pillars. Also service. 'Service with a Smile' is what I tell all my staff here, and they believe in that philosophy. So service, interaction with the guests in a nice manner makes a big difference in terms of guests enjoying and wanting to come back.
I also believe that advertising won't help you if the product is not good. So at the end of the, my philosophy is to let the product talk for itself.

There must be a story behind this beautiful facility that you have here! We're curious to know what it is!
My wife Trupti and I, both come from the Banking Industry. Although on first glance it seems like a completely different industry, you'd be surprised to know they're more similar than you think. Many ask me this question as to why and how the transition into hospitality. To them I have but a very simple answer.
Banking is a Service Based Industry. We have clients, we try to make the transactions and the experience with their finances smooth for them. They trust us with their money and believe in us to keep it safe and give them return. It is about client satisfaction, enhancing their experiences and the trust and connection they build with us. The Hospitality space is not very different at its core values. Here, we call them guests and try and enhance the experience of their stay while they are here. We give a personal touch to it. We do it out of passion and at the end of the day, it is how you make one remember you!