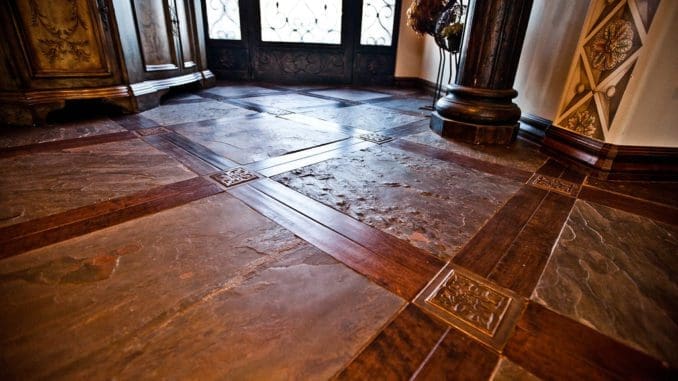 The type of floor you choose depends on your personal preferences, how much you're willing to spend, and the usage of the room where the floor will be. Ask yourself some questions.
How much can you afford to spend?
Do you need a solid floor to cope with pets, children, etc.?
How long do you want the floor to last?
Does the floor need to be cleaned easily and quickly?
Do you suffer from allergies?
Marble – Everybody's Dream flooring
Undoubtedly – and you probably don't need me to point it out – marble and granite will be at the top of your budget, and as a rule of thumb, the darker the color, the more expensive it will be. If long life is a must, it is worth spending the money; once laid, polished, and sealed, maintenance is low, and its looks will never fade. Unlike some other materials, their polished surfaces reflect light, giving you a lighter, brighter room, and some of the colors & patterns are genuinely stunning.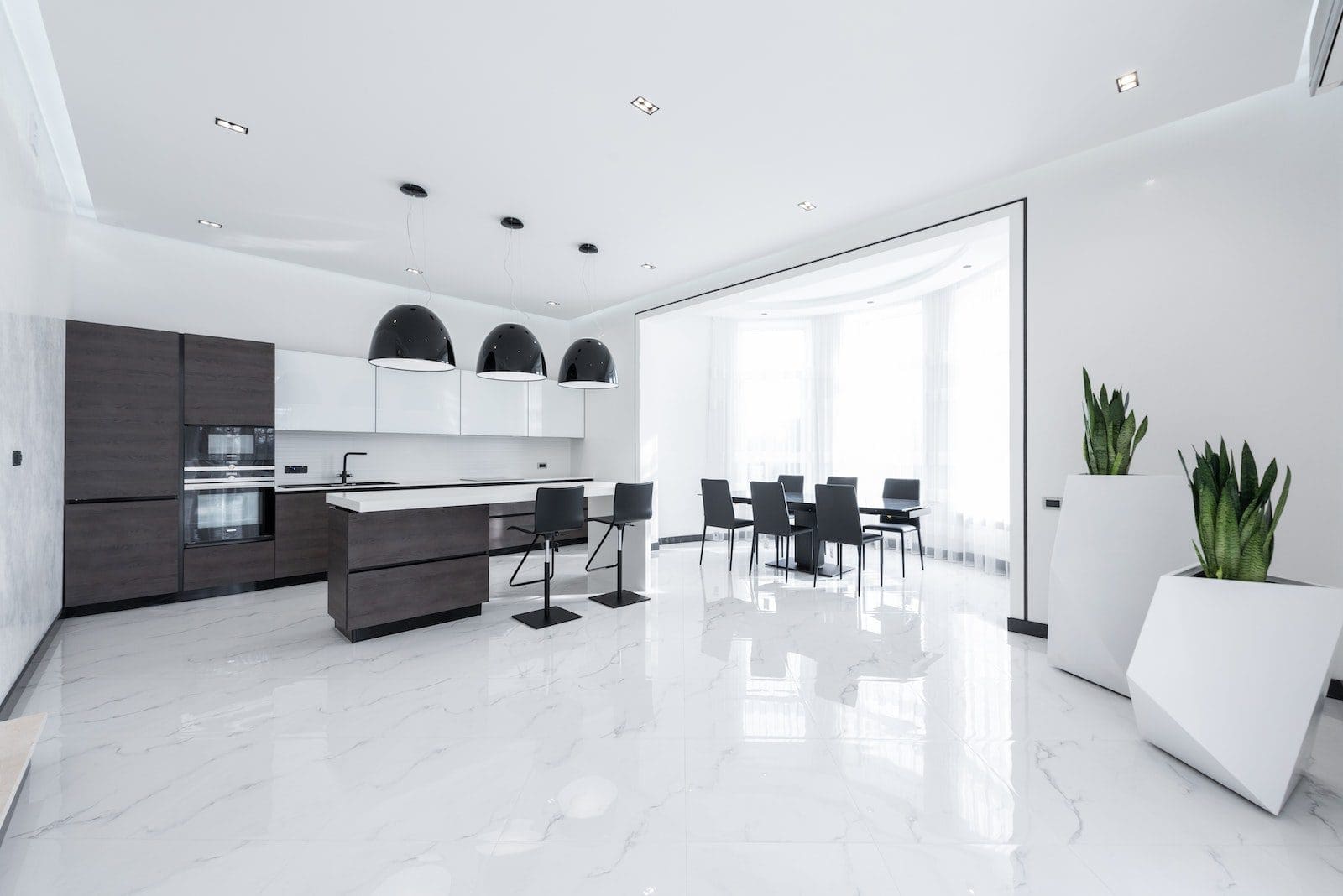 They are, however, cold & hard underfoot and extremely dangerous when wet. Sound bounces off hard surfaces in a big way, so if you have an open-plan living area, you must use other measures to address this. It is not ideal for the kitchen. Anything dropped that's breakable will undoubtedly do so, and anyone falling will have a hard landing.
Ceramic Tiles and Stones – Cheap but not so Durable
If you can't quite stretch to marble – or you don't have a choice – ceramic tiles and stone are the next hard-wearing option. After adding the costs of grout, mortar, etc., ceramic is less expensive, and a vast range of designs is now available.
But it does have many bad points. Again, cold and hard underfoot, ceramic floor tiles are more porous than marble and are, therefore, more susceptible to cracking or chipping.
Because of the density of the material and depending on the surface finish of the tile, dirt can accumulate quickly, a suitable sealant or a good deal of mopping is advised in heavy traffic areas.
Unlike granite or marble, most stone and ceramic surfaces are matt and dull, thus absorbing light; something to consider if you have a dark hallway or a small room.
If you don't have much time but want your floors to look good, the above are a good choice: laminate wood and vinyl flooring. This leads us neatly to the next section.
Laminate Wood and Vinyl Flooring – Beauty and Durability all in one!!
You can choose between hardwood floors and laminate surfaces if you fancy a wood look for your floors. Hardwood floors are precise as they sound. Planks of hardwood are arranged to create a distinct surface. You can make any pattern with hardwood floors, but intricate patterns incur more costs. Hardwood floors will last a long time; however, they are expensive, and repairs can be costly.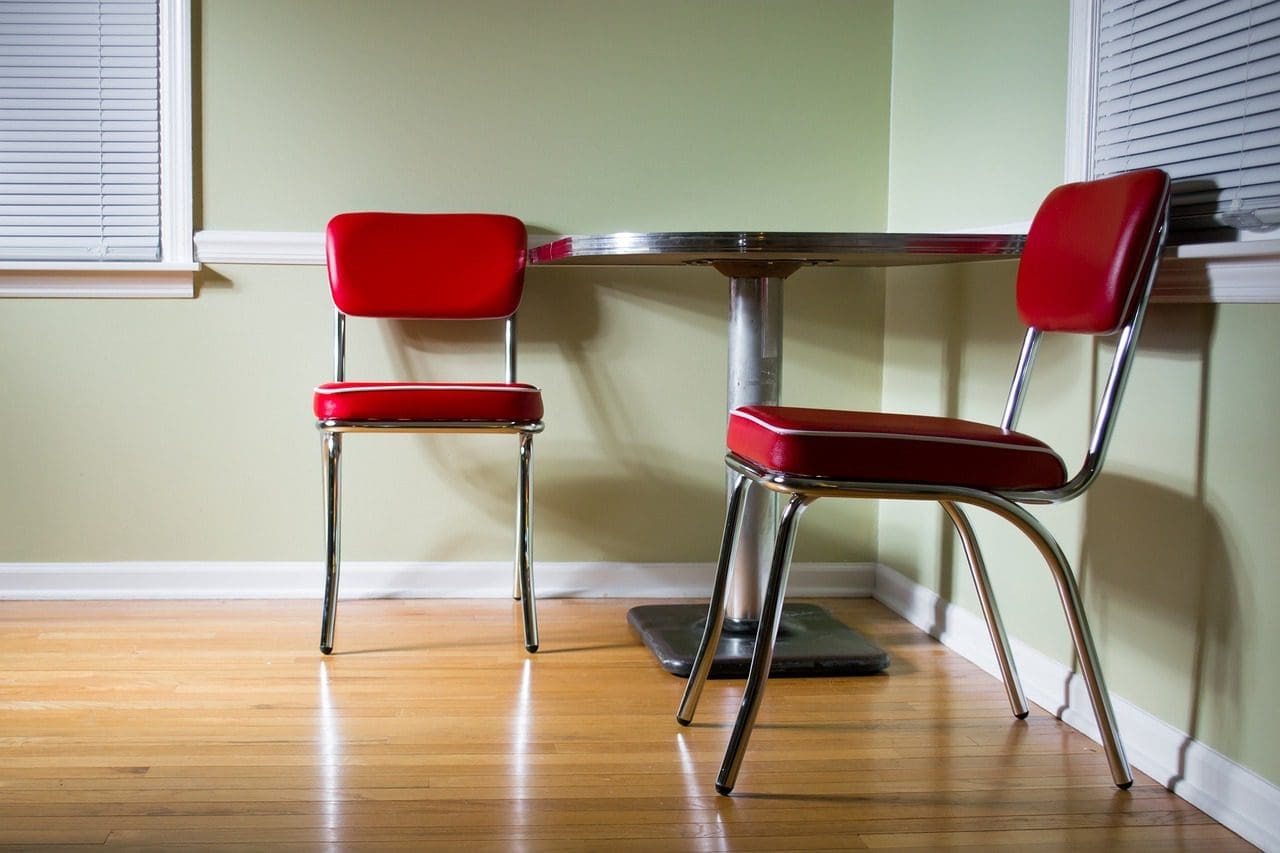 Laminate floors are also just as they sound. Thin strips of wood are laminated to particle board backings to create a hardwood floor 'look' without the more complex installation and higher costs. Laminate floors will last if properly cared for and are relatively easy to repair if a piece should become damaged.
Costs between hardwood floors and laminate floors are hardly comparable; if you are on a budget and want the great look of hardwood floors without the cost, go with a beautiful laminate; most people will never know the difference. And you can always restore the looks when needed with the help of London floor sanding specialists.
Laminate is another light reflector; if you currently have a ceramic tile floor in your bedroom, for instance, and then have a laminate floor fitted, you will be amazed at the light difference. If you buy from a company that knows what they are doing, it will deliver the packages a few days before fitting; this enables the boards to 'acclimatize' to the air in their surroundings and stops any chance of warping. Also, some companies will charge a fully inclusive price, i.e., under-lay, fitting, edges, etc., some won't, though, and it's best to establish this from the start.
Vinyl flooring has come a long way since 'lino,' Some effective designs and good quality options are available here. Vinyl is a good option in rooms prone to humid conditions, such as kitchens and bathrooms; it resists moisture and is easily washable. It is soft underfoot, warmer than all the other coverings mentioned, absorbs sound, and is relatively cheap.
But, it will not last as long as the other options, and replacing and removing the adhesive from the floor surface is a nightmare. The finished floor will only be as good as the fitting; it may be an idea to ask for recommendations, as a poorly fitted floor will look awful and harbor dirt.
Carpets – Not Recommended
I haven't mentioned carpet yet; honestly, I don't want to! I know some companies sell loads, but I wouldn't recommend it. Think of the dust! Think how much healthier we are without dust mites and allergens in our homes. If you are prone to allergies or sensitive to indoor air quality, you will know to stay clear of any fibrous flooring. But personal choice plays its part, and if you like the feeling of woolly tufts between your toes, there is nothing to beat it.
Rugs are the final topic and embellishment to whichever floor you choose. They can make or break a room, make a statement, or just be there to walk on. There are, among others, Persian, Turkish, Indian, and Chinese varieties to choose from, as modern and traditional styling suits all tastes and budgets. They will absorb the sound from your echoing marble floor and be something soft to put your toes on first thing in the morning. Vibration isolation pads can reduce damage to everything from equipment to structures and even the human body.
Finally, take into consideration your home's floor plan and décor. Choose a flooring option that fits well into the space and matches your vision for the room.