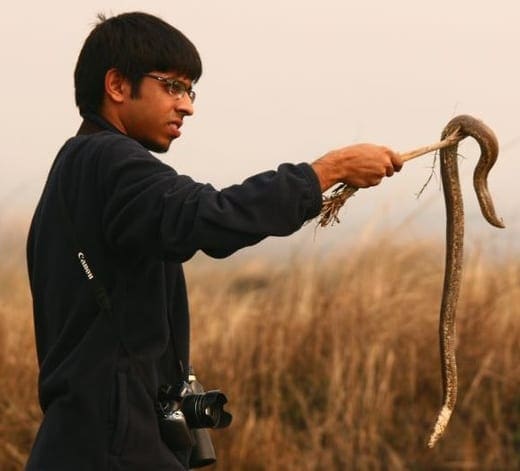 Ramit Singal's interest in birds has evolved over time to the point where he is now known as a local bird expert, at least among the students and residents of this University town of Manipal. Ramit is a 6th Semester student at Manipal Institute of Technology and is also an active member of AIESEC.
ManipalBlog caught up with him this week to learn more about the local bird population as well as places to travel for excellent bird watching.
ManipalBlog (MB): Hello Ramit, let's begin with a few basic questions. What makes you who you are?
Ramit Singal: I'm a bit of a mix in terms of my background 🙂 I'm from a hard-working family that has provided me with all the necessary ingredients a child could need. I've had phases that involved topping my class and trying to please everyone to phases which have had me questioning everything around me in the most cynical manner.
Alongside all of this, experiences in organizations like AIESEC, meeting new people and sharing new ideas, college (I'm a 6th sem student from MIT), school, etc have all pitched in to make parts of me.
A lot of credit goes to my parents – whose fervour for travelling is and was infectious. I have spent some time of my life in Australia, travelled to most corners of India, lived – nay, survived – the aggression of Delhi, had a life changing experience in Kenya on an internship, etc. They also taught me to test my limits, never give up, and to keep trying out new things. It is their spirit and belief in me that makes me what I am at the moment – a self-proclaimed liberal with scarily unending optimism who always wants to see more, do more, and keeps hoping for the best!
MB: Interesting that you've taken up engineering, when both your parents are doctors.
Ramit: Haha. I don't know. The answer I give most people is that it was watching my parents work hard day in and day out that made me stay away from the medical field.
In truth, however, it was probably the lure of a (what sounded like, then, to my naïve mind) more comfortable and "chilled out" profession, the regular herd mentality and peer momentum (no, not pressure).
MB:How has working with AIESEC helped you in your life?
Ramit:  Working with AIESEC has brought about immense change in my life – from polishing simple communication skills to learning how to manage lakhs of rupees. I've learnt to respect my peers and value the diversity each individual brings in to this world. But most of all, AIESEC has empowered me to use that diversity in a tangible manner and bring about the kind of impact and change that I want to see in this world.
MB: Can you talk about a few experiences with AIESEC?
Ramit:  With AIESEC, I've been through quite a bit. I have been a part of the organizing committees which have conducted/organized two Local Conferences, two Youth2Business Forums, a World Without Borders event, recruitment drives and an Impact Week.
I interned in Kenya through AIESEC for 6 weeks and worked with various NGOs and an incredibly diverse population of individuals. That remains, single-handedly, as a period that has since transformed me as an individual entirely.
I've worked with the Outgoing Exchange department, worked in the Talent Management cell (AIESEC's version of the HR department) and as a Local Trainer, which also led me to attending a fabulous conference in Taiwan. I have met CEOs and entrepreneurs from across the globe, interacted with some of the brightest minds in the country, and been part of the biggest, most youthful, and energized family in the world.
 MB: What sparked your interest with birds?
Ramit: Well, I was always interested in nature – something that my parents and encyclopedias at home imparted. And I fell in love with big mammals initially. However, birds – unlike lions and tigers – were easier to see every moment of every day and I slowly started noticing them around me and initial curiosity led to hunger for information until I reached a point where I now hope to someday see a Little Bittern in Ranthambore not a Bengal Tiger 😉
None of the initial curiosity would have been quenched though, if Martin Woodcock's Birds of India – a book given to me by my dad over 10 years ago – hadn't been around. It also helps that our nation has all these beautiful stories linking birds and our lives embedded into its religions, mythologies, folklore, and people.
 MB:How did you become a bird expert? If you don't consider yourself one, what makes one a bird expert?
 Ramit: Haha. I think I would insult a lot of ornithologists and experienced birdwatchers out there if I called myself a bird expert!
I honestly do not have any idea about what makes one a bird expert. The best thing about this field is that there is still so much to know about and learn from, from even the most common of species. Even the people I consider my idols acknowledge the same and I think it is this drive for knowledge that keeps everyone going for more and striving to become an "expert" on birds. One thing though, you cannot become a bird expert if you don't learn to open your eyes, your ears, and your mind to always expecting the unexpected from these winged friends of ours.
I feel humbled in front of their capabilities and power. If nothing else, with each birding trip, I am always reminded of how little I know about these creatures.
MB: What is your opinion of the current state of birdwatching in India and Manipal today? How has it changed over the years?
Ramit: Birdwatching in India, even in my short life as a birdwatcher – has visibly grown a lot. We are more adventurous than we used to be, and more people than ever before are venturing and exploring new areas of the country looking for birds. The sudden surge in digital photography has generated vast interest in the masses, and has given many a reason to not ignore the birds anymore.
In Manipal, alas – the situation, though a bit better than before, has remained dire. Deetee scores as a more popular destination than End Point. I have had a torrid time trying to find documentation and historical references to this region with regards to its birdlife. Things are changing though, albeit slowly, and there are more people now than ever before who want to come birdwatching with me. People across India now know that Manipal is more than just a university town, but can also be transformed into a birding destination if we proceed with care.
MB:When is the best time to birdwatch?
Ramit: Anytime of the day – depending on what you want to see 🙂 But as a rule of thumb, early mornings are the best.
MB: A little bit about your website on birds of manipal.
Ramit:  Well, I initially started it as a journal where I could maintain my own records and sightings of the region. But I eventually made it public for a couple of reasons:
 It helps in letting people know and be updated about the birdlife in Manipal.
 It promotes the place! A constant platform that can give you checklists of Manipal's birds, the latest reports, and my contact details! Everything that a bird lover in Manipal needs to know 🙂
MB:Where's the best place in our area to birdwatch?
Ramit:  Again, you can bird anywhere you want – a building will have sparrows, bulbuls, and pigeons. The adjoining tree will have some more species, and the sky will always have encircling kites and eagles. In Manipal – a simple 6-7 minute walk from Syndicate Circle to Tiger Circle can fetch you up to 20 species!
For those serious about pursuing this hobby, however, few places in the entire region compete with a morning at End Point in terms of the ease and quality of bird watching it offers.
 MB: What is our local bird population like?
Ramit:  Our local bird population is extremely varied. From Western Ghats endemics and birds on the IUCN/birdlife red list (such as Malabar Pied Hornbills, Broad-tailed Grassbird) to scrubland birds like larks and pipits to wetland birds like Whistling Ducks and River Terns to coastal birds like Sand Plovers! I have now seen over 190 species of birds in Manipal and that is an astounding number for a place which is barely 3km*3km in area.
MB:Have you noticed any changes in the past few years?
Ramit: Oh so many. Alas! Most have been negative for the birdlife in the region. Manipal is growing at an exceptional rate and the forests surrounding it are dwindling really fast. Be it hostels, new apartments, shopping complexes – all of them have been coming up in an area that is so strategically placed from an ecological point of view. Ask someone from three years ago to identify End Point as it is now – a place with no concrete surrounding it to one that has precious little left that has not been touched by man.
On the plus side, the university does try to balance out the situation with regular planting drives and a genuinely clean campus. However, they must tread carefully. The fantastic habitats at End Point and TAPMI, for example, have been killed by large eucalyptus and Australian silver-oak plantations – both exotic species – that support neither local birdlife nor any other life forms.
MB: Do you have any concerns about our local bird population?
Ramit:  Many. I swear if these concerns were lifted off my shoulders, I would be light enough to be able to fly.
Our local bird population is a fantastic indicator of the ecological health of this region. Unfortunately, the numbers are going down very visibly. In some cases – for example the Monarch Flycatchers – a bird of the forests, my records shows that the sightings and numbers of this bird have gone down by almost 75%. Similarly, the Asian Drongo Cuckoo – a rare bird in India, which was common in Manipal until a year ago, has only been sighted once in the past ten months.
First and foremost, we need to appreciate and be aware of this treasure that we are gifted with. As of now, nobody knows enough and nobody cares enough to put forward the interests of birds and wildlife ahead of mindless construction. We need to switch to methods that are more environmentally friendly and sustainable at all levels – not just on the surface.
 MB: Have you seen many foreign birds in our area?
Ramit:  Out of the 190 mentioned earlier, 30(!) species visit Manipal over the year from outside India, while a further 12-15 species Manipal from places over a thousand kilometers away in North India.
I could go into depths about this topic which really interests me a lot, but you can read about it in the article I published a while back on the popular bird watching website the migrantwatch.
MB: What's your favourite bird?
Ramit:   Haha. It's hard to pinpoint one species, but there are few birds which I find more endearing than the White Wagtail (Motacilla Alba).
MB: Do you ever travel to birdwatch? Which one has been your best experience?
Ramit: All the time! The way different types of cultures tell you something about a place, different types of bird species and habitats tell me something about a new place 🙂
One of the best things about birdwatching is that it combines with it my love of travelling. New places, new birds, new stories to be heard and told, and so much more to be learnt – it is as simple as that!
One of the best experiences I have had, and I have since had it multiple times without it losing its charm, was from the Kali River Bridge in Karwar. Every morning, as the sun rises, thousands of Indian Pond Herons and various Egrets fly above and under you as they make their way to their feeding grounds. This, combined with the sea and the mountains providing the background, is a sight worth witnessing over and over.
MB: What do you hope people can learn from your birdwatching hikes?
Ramit: Plenty! I hope people learn to appreciate a tree for more than a stem and leaves, but as a resource that gives a home and livelihood to hundreds of species. I hope they learn to appreciate what Manipal is blessed with in terms of its biodiversity. I hope people learn about birds, how we can learn from birds, our relationship with them and theirs with us, their usefulness in societies and in nature, etc. The list is endless.
And most of all, I just hope that they come back the next weekend with a pair of binoculars that they are proud owners of 🙂 A sign that this will not be a mere fad.
MB: Do you do any area bird counts? How do you go about it?
Ramit: Yes, currently it's an yearly fixture that we do in association with the Delhibird group (from Delhi, of course). It is called the Big Bird Day, and it's just an occassion where anyone interested in birds – first timers and veterans – gather and count as many birds as they can in an area. We normally cover the forests between Manipal and Parkala, Manipal Lake, and End Point.
However, for me, every birdwatching trip is a bird count and useful information can only be gathered if records are kept and maintained regularly. I keep a check on number of species, any highlights, missing birds, etc whenever I go out birding anywhere.
MB: When's your next one? And how can people get in touch with you?
Ramit: We are trying to make this a monthly fixture, and instead of keeping it day long, make it morning specific and cover only one aspect/habitat at a time – thus giving it more time and making the count more productive by doing so.
Also, since most who join me are first timers, it makes more sense to start slow and be qualitative rather than quantitative.
People can always get in touch with me via my blog Manipal – the birdwatching chronicles and the ads/posters I put up on campus, on Facebook, and of course – on ManipalBlog.
 MB: What are the things you wish could be done to make people more aware of the birds in our area?
 Ramit: I wish our university was more proactive in taking up the issue of conservation of our natural heritage and viewing a piece of land not in hectares, but in terms of the quality and quantity of its flora and fauna.
It amazes me how our university/colleges do(es) not have nature or environmental clubs when such forums are essentially the very basic even at school level.
I would love to see a few patches of land left alone and marked as ecologically sensitive zones and publicised as such.
Lastly, I wish I was more aggressive with my approach towards conservation earlier on rather than now. However, the internet, the liberties given to students here, an approachable and diverse mindset that doesn't ignore the greenery around it, and websites such as ManipalBlog are all platforms that I believe can be tapped further and are the rays of hope as far as spreading awareness is concerned.
MB: What achievements are you proud of?
Ramit: Nothing as of yet, to be very honest. I think it's what keeps me going.
I am not particularly proud of any "achievements", but I'm certainly very fond of certain moments and memories – from something as trivial sounding as sighting a rare bird or seeing a pretty girl smile back, to occasionally winning some contest or seeing an event that I helped conduct do well 🙂
Of late, I've been particularly content and happy with the planning and execution of my solo trip to Hampi.
MB: What are your plans for the future and what mountains do you have yet to climb?
Ramit: I hope to transform my hobby into a more tangible professional prospect in the near future. Perhaps, a graduate/post graduate program in something to do with birds and conservation (trust me, opportunities in India and abroad for the same are plenty!).
I have many mountains to climb, for I am just residing in the valley as of now. Starting off by finishing my remaining 2 and a half semesters in MIT on time!  Hopefully, that should give me enough time to make birdlife (the avian kind) synonymous with Manipal!